It's time for Project 52, Week 51!
52 weeks ago, on my 52nd birthday, I began Project 52. Since there are 52 weeks in a year, each week I'm taking one year of my life and blogging about it. This week, I'm covering the year I was 51 — June 14, 2015, to June 14, 2016.
Yes, you heard that right. Today is 52 weeks after my 52nd birthday – but I'm still writing about Week 51! All this time, I managed to cover a year in the space of a week – until now!
But to be fair, it was a busy year! So far I've covered my West Coast vacation, summer at home, my November trip to Oregon, my last times taking Tim to William & Mary, and 2016 ALA Midwinter Meeting in Boston and a historic blizzard. And I still have the biggest trip of the year to cover.
Last time, I finished talking about January 2016. In February, the first big event was that Tim got his diploma from William & Mary! The super cool thing about it? It was in Latin!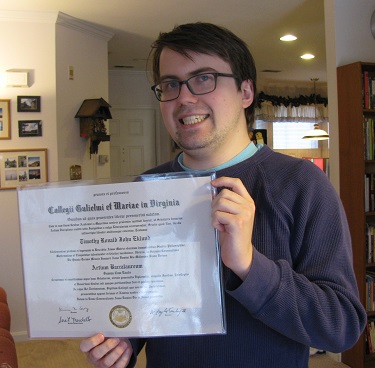 William & Mary included a translation. My favorite part was the bit about him being "upright and well-born."
And the next day, February 4th, I finished a Normal Distribution Scarf for Jade! And I wrote up a blog post about the math behind it. I also made and posted a Normal Distribution Coloring Sheet on my Sonderknitting page.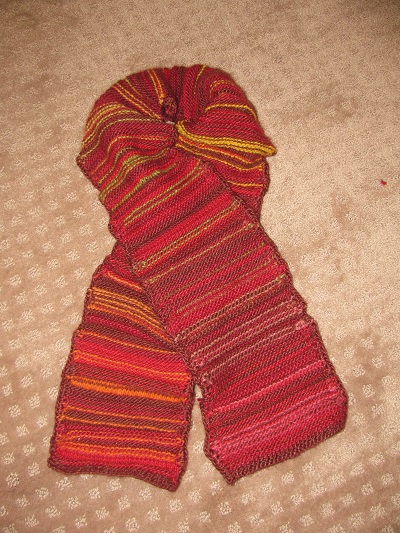 Have I mentioned lately? I was still going to a Friday night gaming group that would happen at Paul's house or Mike's house. It was a group of 8 serious gamers (me, a married couple, and the rest guys), and was a whole lot of fun to play Euro games that really make you think. I always felt like I was back with my math brothers. Anyway, in February we started up again after some time off for holidays and blizzards. That first week in February, I played Valley of the Kings and Puerto Rico.
I still also had the Sunday afternoon gaming group who mostly play Dominion (my favorite) – and for awhile I had Tim back in my home, so I could play games at home again! (What luxury!)
Valentine's Day was on Sunday that year, and Darlene gave me this beautiful bookmark! I wrote a blog post about Love.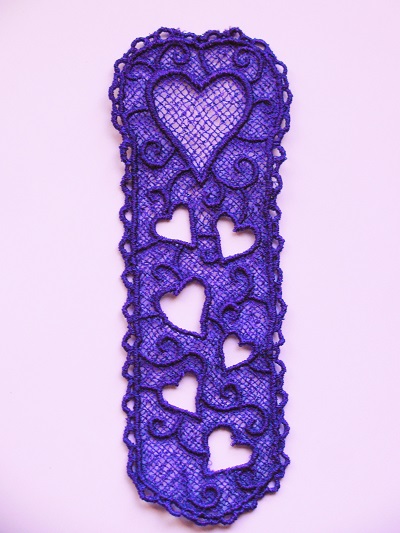 And Valentine's Day was the day before President's Day – and it snowed! With ice on top of that – so I took unscheduled leave on Tuesday to avoid driving in ice – and got to take more pictures of lovely snow.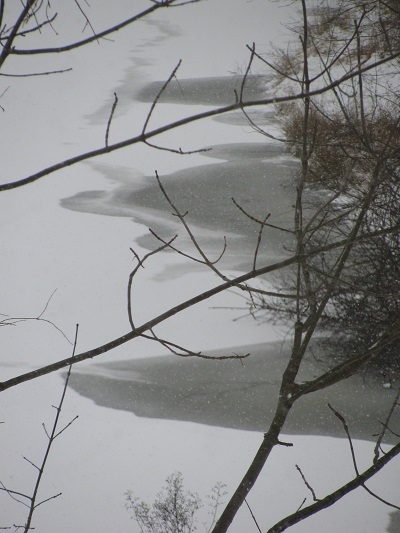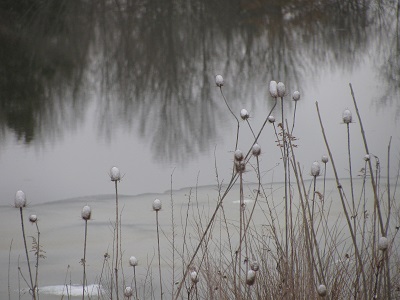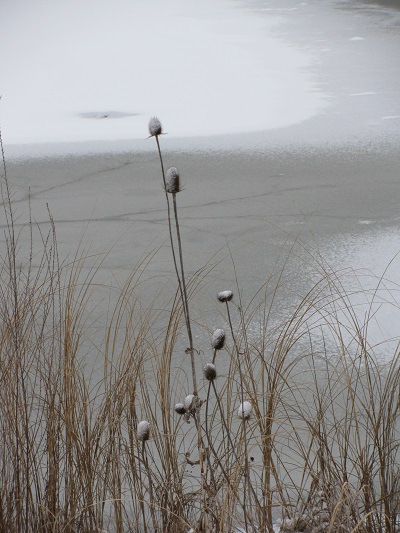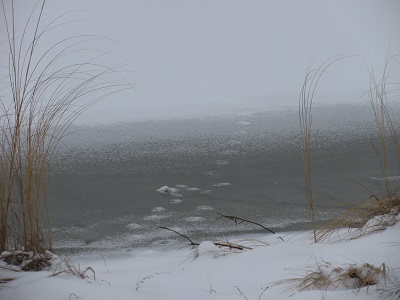 But I'm getting ahead of myself. Also in February, something significant happened. In one of my library news emails (I'm on a lot of lists from going to ALA conferences), there was a list of some current open librarian jobs – and there was a Youth Services Manager opening at Eugene Public Library in Eugene, Oregon.
Now, I'd been thinking a long time, wondering if I should try to move to Oregon. Jade moved there in 2011, and my four youngest siblings were now living in the Portland area. And now Tim was planning to find a job and move there. On top of that, if all these siblings and kids had lived in Portland in 2006, when I was coming back to America from Germany, I would have moved there in a heartbeat. After all, I'd been wanting to move back to the Pacific Northwest since I was 5 years old!
Now, after my visit that summer and again after my visit in November, I had come to terms with giving my kids space. The fact was, my siblings who lived in Portland are much younger than me, and in a different stage of life. And my kids don't necessarily need Mom in their faces.
But another factor was that I didn't mind moving when my Best Friend moved with me – my husband. But moving alone to a place where I didn't have a local friend my age? That's a bit more challenging.
And on top of that, I've ended up very happy with the life I've built in Virginia. Though not getting the Selector job was a blow. But I love my church, and I've made good friends both via church and at work and even via OKCupid! (I'm still friends with the one guy I dated whom I met on OKCupid – and I'm friends with his friends.) Oh, and I own a beautiful home overlooking a lake.
Okay, so that's the context of this advertisement for a Youth Services Manager position in Eugene, Oregon. I'd been thinking about moving to Oregon, and I love Oregon – and this was 100 miles away from Portland – which seems like the perfect distance to get to see my kids in Portland often – but not be in their faces, always there, always hanging around, being an annoying Mom when my kids are trying to be adults.
On top of that, I found out that my Mom's aunt Sharon and Uncle Phil and cousin Sonja live in Eugene. And I didn't even realize it, but Sonja is the exact same age as me! Okay, really she's eight months younger – but she's a whole lot closer to my age than my siblings in Portland. And like me, she's single. So – a possible *friend* if I moved there. It was looking better and better.
I decided to do two things: Apply for the job and pray hard. I honestly didn't know what would be best. I didn't actually want to move – but it seemed like way too excellent an opportunity to just let it go. When it turned out that the low end of the pay scale was more than I was currently making, and I would supervise many more staff – showing a higher priority on youth services, and when I learned that the cost of living is lower in Eugene than in northern Virginia – Yes, it seemed like I should at least apply. So that was the first step in February – deciding to apply.
Also in February, I met with a group of retired teachers to talk about "What's New in Children's Books." I focused on books that had won awards at the Youth Media Awards I'd attended in January. It was lovely to share my area of expertise with a super appreciative audience.
Here's a nice note. Tim had a visit to Steve's at the end of February, and I was feeling a little blue about that – and my ex-boyfriend John called and invited me to dinner with him and his daughter. It wasn't romantic – just a nice friendly meal – and it really hit the spot. I still felt like a winner ending up with a friendship with him, even though I still didn't think we made a good match as a couple.
On March 1st, I voted in the Virginia primary – for Bernie Sanders. I probably shouldn't say any more about that election! Bernie got me excited about things that could happen. But there were some setbacks….
Oh, and on March 6th, my church had a groundbreaking ceremony for our new Community Resource Center building. We were really building!
Then on March 12, I submitted my application for the Youth Services Manager position at Eugene public library! They said they'd be interviewing in April, so now to try to forget about it for a month. In the meantime, I prayed about it – honestly ambivalent, honestly not knowing which outcome would be best – which made me feel free to ask God for direction.
And it was another Super Pi Day! Since the value of pi rounds to 3.1416 – we called it Super Pi Day (Rounded Version) – 03.14.16 ! The previous year's Super Pi Day was the truncated version. Of course I made a Pi pie again. (Chocolate Angel Pie – my favorite pie to make.) Crazy 8s Math Club had started up for the Spring, too.
And Spring was beginning! Now instead of snow pictures, let's post some blossoms! These are from March 17th, when I worked late and got to take a walk before work.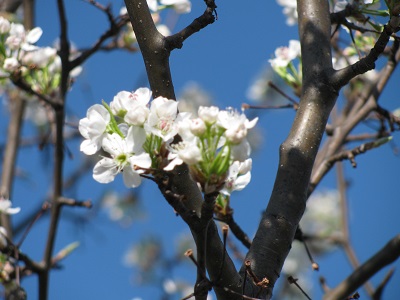 A week later, on the 25th, more picture-taking!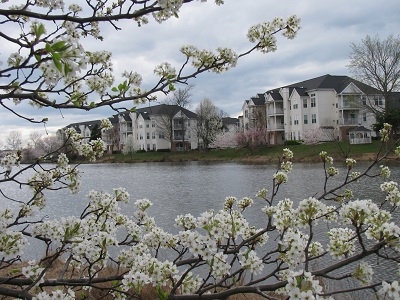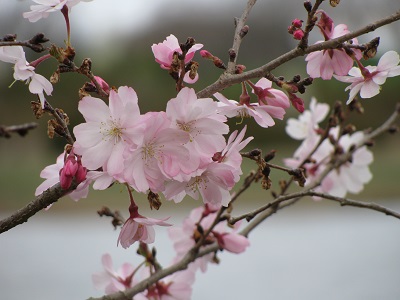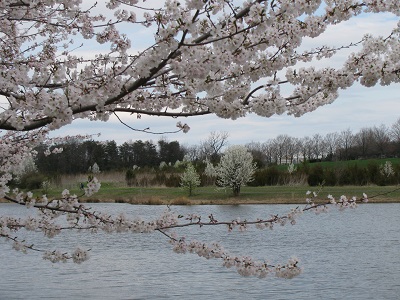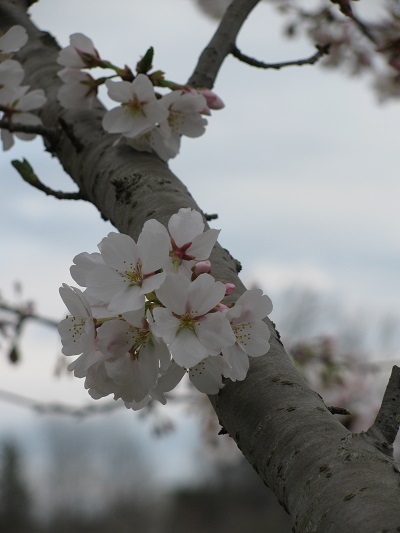 And more blossoms on March 30th.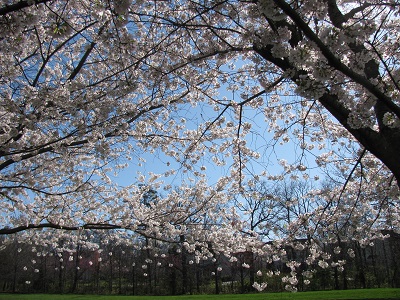 Oh! I didn't even mention it in my journal, but some time in March, I nominated myself to be put on the ballot for the 2019 Newbery committee.
And on April 2nd, I found out I got a phone interview for the Eugene job!
And I took some more beautiful pictures: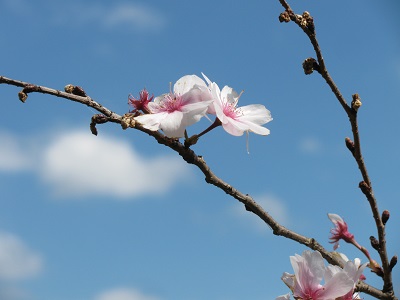 Interesting. Already by April 4th I said that I was freaking out about the idea of moving. Because I didn't want to move – but it still seemed like a fantastic opportunity that might turn out to be something awesome God had for me.
I like this from my quiet time journal on April 7th. I'd been talking with my friend Kevin who gives good coaching advice about the job. Here's what I wrote:
Lord, I want to do as Kevin suggested and feel in my bones that this opportunity in Eugene – whether I'm offered it or not and whether I accept it or not – reflects the depth and breadth of your love for me.
Spoiler alert: I did not end up getting the job. But looking back – Wow! That's exactly how I feel about it! That opportunity feels like it was a beautiful expression of God's love to me.
On April 8th, they sent me the questions they would ask in the phone interview. Wow! Since it would be a phone interview, that meant I could write out my answers and read them on the phone. I could do this! Though I'd have to do the work to write out the best possible answers.
April 8th was also the day of my annual Bluebell Walk at Bull Run Regional Park.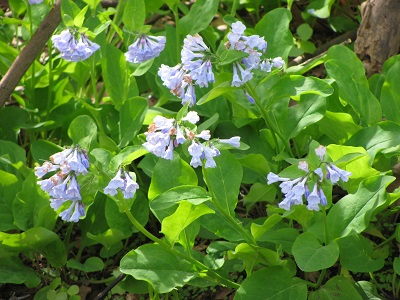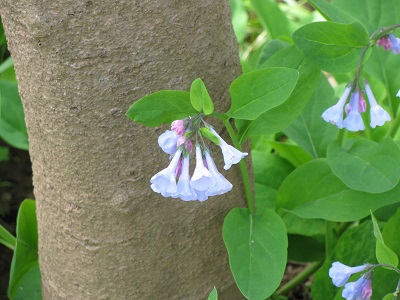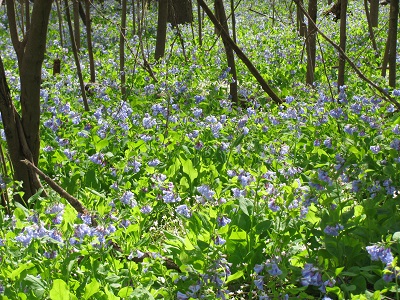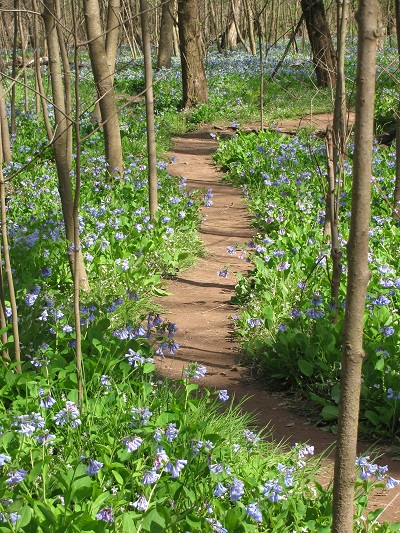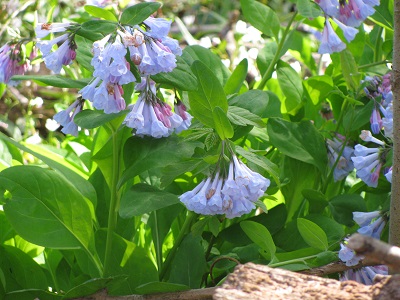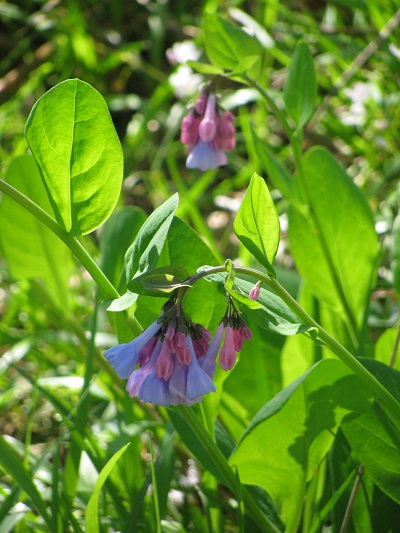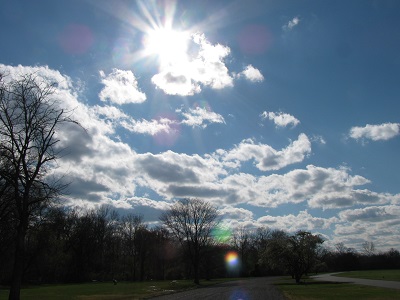 April 14 was a big day. I was in charge of throwing a retirement party for my staff member, Mary (I got other people to do the actual party planning, thank goodness!), and I had my phone interview with Eugene Public Library.
I thought the phone interview went well. I read my prepared answers, which I'd practiced many times. But it was still stressful! And I was still all torn up inside figuring out if I wanted to move or not. I really do love my home here in Virginia. But I didn't want to stand in the way of the Lord blessing me – and my kids would both be in Oregon, once Tim found a job.
April 16th was a luxurious day off – and I saw both a great blue heron and a white egret at the lake at the same time.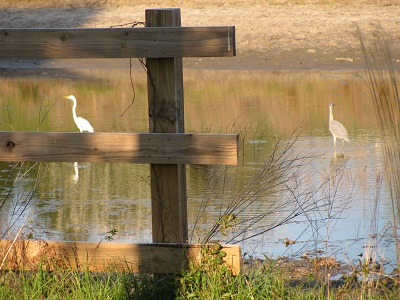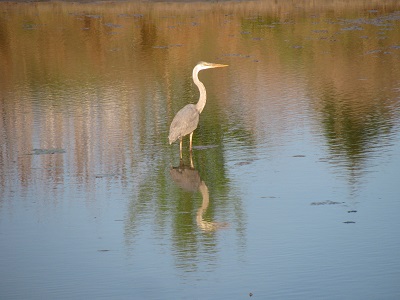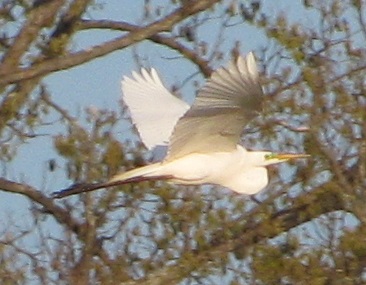 On April 18, my 5-year-journal says:
Ack! Tonight I found out that I got the in-person interview!!! It will happen on May 16! This was just after I'd gotten to a peaceful, happy place! The thought of a big move is scary. . . but I am sure that God will go with me.
On April 22nd, Tim went with me to the tulip fields at Burnside Farms. Yes, I went nuts taking photos again.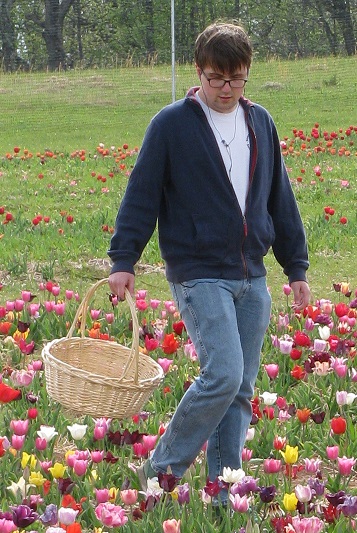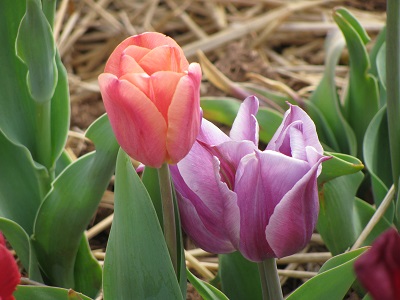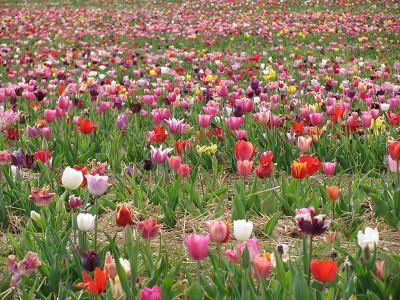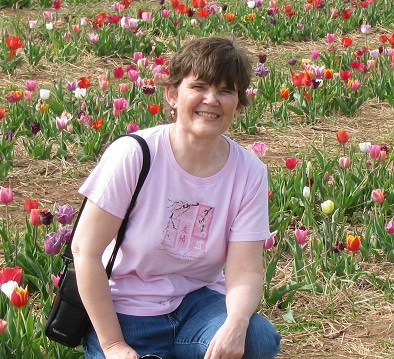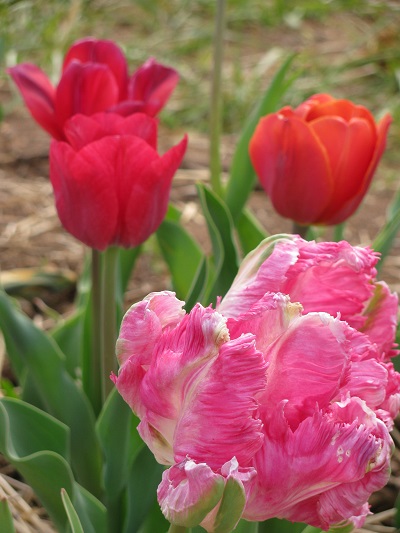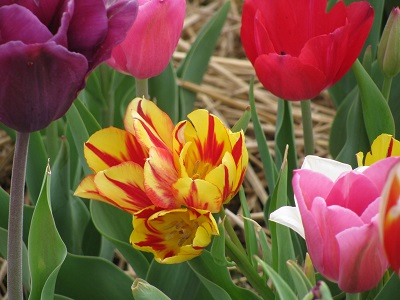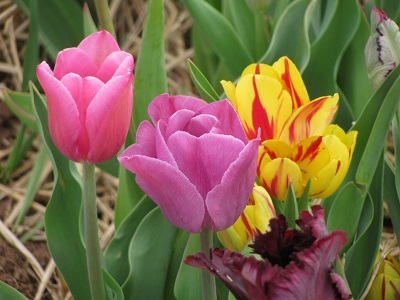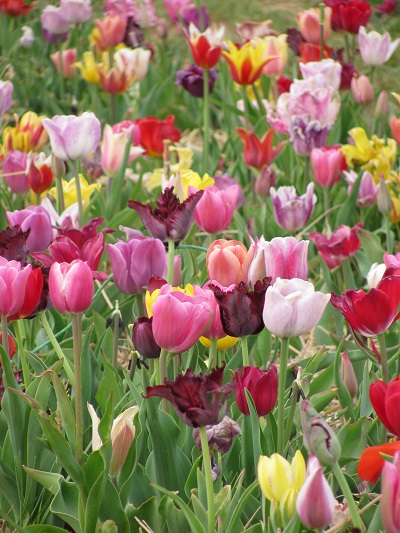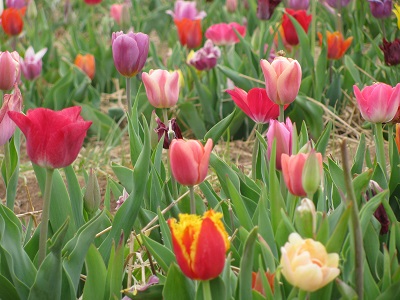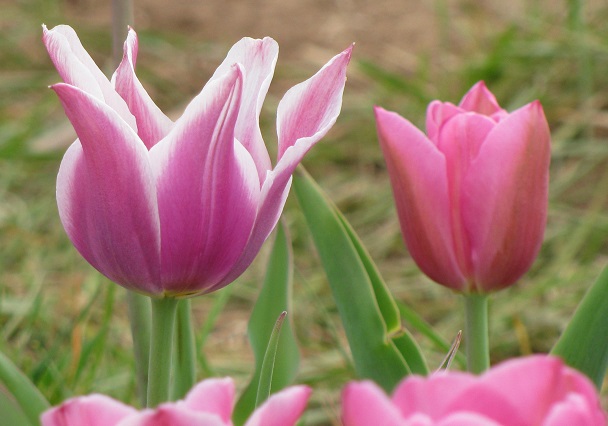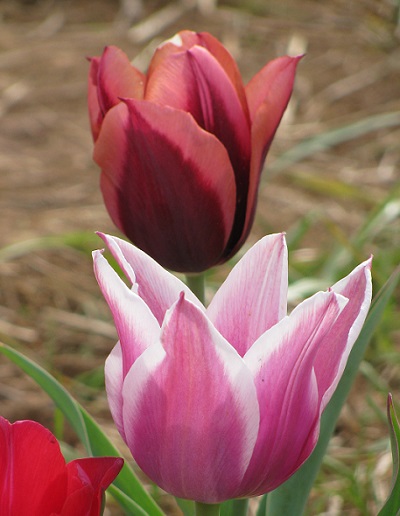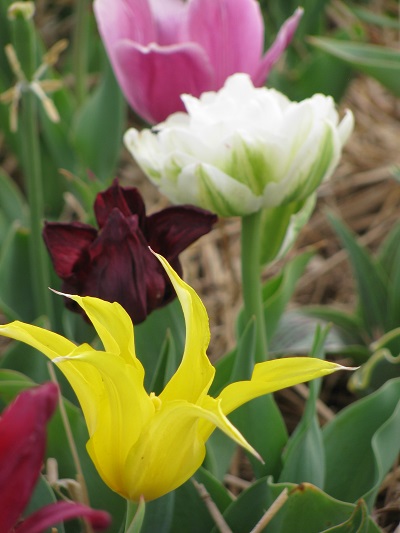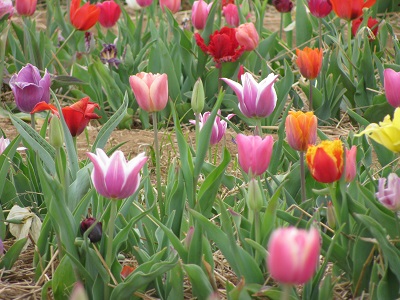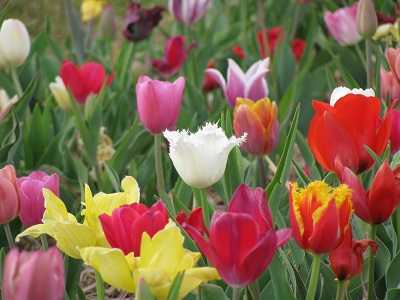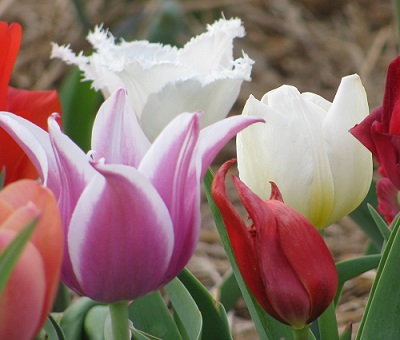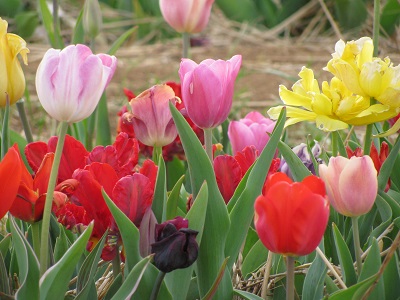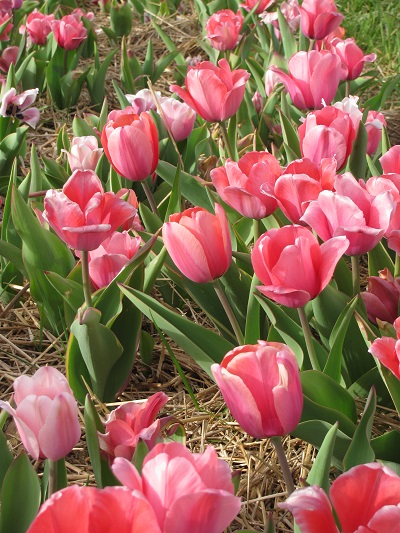 We bought some tulips to take home, too.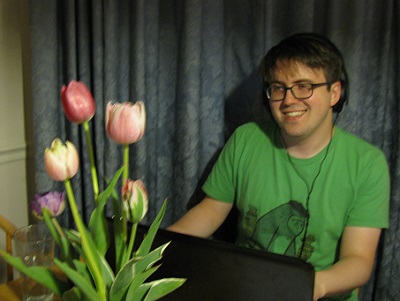 I did lots of praying over the next couple of weeks. And lots of friends prayed for and with and over me, including my small group and the Prayer Team. I still was honestly ambivalent. I honestly didn't know which would be best – staying in Virginia or moving to Eugene – so I honestly wanted God's direction.
And on May 11, 2016, I flew to Portland! Yes, as long as I was going to Oregon, I was going to take vacation! (And it did turn out that Eugene Library didn't reimburse me for the trip. I wasn't surprised – they're a library, after all.)
I spent the first few days at Marcy and John's house. When I arrived, little Zoe STARED at me! But Alyssa warmed up quickly. I brought her a gift – the book Madame Martine. Listening to her "read" the book after we'd read it a couple of times was amazing! If I hadn't known the story, I might have thought that was it. I liked the way the dog in her version was named "Washington." (Their family had recently driven to Washington state.)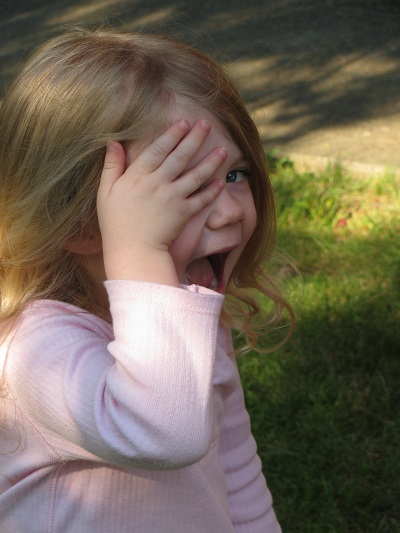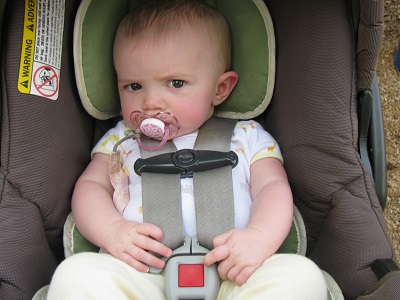 Alyssa has a calendar to help her deal with transitions. Alyssa made the whole trip worth it when she saw my name on it and said, "You'll be with us three more days! And I'm SO GLAD!!!!"
Oh, Alyssa, I was so glad, too! My heart melted and was entirely hers at that point.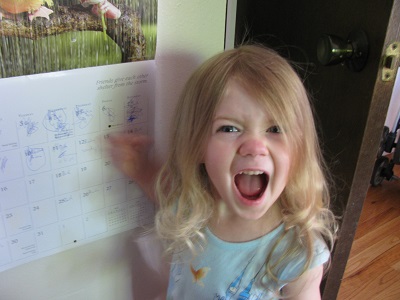 My second day, Zoe was getting more comfortable with me, too.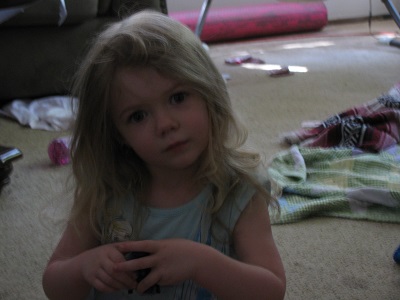 Zoe got to try a new food!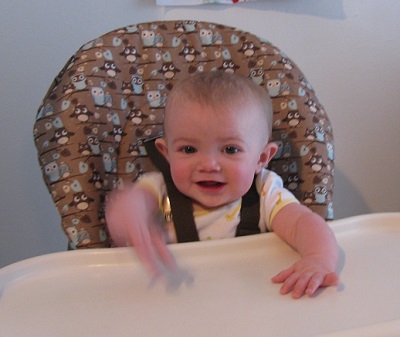 Arianna came over in the evening!
Zoe's in the toe-eating stage!
And on May 13, I drove in to Portland and picked up my daughter Jade and my brother Peter and went hiking with them at Multnomah Falls. It was so good to be with Jade!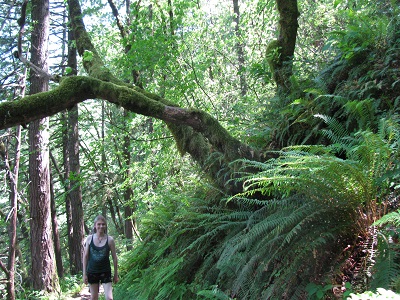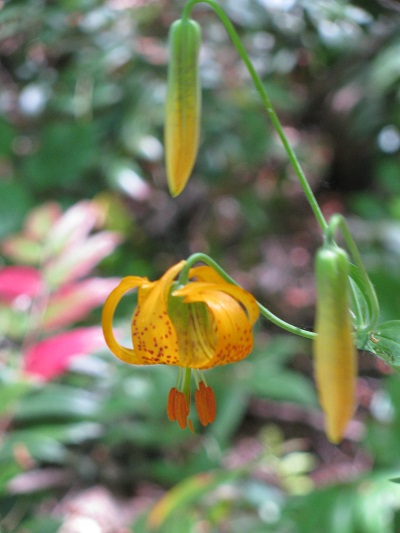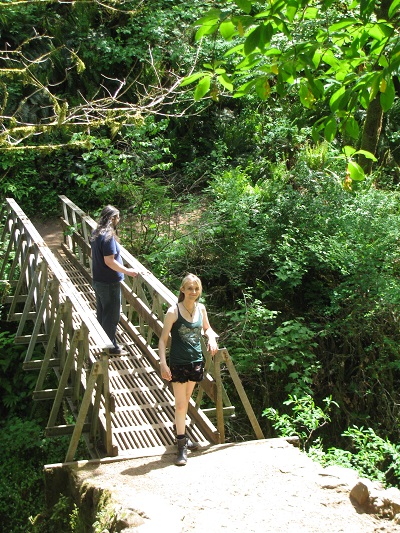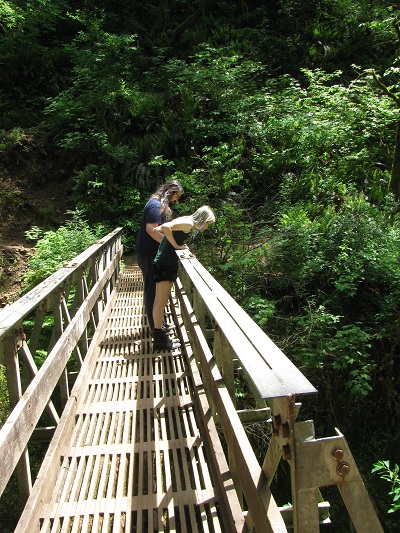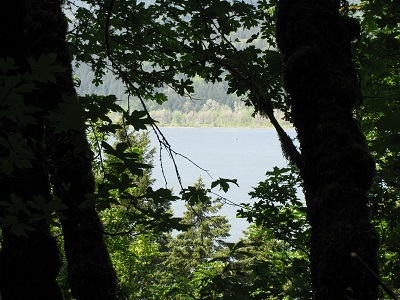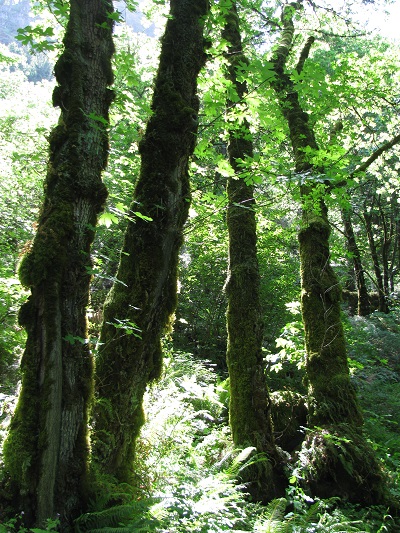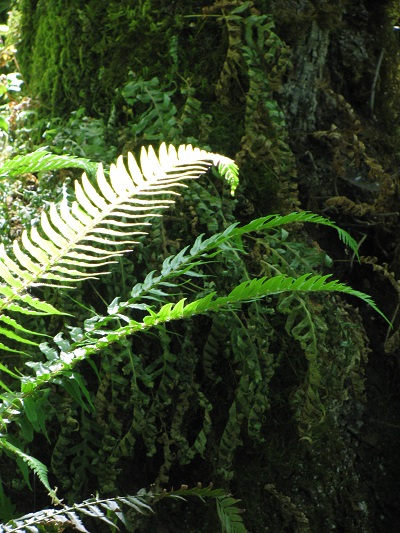 We had dinner at Multnomah Lodge.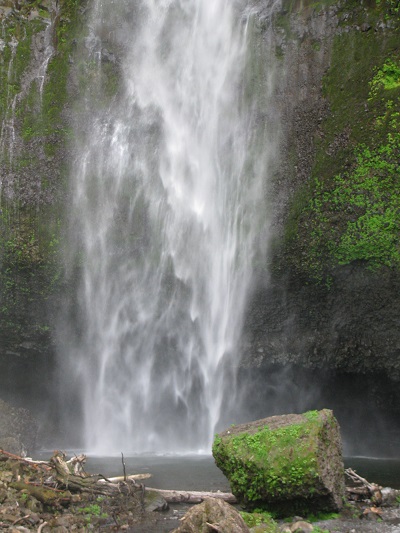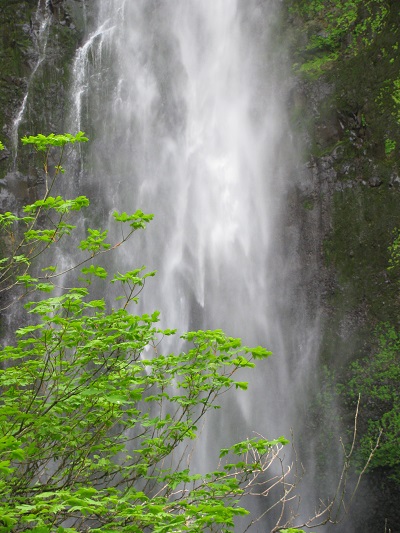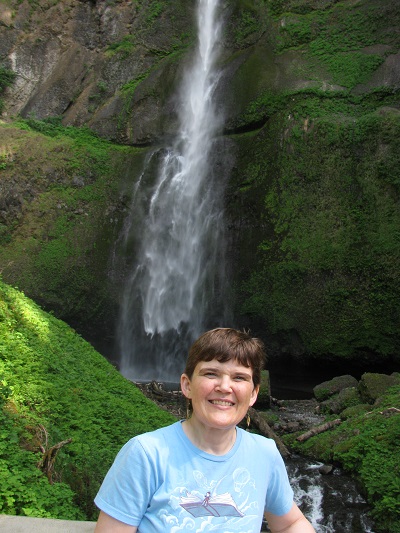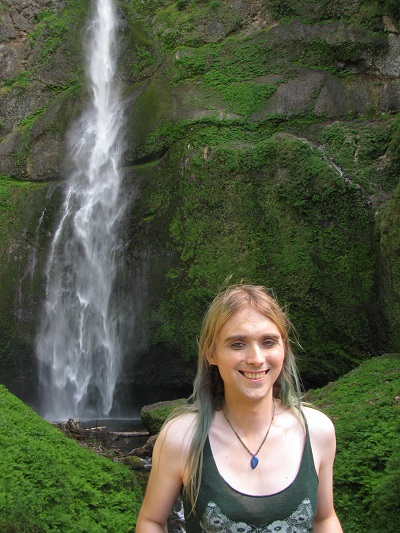 On the way back, we stopped at a castle-like structure overlooking the Columbia River gorge.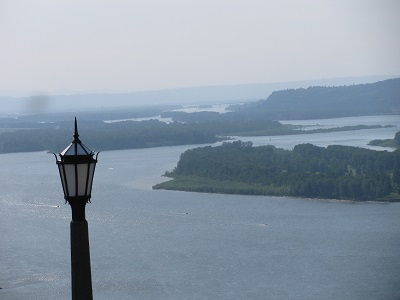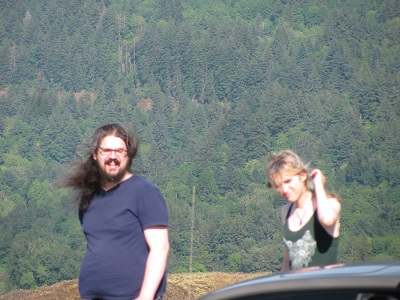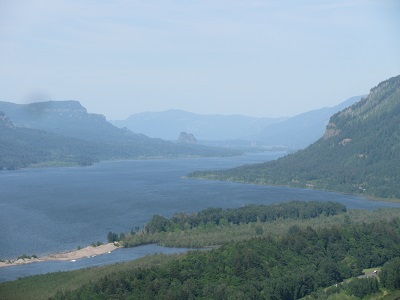 And I was back at Marcy's house with Alyssa and Zoe that night.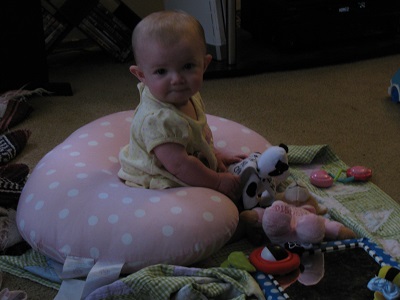 May 14 was Arianna's 3rd birthday, so I went to her birthday party before I drove down to Eugene.
Zoe was modeling the prime factorization blanket I knitted for her.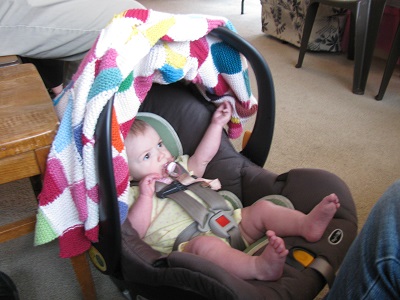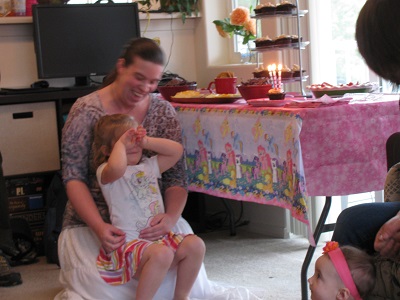 Arianna's cousin was the same age as Zoe.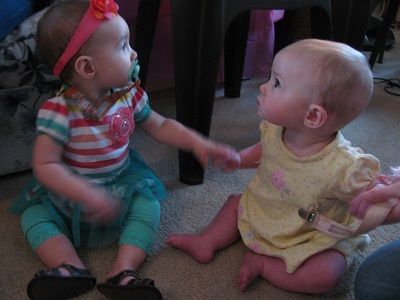 One of the party guests was good at French braiding.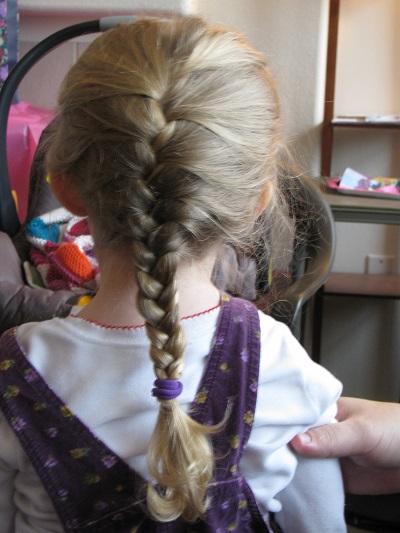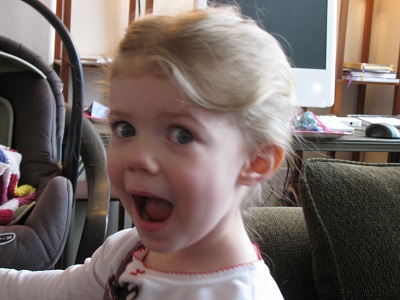 Arianna got a wagon for her birthday.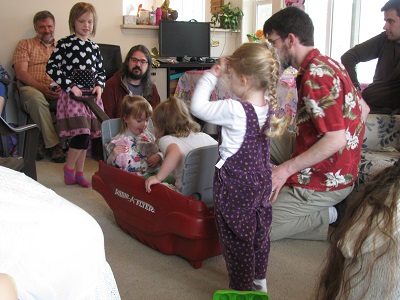 And of course the wagon needed to be tried out!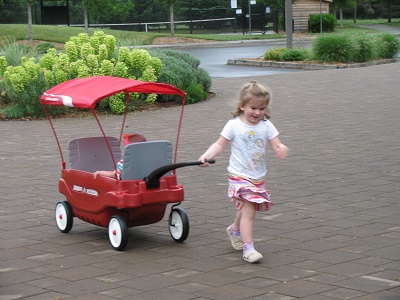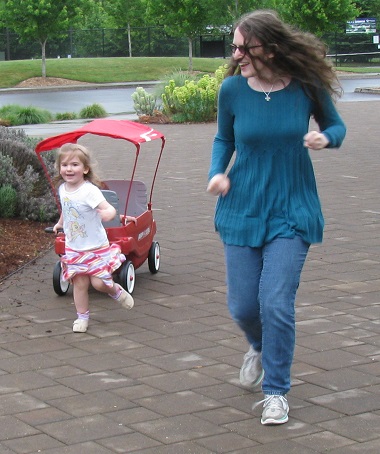 After the party, I had to say good-by to my little nieces and head to Eugene. I'd realized the night before that I had somehow left behind the purple sweater I'd planned to wear in the interview, so I stopped at Sears to find a jacket to replace it – and found a navy blazer that looked even more professional. Whew!
I stopped in Salem and had dinner with Aunt Susan. Then on to Eugene! I first visited Aunt Sharon and Uncle Phil, then spent the night with Sonja in her house. Her roommate – a librarian – was out of town.
I had the best time with Sonja! It was delightful getting to know her!
On Sunday the 15th, I went to church with Sonja – it was so close, we walked. Then Aunt Sharon took us to lunch at a lovely restaurant overlooking the Willamette River. Then they gave me a tour of Eugene. In the evening, I had an appointment at a coffee place to chat with the library director. Then that night, I talked and talked with Sharon and Sonja.
May 16th was my big day! The interview process was long, but I really got a good feel for the library. I was impressed! A whole floor for Children's Services. A wing for staff. More than one break room! I saw lots of great ideas to steal! The process included a Library Tour, a written exercise (writing a grant proposal), the interview, and a role-playing exercise about dealing with a problem patron – and staff members who didn't like the way each other dealt with it.
That night, I had dinner with Sharon and Sonja at Laughing Planet (yum!) and then dessert at Sweet Life (yum! yum!)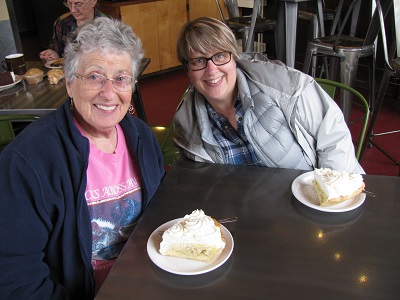 I enjoyed my time with them so much!
But then I drove back to Portland. I got to Kristin's house fairly late, but she had dessert all ready for me!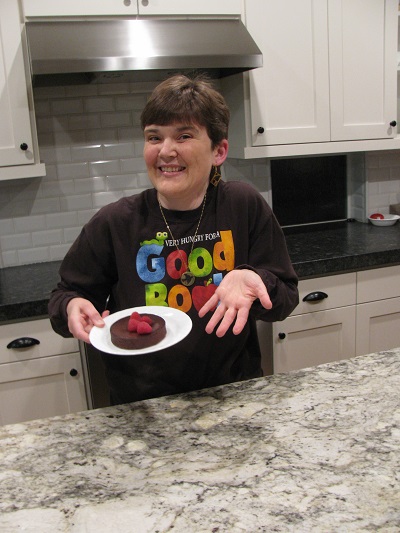 In the morning, Kristin took me to breakfast at Sweedeedee (yummy!) and then we walked quickly around her neighborhood rose garden a few times. She took me to the airport to go back home.
It was a wonderful day for views of Mt. Hood and mountains in Washington!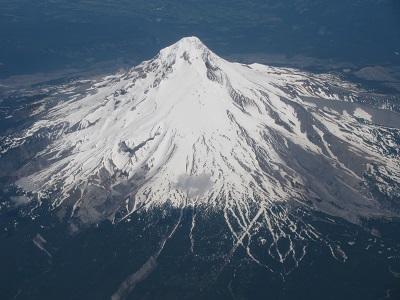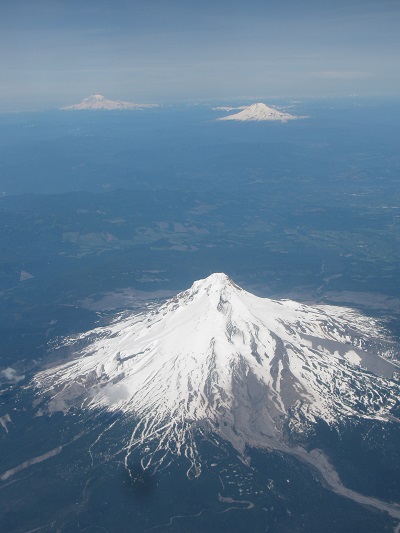 I got home at midnight – and the next day, I drove with Tim to National Harbor, where we met my Dad for lunch. He was in town for his Space-Based Positioning, Navigation, and Timing National Advisory Board meeting.
I went back to work on May 19 and was shocked to learn that Liz Rhodes, the 42-year-old director of Technical Operations, had died. I was also sad that Kathy, our former branch manager was really gone from the library (She retired just before my trip.), and so was Mary, my former staff member. And I started feeling worse about my interview answers… so it was a rough day.
But I got back into the swing of things. The next day was already my day off. I did go to gaming in the evening, playing Evolution, Parade, Red Seven, and Ticchu.
Here's a selfie I took around that time.
And more walks around my lake! Now the irises were blooming!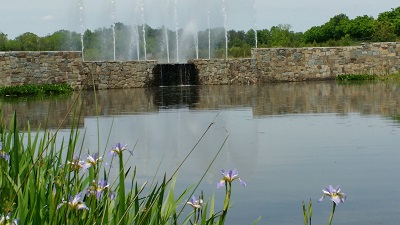 Tim even walked with me!
I have a note that Family Math Games went especially well that Saturday – Parents completely focused on playing with their kids and helping them learn. After work, the Dominion gaming group met (instead of Sunday, for a change), and John told me he hoped I stunk at the interview. As supportive as everyone had been, it was nice to have someone express that they hoped I stayed in Virginia!
On Sunday, my small group leader told me that I was being illogical to pray that God would open or shut the door and then assume that if the door closes that I was inadequate! He had a good point.
On May 26, I learned that I had not gotten the Eugene job. As I told people, my favorite local reaction was my friend Debbie Schmidt, who said, "Welcome home!"
And looking back from the vantage point of a year later, I do see that whole experience as an expression of God's love to me.
I had a soul-feeding trip to Oregon. The time with people – my family, my little nieces, my daughter, my aunt, my cousin, and also my friend Kristin – was all rich and wonderful. I even really enjoyed seeing the beautiful Eugene Public Library.
But another wonderful thing about the job application – somehow, it put to rest the idea that I should think about moving to Oregon. God had a chance to move me. I felt it was an indication that here is where God has me for awhile. And I am very happy to embrace that.
And I still had my beautiful lake!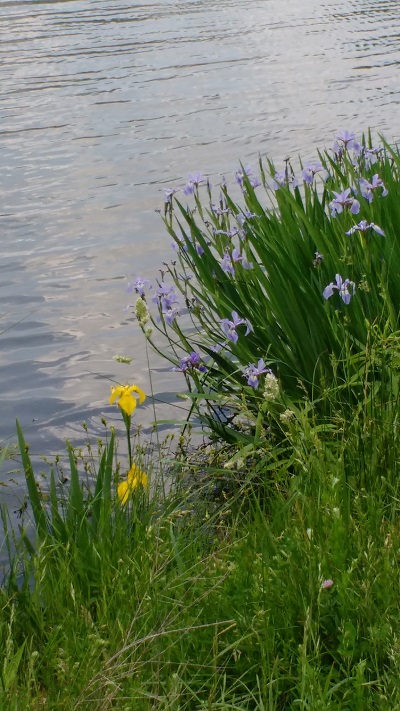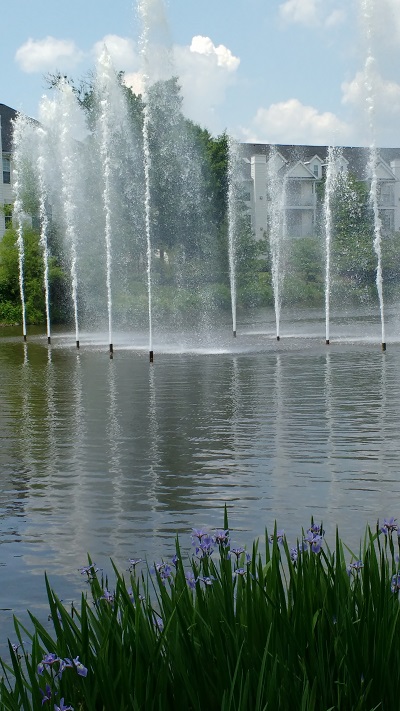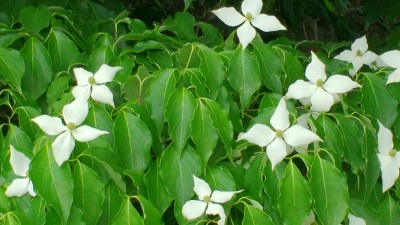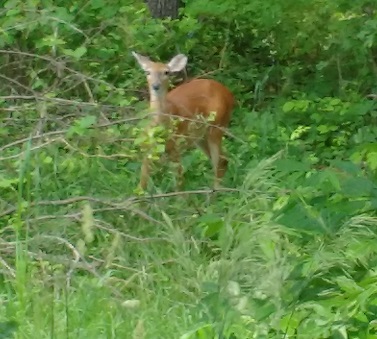 On June 1st and 2nd, I interviewed candidates for the open staff position – my first hire! (Though I'd sat on an interview panel before.) [And with a year's perspective – I can't imagine that turning out better than it did!]
I learned how to use html include files and started using them in my Sonderbooks web pages. Some day, when I have them in all the pages, they're going to be much, much easier to update. The ones that are already using them are already much easier to update.
On June 5th, my new little niece Meredith was born to Laura, my brother Robert's wife! (Arianna's new sister.)
And on June 11th, Darlene took me to eat at Big Bowl in Reston. We'd been there before for Darlene's birthday, so we had a little tradition going.
And on Sunday, Debbie brought me cake and flowers to small group.
My 52nd birthday itself I'll talk about with the next post.
My plan was to finish Project 52 today, on my 53rd Birthday. As it is, I guess it's okay that I didn't get behind until the next-to-last week! So I'm happy enough to finish Week 51. (It was a big year, with three trips to Oregon!)
Maybe at least I can talk about Year 52 before this next week is done.
Until next time!