I'm telling about my Road Trip Adventure to Prince Edward Island with my friends Darlene and Ruth. On a late Saturday and Sunday in September, we drove through New England and New Brunswick to Prince Edward Island.
On Monday, we visited Green Gables Heritage Place, took the path through the Haunted Wood, visited Montgomery Park, saw the site of L. M. Montgomery's Cavendish home, and took a shore drive back to our cottage.
On Tuesday, we visited two L. M. Montgomery museums: L. M. Montgomery's Birthplace and the Green Gables Museum at Silver Bush. That day culminated with a trip to Anne of Green Gables: The Musical.
On Wednesday, we took a scenic route to Greenwich Dunes. Once there, the path led through the woods, then on a floating boardwalk right through a lake.  After we got through the lake, which was surrounded by dunes, we climbed over a dune and this is what we saw on the other side: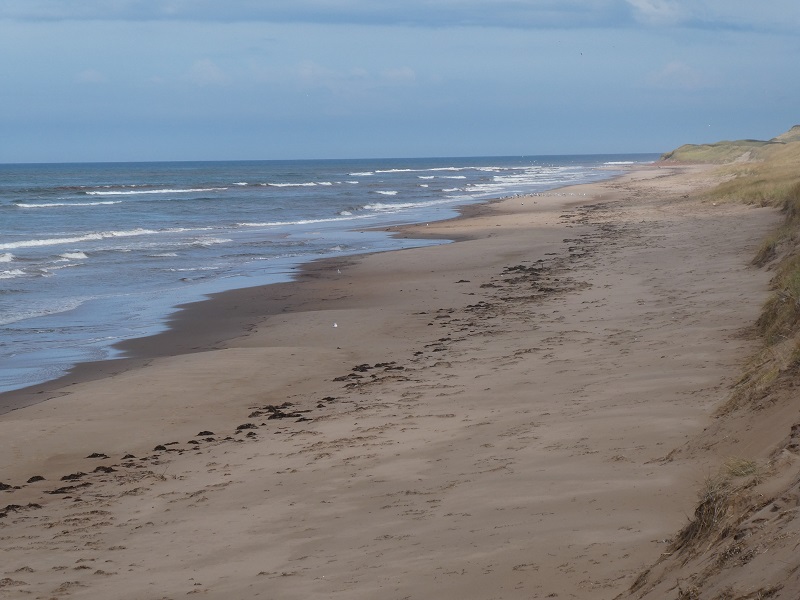 Anyway, that's what I saw when I pointed my camera to the right as I climbed down the dune.  But when I pointed it to the left, it looked like this:
I have to admit that after walking on a floating boardwalk through an astonishingly beautiful lake, it was astonishing to now be walking on a lovely white sand beach.
Little sandpipers were skittering near the waves.
And close up: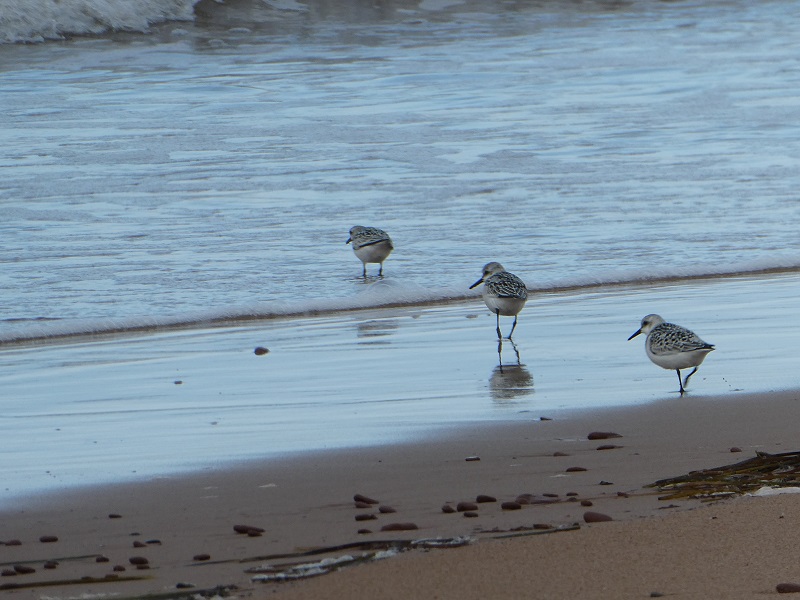 Time to take a picture of Ruth and Darlene on the beach.  I'm lucky to have friends like them!  And after all that walking, we're still smiling, because it really was astonishing.
Okay, the looming clouds on our left were coming closer and closer.
In fact, now when I took a picture of the view to the right, you can see the edge of the bank of clouds overhead.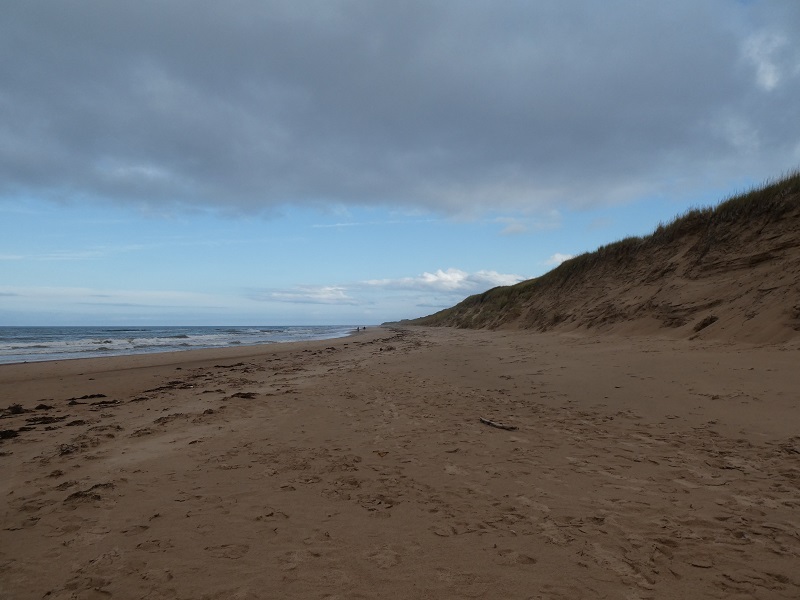 We decided it was time to head back.  I did take some backward glances as I climbed the dune again.
We were ready to travel again on the floating boardwalk.
And here's a wider view of where we were going: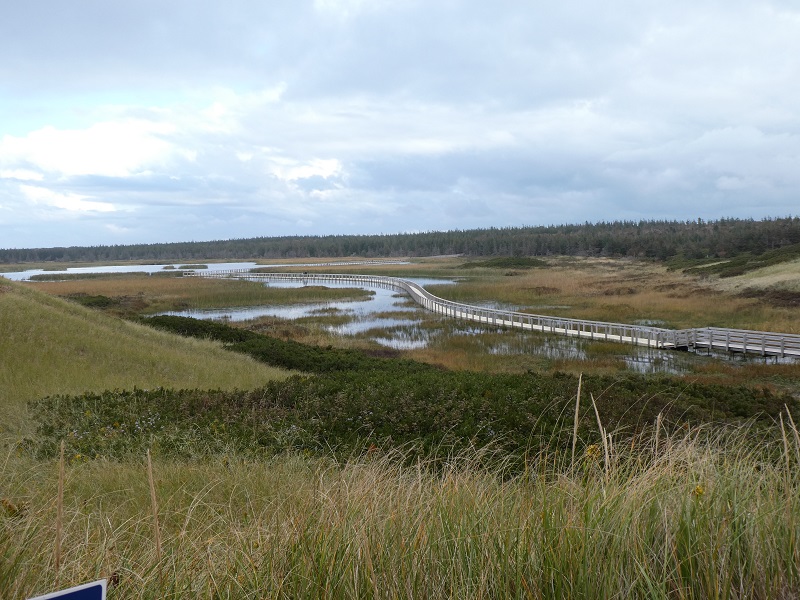 The clouds were catching up to us.
Of course, the new lighting meant I had to take more pictures! This one's still from the top of the dune.
This one gives a better look at how steep the climb was over the dune.
The walk back was darker, but still beautiful.
And yes, the birds were still calling. I hadn't seen any Canada Geese in Virginia yet this season, so I told these ones I'd see them again in Virginia! (Sure enough, there are some outside my window on my lake even as I write this.)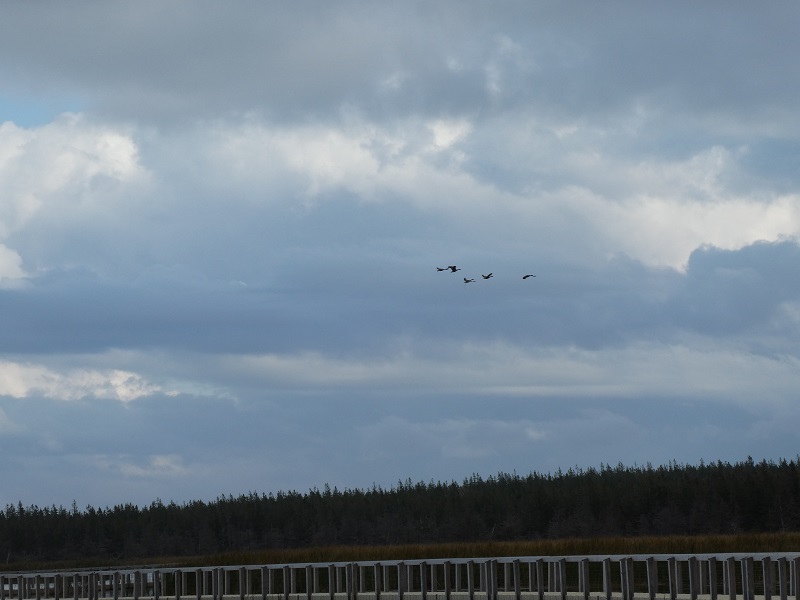 It was around this time we began feeling a little rain. Mercifully, it never did get heavy, though.
The darkening sky did mean we didn't linger as much on the way back.
Now the birds were dark outlines.
And we made it back to the woods.
And back out to the former farmland.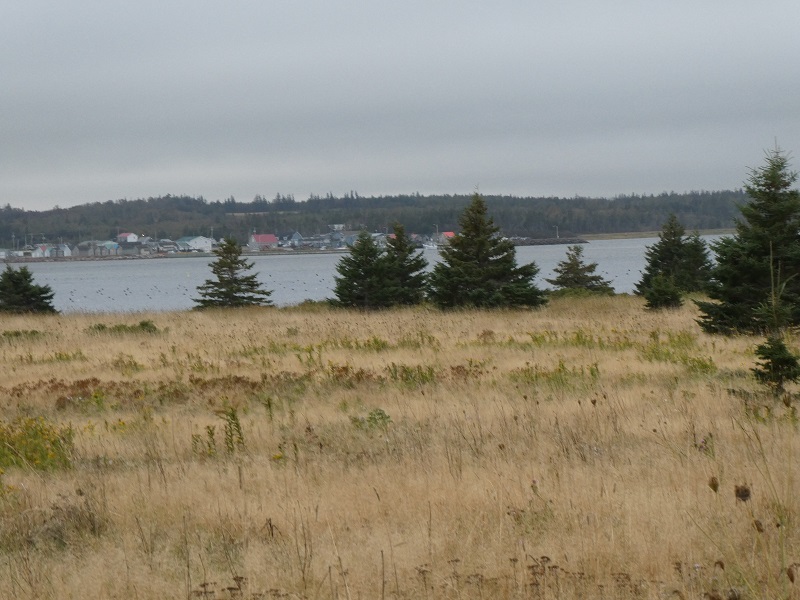 I like this one of Darlene. We were still just walking, just enjoying being out in this beautiful place.
Then we had an opportunity to take another side trail before we went back to the car.  I was delighted when everyone wanted to do it!  When I used to hike with my family, the others were generally done before me.  Darlene had been having some soreness walking, but she still wanted to keep going!  And so did Ruth!  So we took Tlaqatik Trail.
This trail led first beside St. Peter's Bay. There were birds by the water here, too.
And then I spotted a great blue heron!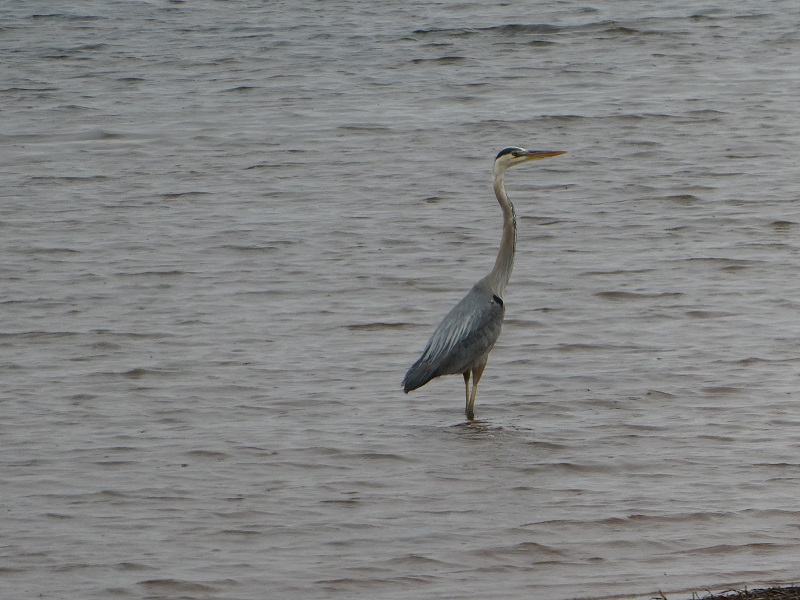 The lighthouse across the bay: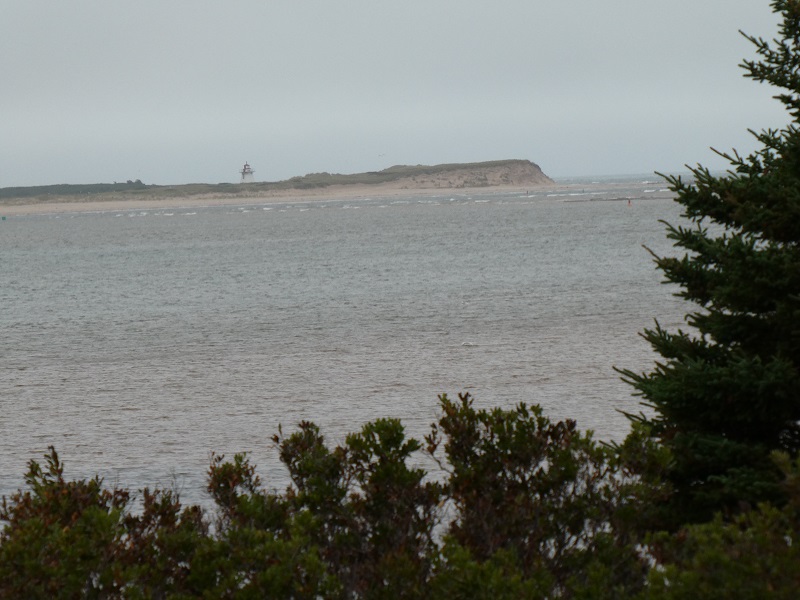 By now it was lightly raining again.
This trail had woods and shore. Love that Fall Color!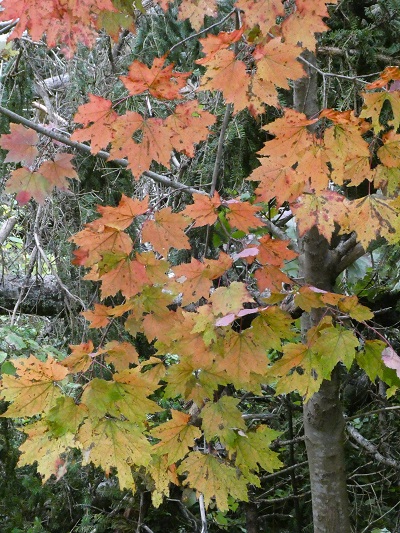 Another great blue heron!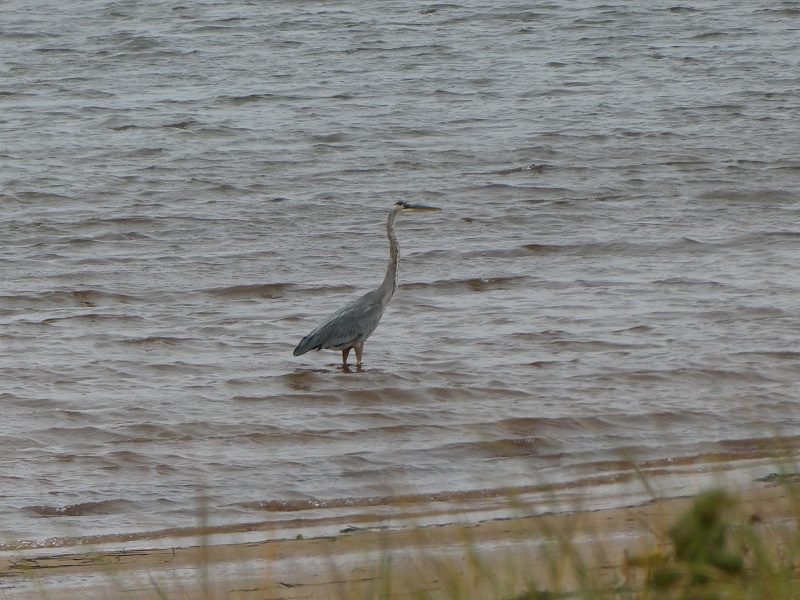 I understand that Prince Edward Island is a much bloomier place in the Spring and Summer and not a few weeks after a hurricane. But we still found wildflowers.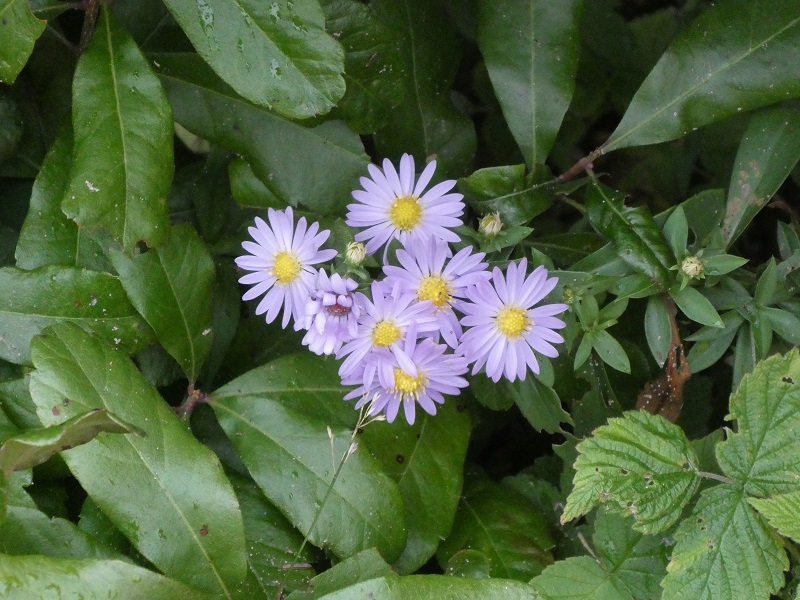 We reached another boardwalk over plant-covered dunes.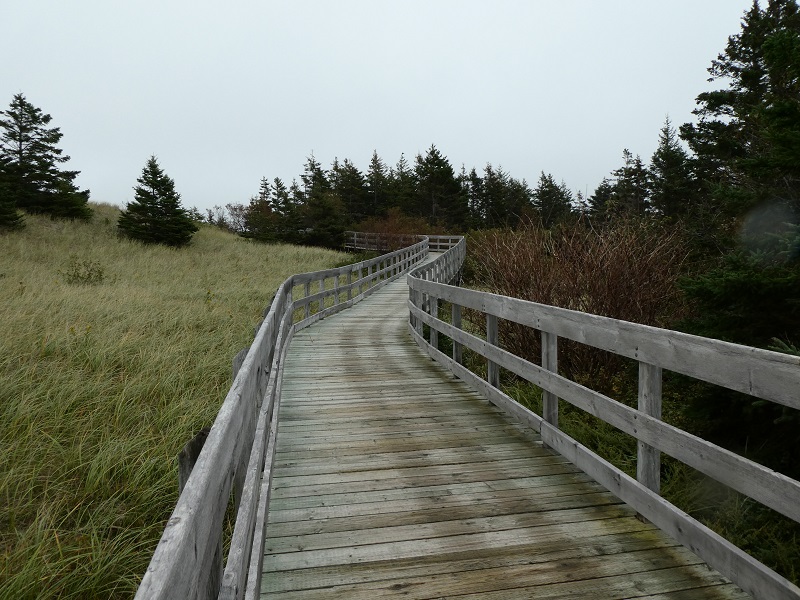 I wouldn't have guessed by looking at these hills that they're sand dunes.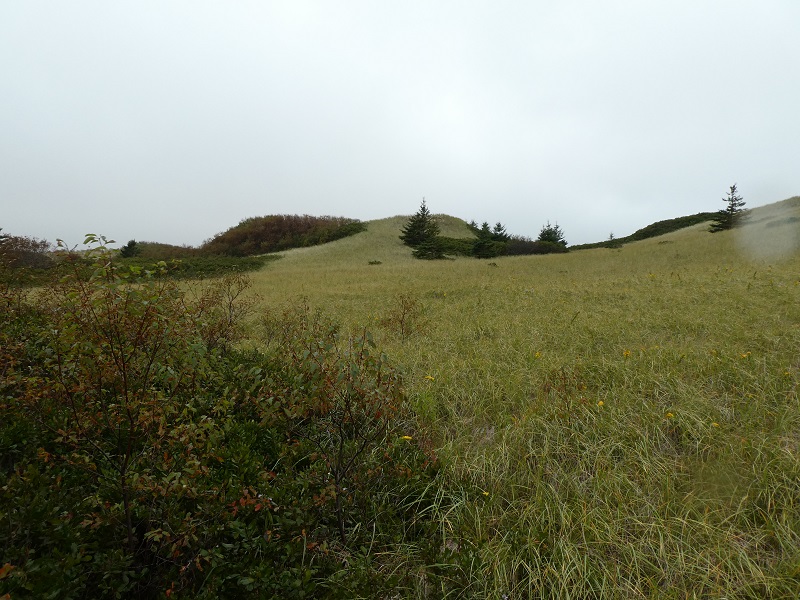 I loved the way every boardwalk we encountered was curvy.
We were getting closer to the Interpretive Centre with more normal woods.
Now it was back through old farmland we'd passed on our way out. But now it was lightly raining, so we didn't linger.
So we headed back to the car. We drove a more direct way back to the cottage than the scenic one we'd used to arrive. Back at the cottage, Darlene fixed a dinner with leftovers for our remaining nights, and we got a good rest after our astonishing day's walk.