It's time for Project 52, Week 34 – Part 8!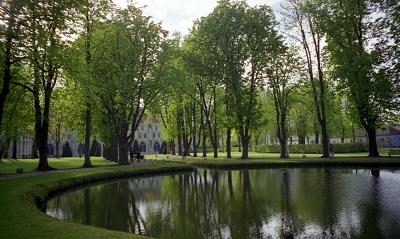 34 weeks ago, on my 52nd birthday, I began Project 52. Since there are 52 weeks in a year, each week I'm taking one year of my life and blogging about it. This week, I'm covering the year I was 34 — June 14, 1998, to June 14, 1999.
And the week is almost up, but I haven't finished the year yet! This is now the eighth post about being 34, after talking about my new home and new job, our vacation in Spittal an der Drau, visiting the village of Sondra, yet more castles, Ruth and John's visit, our trip to EuroDisney, and more travels and more visitors.
After we went to Belgium with my family and Steve's parents, one of the highlights of my life happened. They went to Paris — and dropped me off at the Abbaye de Royaumont outside Paris on April 11. They picked me up on April 13, after I attended the Society of Children's Book Writers and Illustrators conference.
When I walked through the gate of the Abbaye, here is the sight that greeted me!
When I prayed about the conference, yes, I hoped an editor would discover my work and beg to publish it, but what I really prayed for was that I'd make some connections with other writers of middle grade novels. I was feeling a little bit of a freak, since I didn't know anyone else who was desperately trying to find time in their lives to write children's novels.
That prayer was answered in spades!
But first, some walking about the Abbaye grounds.
My roommate was Vicki Sansum, and she proved to be delightful! We were pretty sure they'd given us the Servant's Quarters, but the conference was so good, that was a minor detail in comparison.
That first night, at dinner, I sat next to someone — who ended up being Arthur Levine, the editor with Scholastic who had brought the Harry Potter books to America!
I had given Josh the first Harry Potter book for their birthday, having read about it in Horn Book Magazine. But I hadn't read it myself yet! (What an opportunity lost!) It was shortly after this conference that Josh told us this needed to be the next book we read at bedtime. (We were trying to read to both kids at once, now that Timmy was 4 years old.) And so began a wonderful family tradition. Steve did most of the reading aloud when we were home. (In fact, when Steve moved out just after Book 6 came out, when I was crying about it, I said, "But who will read Harry Potter to us?" What, after all, is important?)
Anyway, the conference was wonderful. I got to talk with editors. I got a critique of my first book. I affirmed my intention to be a writer. And, best of all, I made connections with other writers.
Here's the luxurious dining hall. Vicki's in front in the blue.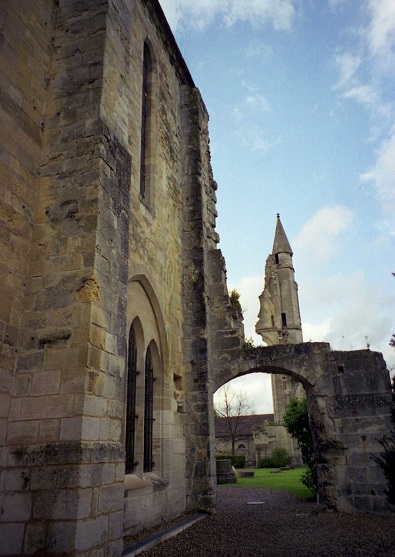 By the end of the conference, we'd formed an email critique group. It ended up being me, Vicki Sansum, Erin MacLellan, and Kristin Wolden Nitz. Within the next few years, all three of them did get published, and I've put links to my reviews of their first books. (I kept saying it was my turn next, but I stopped critiquing awhile back because now I'd like to get on the Newbery committee before getting published.)
For awhile, we emailed very faithfully, and they became my dear friends. We call ourselves the Sisters of Royaumont. We had a reunion at another SCBWI Writer's Conference at the Abbaye de Royaumont in 2005 — which happened the day after my husband told me he wanted a divorce. These women were my lifeline! (But more about that later.) Anyway, it all began at the beautiful Abbaye de Royaumont in April 1999.
Here I am with Vicki:
And here are Erin and Vicki:
And I'm afraid this isn't the greatest picture of Kristin, but think of her as a Woman of Mystery.
It was an amazing weekend. And I came home now having new lifelong friends who shared my passion.