Prince Edward Island! The last week of September, I drove there with two childhood friends. I'm blogging about our adventures.
Monday was packed with L. M. Montgomery sites in Cavendish, the place she grew up: Green Gables Heritage Place, a walk in the Haunted Wood, Montgomery Park, the site of L. M. Montgomery's Cavendish home, and a shore drive back to our cottage.
Tuesday, we visited L. M. Montgomery's Birthplace, the Green Gables Museum at Silver Bush, and saw Anne of Green Gables: The Musical.
Wednesday was for nature. We drove to Greenwich Dunes, where we walked through old farmland and woods, then on a floating boardwalk right through a lake, and then over dunes onto the beach.
Thursday we drove to North Cape, but made a serendipitous detour to the Bideford Parsonage Museum where L. M. Montgomery boarded when she first taught school at nineteen years old. Then we traveled on along the North Cape Coastal Drive heading for the North Cape.
The drive was gorgeous, but I've learned that when I try to take pictures while we're driving, it rarely comes close to showing how beautiful it is. At one point along the drive, we decided we simply had to stop the car and take pictures, it was so pretty.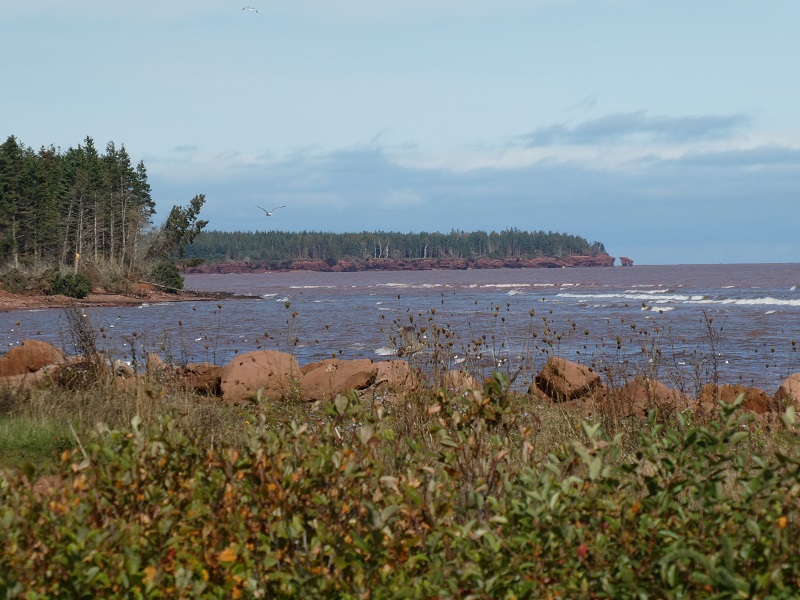 We did make it to North Cape early in the afternoon.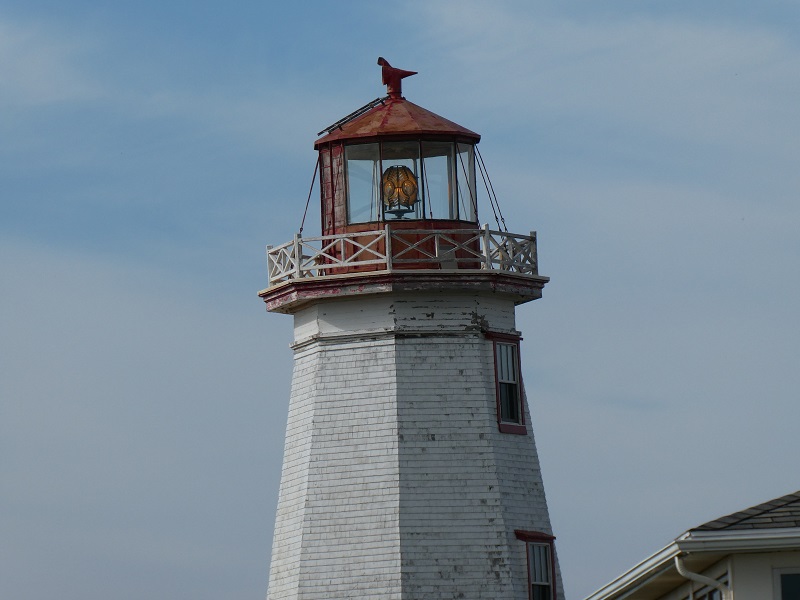 This post is mostly going to be pictures from getting out to look around and walk out to the northernmost point.
We didn't eat at the restaurant, but this building had a nice gift shop. I bought some more (Surprise!) books about Prince Edward Island and L. M. Montgomery.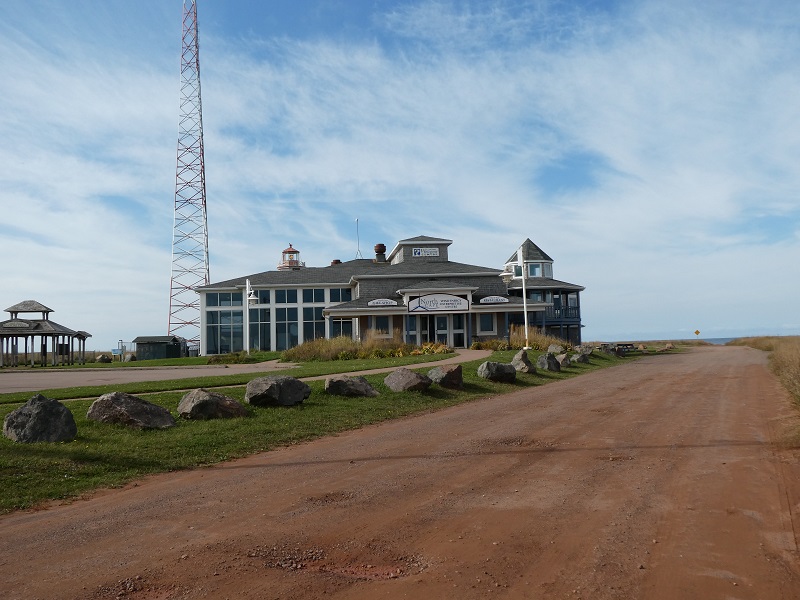 We'd noticed already when we were near the shore further south that the water closer to the island has the same red color as the cliffs.
There's a windmill farm at North Cape, and it seems to be an appropriate place for it.
We didn't get to go into the lighthouse, but it's pretty.
Here's the northern tip, so out there in the water is where the Strait of Northumberland meets the Gulf of St. Lawrence.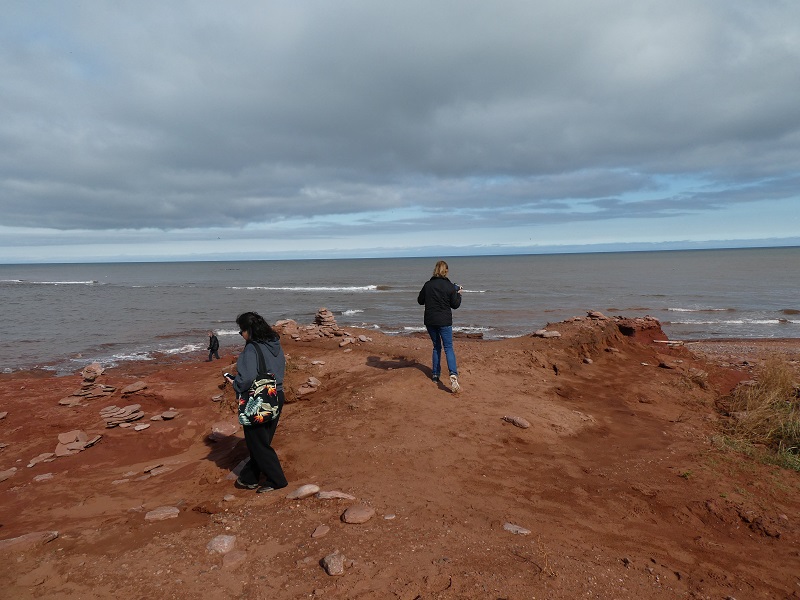 Ruth at the top of the world.
The week was almost done, and I finally thought to try my camera's selfie feature.
Darlene went right down by the water!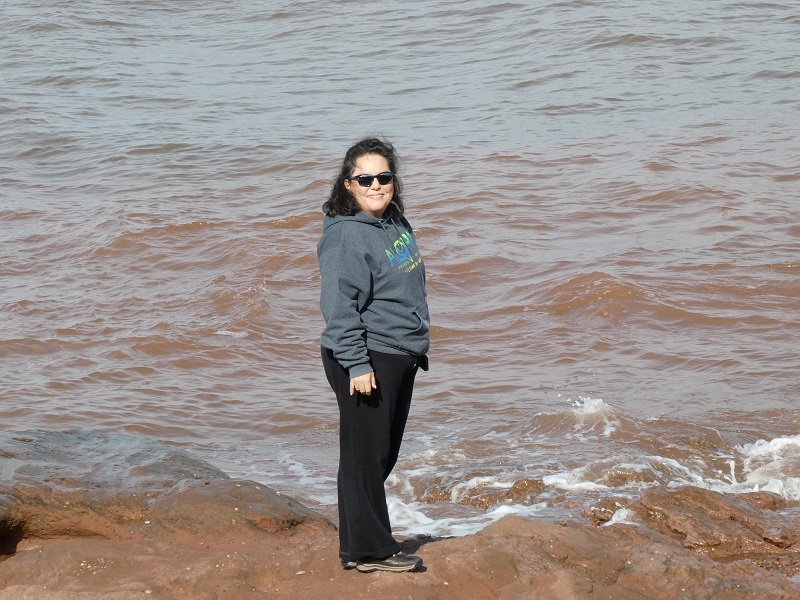 The sandbar at the top of this picture is covered with birds.
Looking further along the coastline after rounding the northernmost point.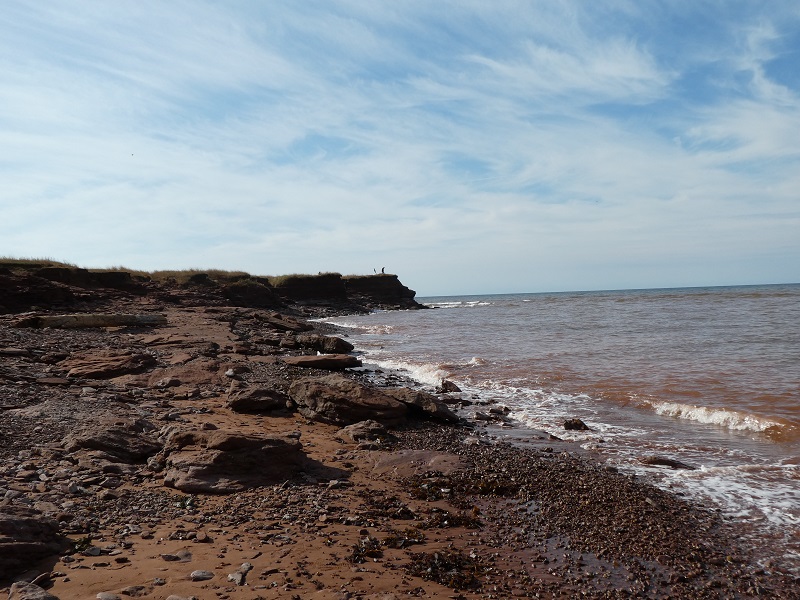 Ruth with wind and water:
I'm not sure how some of the windmills were still — it seemed plenty windy. Though I think that's why they point them in lots of different directions.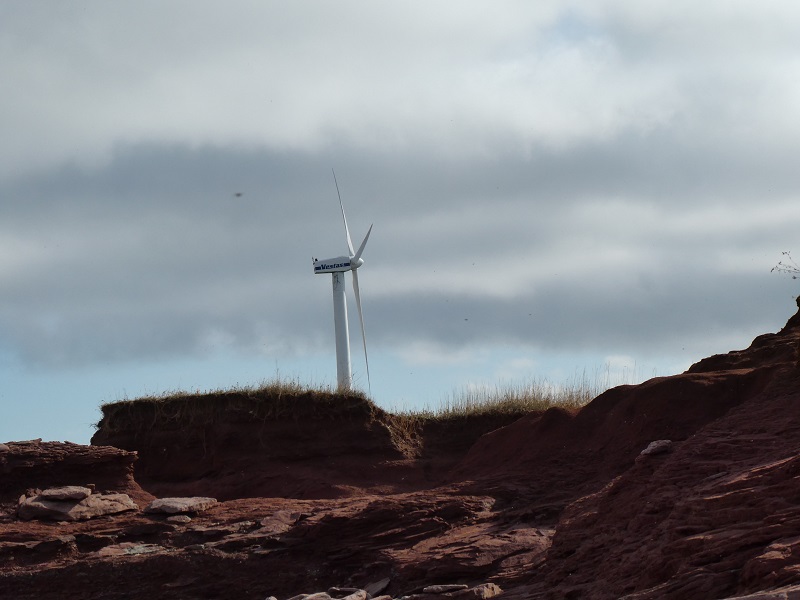 The clouds were doing fun things.
These cliffs take a beating.
All that wide water out there made the beauty all the more exhilarating.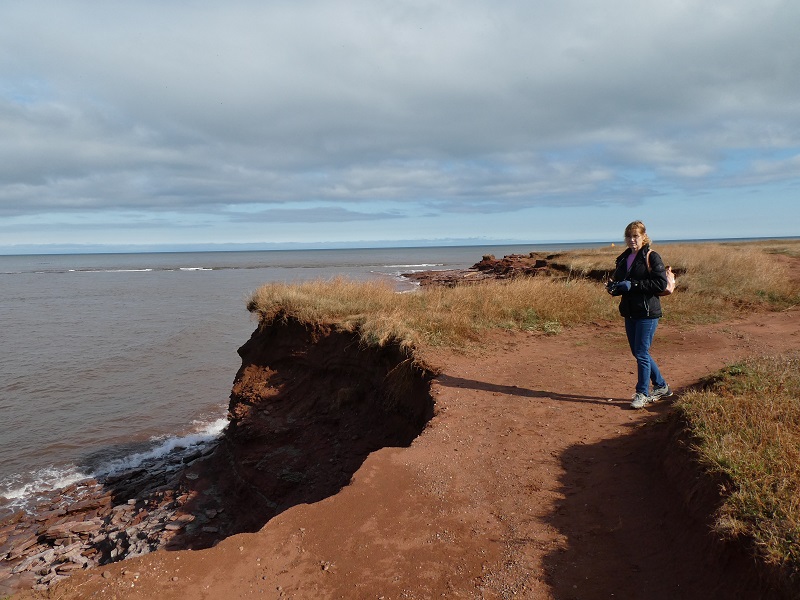 I love this one of Darlene and the sea and sky.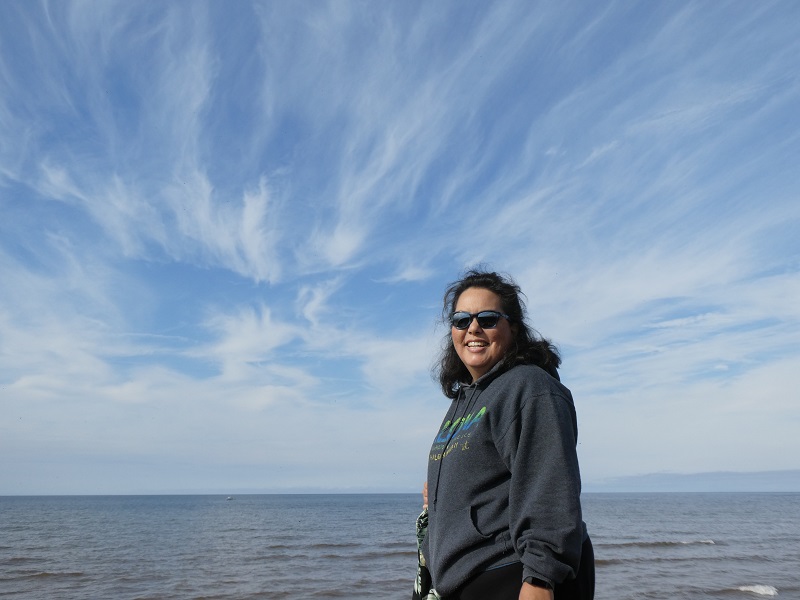 I thought it was funny to take pictures next to that sign, blissfully ignoring it.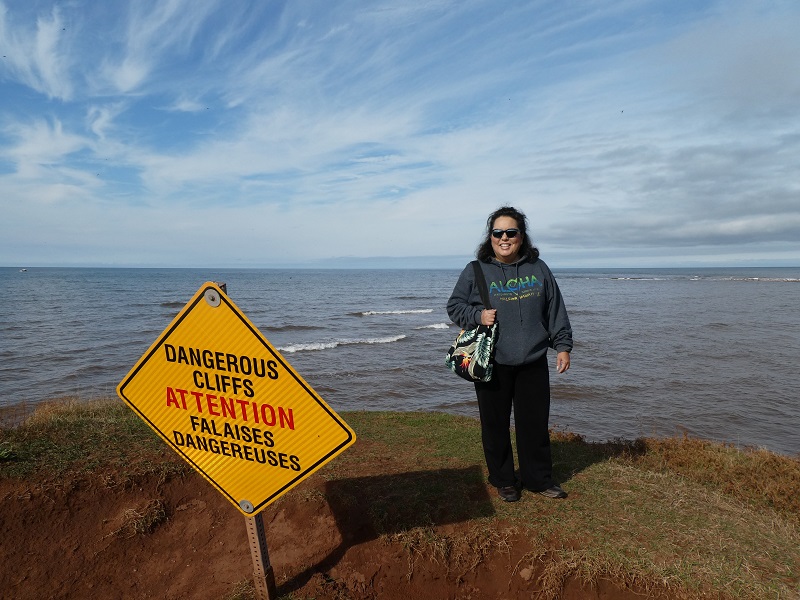 Okay, I need more practice with the selfies.
The fun thing about a coastline is how going around each bend is similar, yet new. And looking back gives you a new angle. And it's all lovely.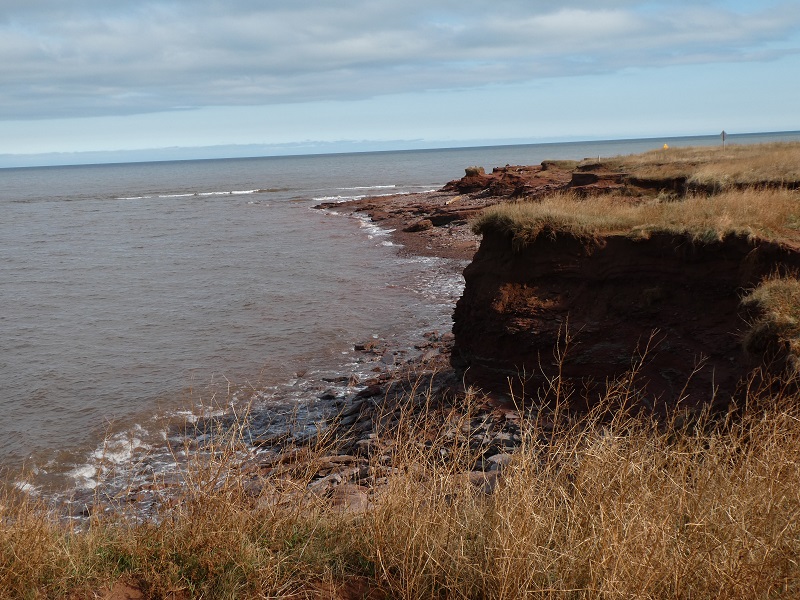 Now we've fully rounded the point and are looking south.
This was also pointed west. I liked the sun sparkling on the sea.
I caught a seagull!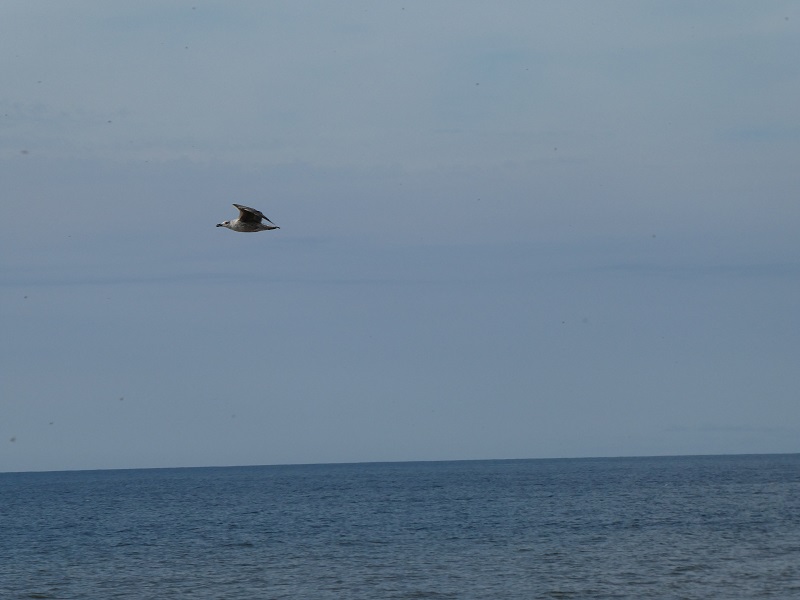 Looking south:
Looking north back toward the point:
And we came back around to the lighthouse.
More shimmering: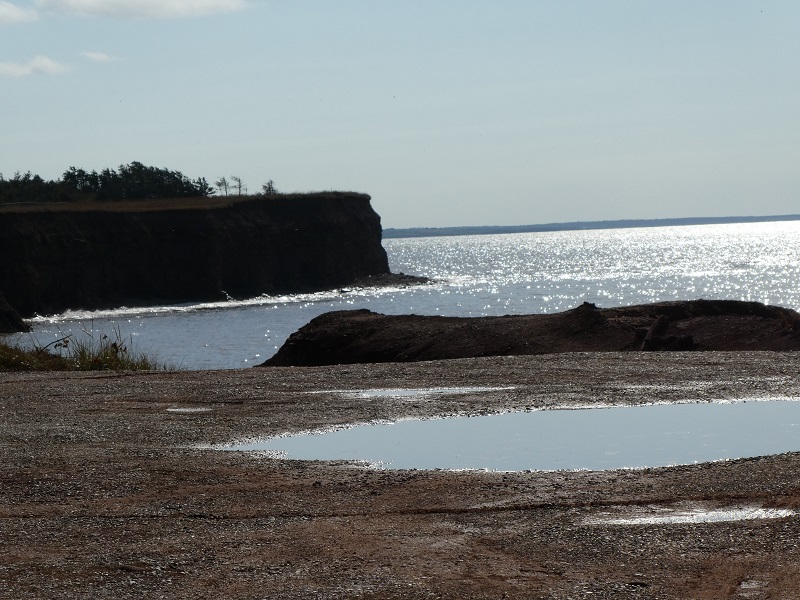 More windmills:
Time to ride off into the sunset. This was when we visited the gift shop.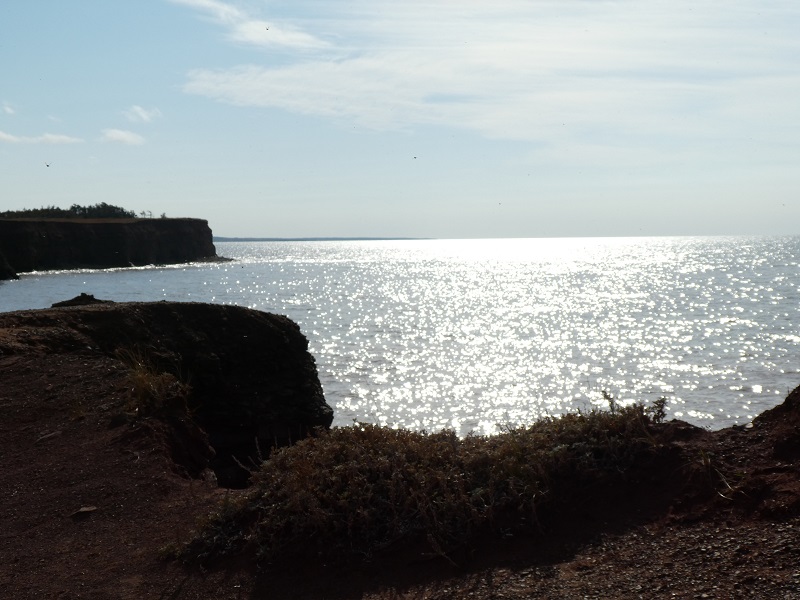 Fabulous Friends at Fifty-five!
So — that was our amazing day by the sea. We drove back through the middle of the island instead of along the winding coastal road, but it was still a long trip. I was thinking about the news I thought I'd gotten that morning. I told the story in my last post, and based on a Facebook post about bereavement fares from my sister, I was pretty sure my mother had passed away from Alzheimer's. I had no phone service in Canada, so I'd asked her to post what had happened, and I knew I'd find out when I got back to the cabin. But I was thinking that at last she was at rest and at last my Dad would get a break after taking such amazing tender loving care of her. That was when I told Darlene and Ruth the story of my sister's dream about leaving Mom in the arms of Jesus.
So we got back. We put our stuff in the cottage. And I checked Facebook.
I learned that it was not my Mom who had passed away. It was my Dad!
Here's what happened. I'd known that he'd had minor surgery on Monday for what was probably stage one colon cancer. I'd seen a post that it was successful.
The last time I'd seen him, back in June, he'd just found out about the colon cancer and said that his oncologist and cardiologist were fighting about when to have the surgery. He'd had an aneurysm in March and had yet another stent put in (He had quite a collection of stents.) — and the cardiologist wanted him to be on blood thinners for at least six months before he had the surgery. My Dad did know what was at risk — that the cardiologist was afraid it would kill him to go off the blood thinners too soon. (I remember he clearly spelled that out to me, but I had conveniently forgotten — I mean, he did wait six months.)
Anyway, apparently six months was not enough. Dad had surgery on Monday and it did go well. But on Wednesday, he had a cardiac event still there in the hospital, but they couldn't revive him.
I told Darlene and Ruth and they let me go numb. Since I couldn't call anyone, I hung out online for awhile. Darlene and Ruth went to the office and did our laundry for me. They fed me supper. And before we went to bed, they hugged me and prayed with me. And though this wasn't a nice thing to happen while on my wonderful vacation — it was comforting to be with Darlene and Ruth instead of alone in my own home. And it was a beautiful place — very conducive to thinking meditative thoughts. Or at least that's what I thought when I thought it was my mother who had passed.
I felt terrible that Dad didn't get his break after taking care of Mom and her Alzheimer's — except of course I had to admit that he was getting an even better break than I'd envisioned.
I felt terrible for Mom, though — she couldn't talk any more, so she wouldn't even be able to ask about him, but I was sure that she'd miss him. It did turn out that my sister Abby, who'd been living with them and helping Dad take care of Mom, continued to stay and look after Mom, with the help of hospice.
[Nobody wanted Mom to linger any longer without Dad — for that matter, we hadn't wanted her to have to linger so long anyway. She was tough and lasted so much longer than we ever thought she could. To tell you how it turned out, Mom did pass away two months later, on November 30th, the Saturday after Thanksgiving. The afternoon before, my California siblings had gathered for our traditional day-after-Thanksgiving celebration. My mother's sister Linda came to look after Mom while my siblings ate. Linda brought her violin, and she played hymns while my siblings sang, including Mom's favorite, "Day By Day." Then they all prayed together and, believe it or not, after prayer a rainbow came out. (This is in southern California and rainbows aren't commonplace.)
I thought that I didn't want Mom to linger, but with Dad already gone, it hit even harder. We'd wanted him to be there to see her off. However, when I think about it, he got off a lot easier this way (we're left with the paperwork headaches!) — and he gets to welcome her Home.]
But all I knew that Thursday evening was that they told me my Daddy was gone. I still don't think I really believed it. But at least I had my lifelong friends with me, and we had one more day of adventures ahead on Prince Edward Island.