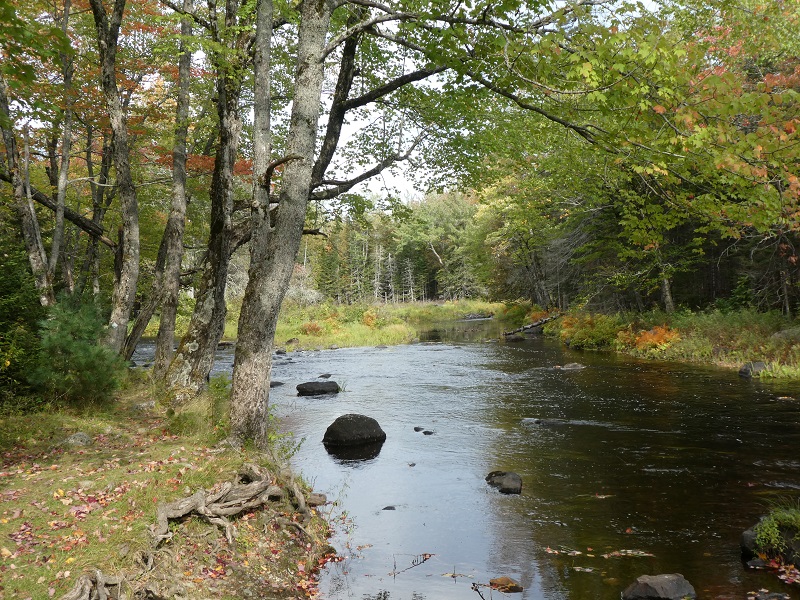 This is my last post about my amazing road trip vacation to Prince Edward Island with my dear friends Ruth and Darlene during the week in September when we're all the same age. Here's a list of the posts that went before:
First, I explained our upcoming trip and why we came up with this plan.
On the first weekend, we drove from Virginia to Prince Edward Island, where we stayed in a cottage in Cavendish.
On Monday, we visited Green Gables Heritage Place, the Haunted Wood, Montgomery Park, the site of L. M. Montgomery's Cavendish home, and took a shore drive back to our cottage.
On Tuesday, we visited L. M. Montgomery's Birthplace, the Green Gables Museum at Silver Bush, and saw Anne of Green Gables: The Musical.
On Wednesday, we drove to Greenwich Dunes, where we walked through old farmland and woods, then on a floating boardwalk right through a lake, and then over dunes onto the beach.
On Thursday, we visited Bideford Parsonage Museum and then North Cape. But it was also the night I found out that my father had passed away.
On Friday, I put the whole day in one post, as our main activity was to go see West Point Lighthouse Museum.
Now we'd spend Saturday and Sunday driving home. This time, the plan was to spend the night in Bangor, Maine, rather than going further to the halfway point. That way, we were able to find the hotel while it was still light and did our night driving on Sunday when we were going home.
First, we had to pack up the car again. We'd eaten a tiny fraction of the food Darlene brought for us! And of course now there were plenty of souvenirs to pack. But then it was time we really did have to say good-by to Prince Edward Island.
This time, leaving the cottage, we used the paper map and did *not* take the dirt roads Google Maps had brought us in on when it was dark!
The pictures don't come out very good when the car is moving, but I had to try to take some last shots of the Island.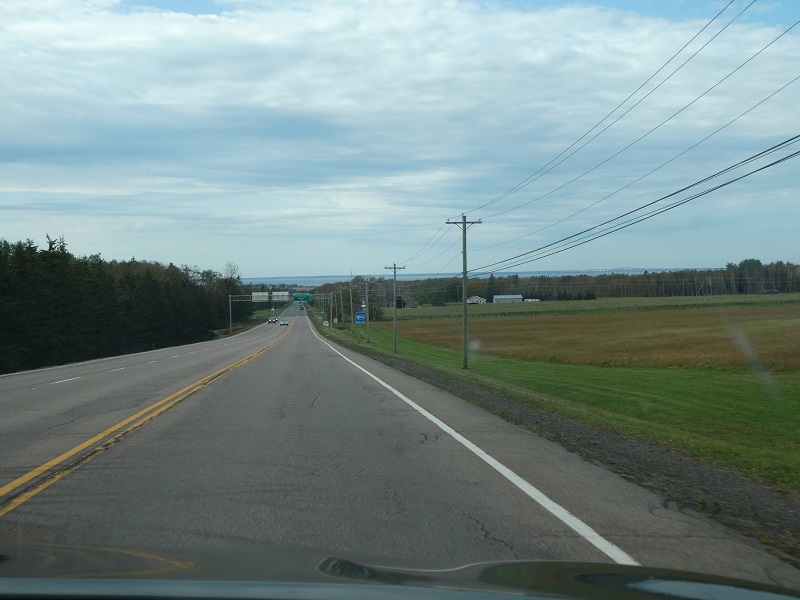 There's the Confederation Bridge off in the distance, the longest bridge in the world over water that freezes.
We're almost to the edge of the Island.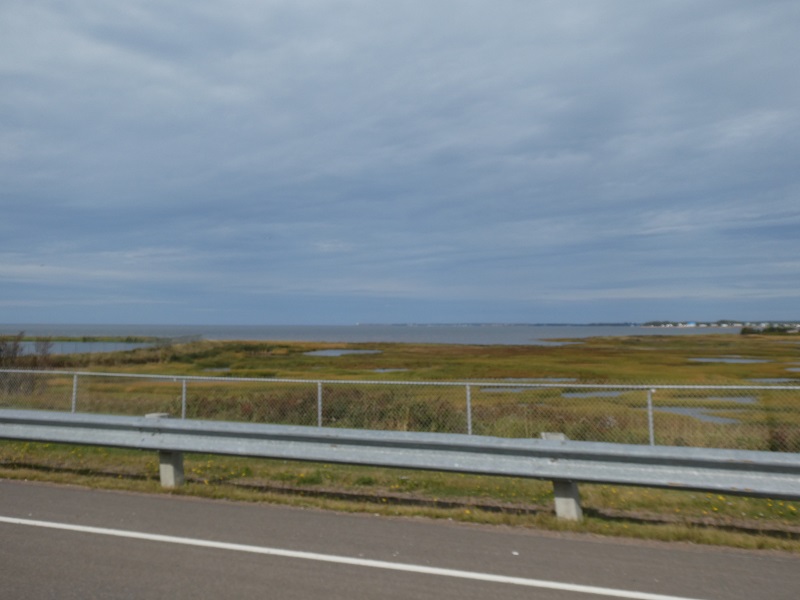 And there's the bridge coming up:
Here we go!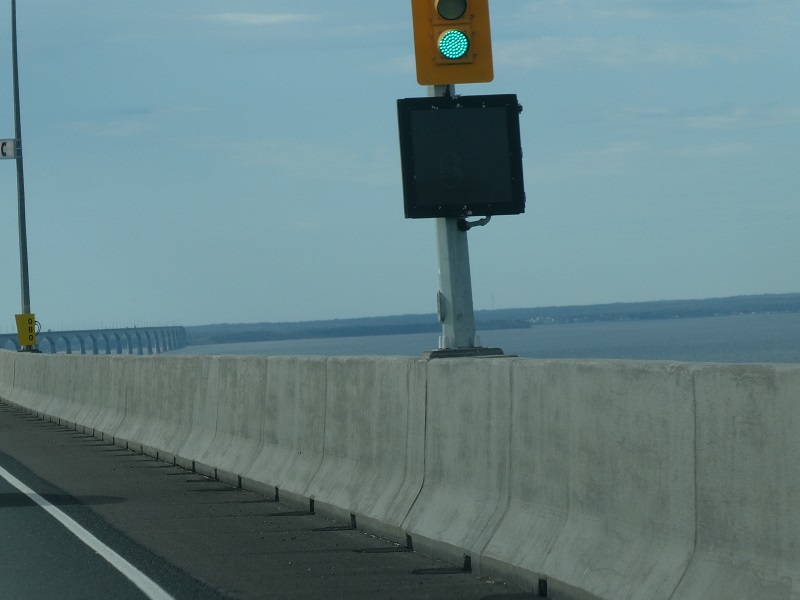 Darlene did great. (She doesn't like bridges. But we couldn't tell.)
That's the Northumberland Strait under us.
It goes up in the middle.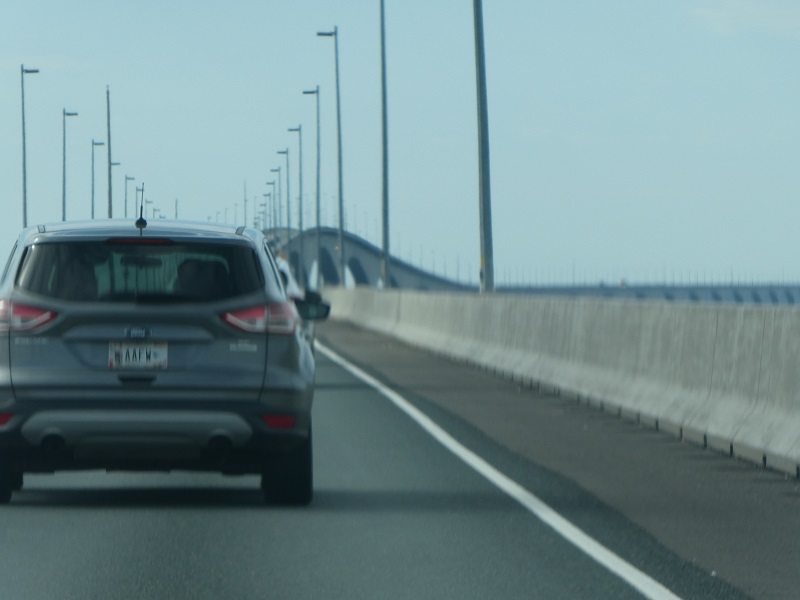 And then it goes down.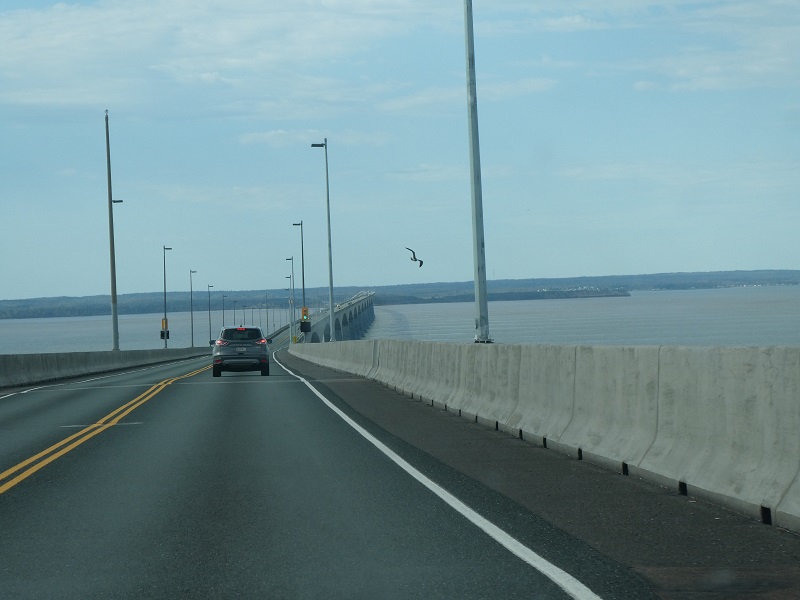 Welcome to New Brunswick!
This time in New Brunswick, we wanted to make sure we got a picture of a Moose Crossing sign.
We drove through New Brunswick and Maine on Saturday. We noticed that the leaves were already brighter than they had been one week before.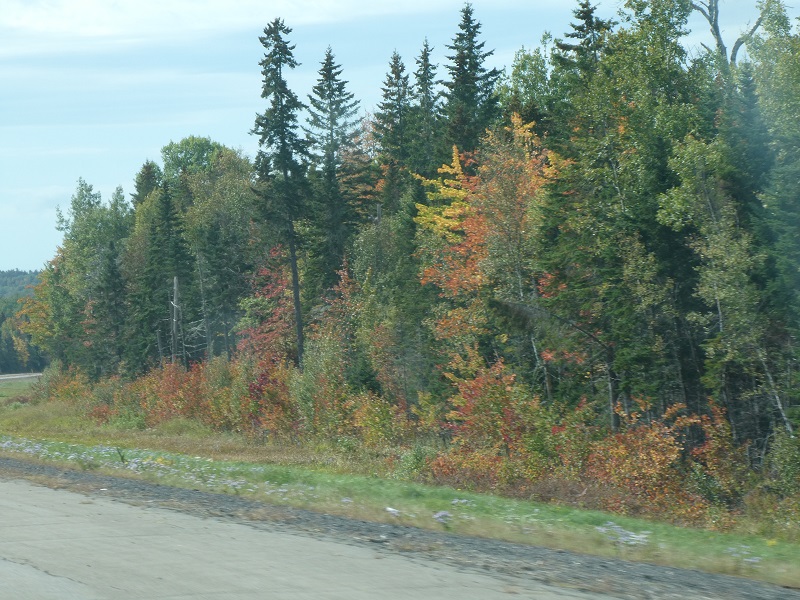 In Maine, we stopped at a rest stop that turned out to be beautiful. The funny thing was that just a few miles further down the road was a rest stop we'd stopped at the week before — and it wasn't very beautiful at all. Oh well! We were glad we found the pretty one this time.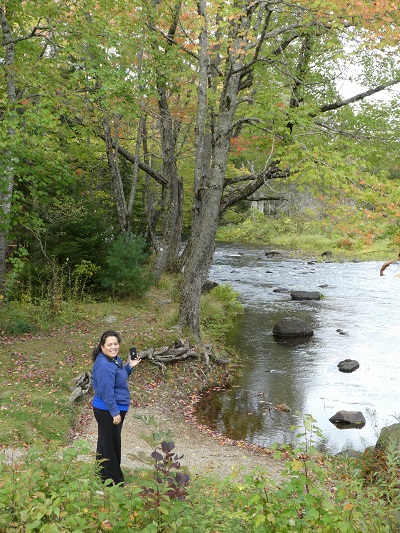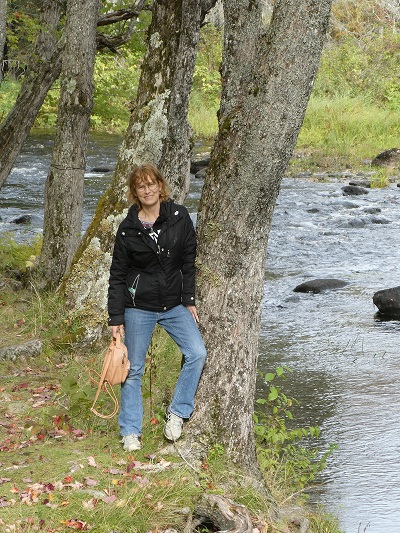 We got to our hotel in Bangor while it was still light! That hotel had a restaurant, so we had a fun time sitting and eating together. And that night, we gave Ruth a bed to herself, so she didn't even sleepwalk to figure out who was in the bed with her!
Sunday was more beautiful Autumn driving through Maine, New Hampshire, Massachusetts, Connecticut, and New York.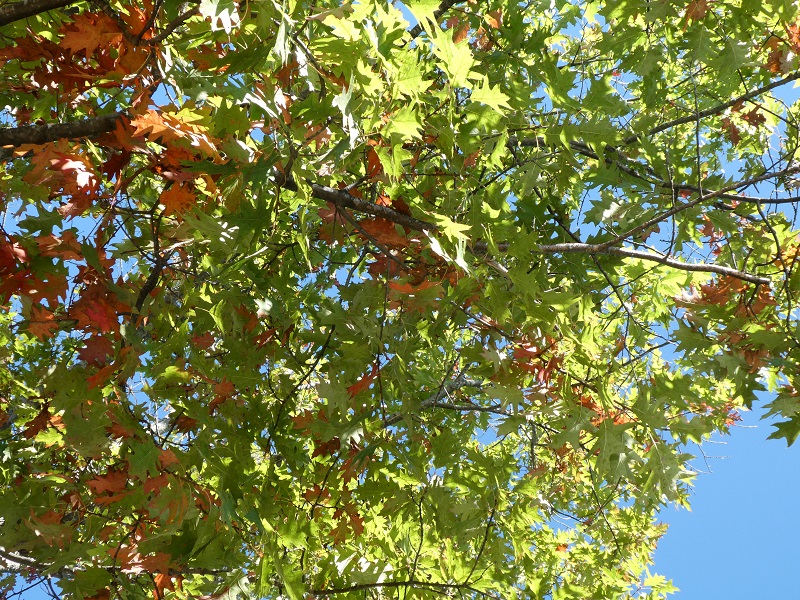 I'd asked Darlene to be the one to drive through New York City this time through, since that was my least favorite part of the drive up. Well, google rerouted us because of traffic, and we didn't have to go through the city at all, but took the Tappan Zee Bridge north of the city. I remember that's the route we used to take to drive north when my family lived in New Jersey in 1991. Much less stressful!
Speaking of living in New Jersey in 1990 to 1991, it was weirdly nostalgic driving to Virginia once we passed the middle of New Jersey — because my family made that drive several times when we lived in New Jersey and went to visit my friends Darlene and Kathe.
So we continued through New Jersey, Delaware, and Maryland, and got home in Virginia not too long before midnight. It was a long day's drive, but not quite as bad when we knew home was at the end of it and we didn't have to find a hotel in the dark. Ruth spent the night at Darlene's and caught her flight back to Los Angeles the next day.
And so our amazing, adventurous, inspiring, and above all friendly week together finished up. For me, it was when I got home that it began to sink in that my father had passed away. But I was glad I'd been with dear friends when I got the news, and glad I had time apart from the hustle and bustle to have my soul uplifted.