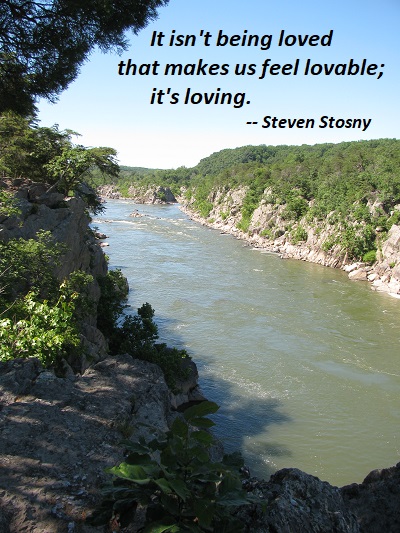 What we lose as resentment builds in love relationships is a cornerstone of the sense of self: feeling worthy of love. In the beginning, love relationships make us feel lovable. Regardless of our faults and foibles, we feel worthy of the love we receive. What we don't realize is this:
It isn't being loved that makes us feel lovable; it's loving.
It's a hard distinction to see most of the time. Being loved makes it so much easier to be loving that we can easily miss which provides the greater boost to self-value. Unless you feel lovable, feeling loved will not feel good, beyond a shallow ego stroke. It won't feel good because it inevitably stirs guilt for getting something you don't really feel you deserve and, worse, the shame of inadequacy, because you don't feel able to return the love you get. The wellspring of resentment in love relationships is blaming this guilt and shame on our partners.
— Steven Stosny, Empowered Love, p. 113
[Photo: Great Falls, Virginia, June 14, 2016]