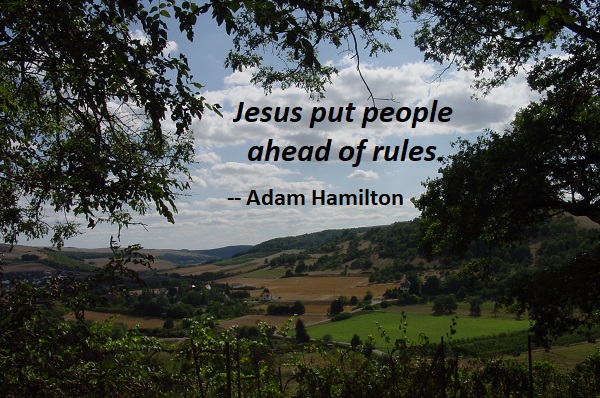 Take a look at Luke 13:10-17. Jesus is in a synagogue on the Sabbath. The rabbis had rules about what you could and could not do on the Sabbath, but Jesus sees a powerless and infirm woman there, feeble and frail, bent over. She'd been disabled, Luke says, "by a spirit for eighteen years." "When he saw her, Jesus called her to him and said, 'Woman, you are set free from your sickness.' He placed his hands on her and she straightened up at once and praised God" (verses 12-13). Can I tell you how much I love this picture of Jesus? He knows what he's about to do is against the rules. Furthermore, he is in the synagogue and there is a religious leader there! But he cannot help himself. This woman has been in pain for eighteen years. This is one of the things I hope you will remember about Jesus: Jesus put people ahead of rules. The synagogue leader is undone and he chastises this woman and the crowd around, "There are six days during which work is permitted. Come and be healed on those days, not on the Sabbath day" (verse 14). I'll let you read Jesus's response in Luke 13:15-16 and how the crowd responded in verse 17.
Notice, though, that he saw the woman. Notice that he had compassion for her. Notice that he refused to let her suffer anymore, Sabbath or not.
— Adam Hamilton, Luke: Jesus and the Outsiders, Outcasts, and Outlaws, p. 67.
Photo: From Klosterruine Disibodenberg, Germany, August 23, 2008.