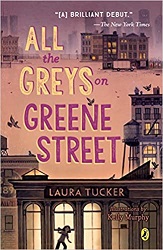 All the Greys on Greene Street
by Laura Tucker
Viking, 2019. 307 pages.
Review written January 9, 2020, from a library book
All the Greys on Greene Street is set in Soho in 1981, and tells the story of twelve-year-old Olympia. Olympia is an artist, and she likes to sketch in grey. Both her parents are artists – her mother makes sculptures from found objects, and her father restores old works of art.na
But recently Olympia's life has been uprooted. Her father ran off to France a week ago with a Frenchwoman he was working with, and her mother has gone to bed – and won't get up.
The family lives in a loft in the same building as their studio, and her father's partner is still working there. This book is the story of Olympia's carrying on – and still making art – while no one is taking care of her. Her mother had an episode like this before, and Olympia's not sure what she'll do if she tells anyone. Her father is unreachable and left a note that some people think what he did was wrong – there's something more going on with his disappearance than she realized.
Meanwhile, Ollie's two friends, Richard and Alex, don't know what's going on with her mother, but they continue their quirky friendships.
This book is interesting because of Olympia's thoughtful personality, navigating life when it's tricky, and making art.
This review is only on the blog.
Disclosure: I am an Amazon Affiliate, and will earn a small percentage if you order a book on Amazon after clicking through from my site.
Disclaimer: I am a professional librarian, but I maintain my website and blogs on my own time. The views expressed are solely my own, and in no way represent the official views of my employer or of any committee or group of which I am part.
What did you think of this book?