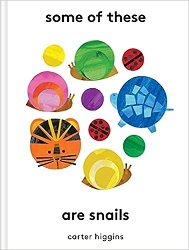 Some of These Are Snails
by Carter Higgins
Chronicle Books, 2023. 52 pages.
Review written June 12, 2023, from a library book.
Starred Review
Some of These Are Snails is a bright and colorful book of graphic design on a white background introducing the early math concepts of classification and quantity.
The pictures are made up of simple shapes – mostly circles, squares, and triangles. They're distinct colors. They're in different sizes. Some have enough detail added to turn them into animals. And many have spots or stripes.
Starting simple with "turtle is a circle," several things are introduced, and it quickly builds in complexity. I particularly like this page:
purple circles
small circles
circles in a square [Above those words, nine small circles are arranged in a square formation.]
And then the book starts asking questions:
can you sort by color?
can you sort by size?
can you sort by shape or find the animals with eyes?
As it progresses from there, you see many things on a page, and the book begins using vocabulary like "all," "some," "each," "a lot."
And then some more questions:
what is one?
what is some?
where is all and
where is none?

who's stripiest?
who's spottiest?
who's wiggly wigglier wiggliest?
The book finishes with more images and more rhymes about them (wonderful rhymes that you want to read aloud), still looking at the pictures by color, shape, size, and animal.
As with most picture books, you really do need to check this out and hold it in your hands, preferably with a child in your lap. This book is playful and beautiful and best of all, encourages small children to talk about what they know about the simplest kinds of math.
carterhiggins.com
chroniclekids.com
Find this review on Sonderbooks at: www.sonderbooks.com/Picture_Books/some_of_these_are_snails.html
Disclosure: I am an Amazon Affiliate, and will earn a small percentage if you order a book on Amazon after clicking through from my site.
Disclaimer: I am a professional librarian, but the views expressed are solely my own, and in no way represent the official views of my employer or of any committee or group of which I am part.
What did you think of this book?