Today I just had to join in on this week's Top Ten Tuesday, hosted at The Broke and the Bookish.
Because, Aaaargh, buying books I desperately want to read — and then not reading them — is my undoing.
I wasn't bad until I started working in a library. Once I worked at a library, I got much much better at not blowing my budget on books. I only bought books I really really wanted to read. Then I didn't read them, because they didn't have a due date!
Sometime around 2010, I finally had a clue and made myself a new Reading Rule: I would alternate reading library books with books I owned. By then, I'd started getting Advance Review Copies, and it seemed unethical to have taken so many at ALA conferences but not read them. Not to mention the books I'd bought. So I started alternating between books with a due date and books without a due date.
That was good, and worked well for me. But it wasn't complicated enough for this Lover of Rules. So last year, I made myself a much more complicated system. As far as books I've bought, it boils down to I read one of those every sixth book. But at least I get to them! Eventually.
So, currently, these are my Top Ten Books I HAD to Buy…But Are Still Sitting on My Shelf Unread:
1. The Far West, by Patricia C. Wrede
Don't you hate it when you actually preorder book…and then don't get around to reading it until a few months after it comes out. But this one is next up when I am ready to read a book I've bought.
2. The Fox, by Sherwood Smith. And The King's Shield. And Treason's Shore. And Banner of the Damned.
Sherwood Smith is unquestionably one of my favorite authors. She's had Sonderbooks Stand-outs 12 times.
But here's what happened: I read Inda and made it a 2007 Sonderbooks Stand-out. But that was the year I was finishing my MLIS, looking for a job, and trying to get my life together. I never got a review written. When the sequel came out, I eagerly ordered it. But then I thought I really should reread Inda first and write a review. Now there are four hardcover books waiting for me. They are large books. I know that if I tackle them, it will be a long time before I get around to library books again. Aaargh! I'm actually hoping, sometime soon, to make Inda the next book I reread in my six-book cycle. Then to get to the others….
3. Bewitching, by Alex Flinn. Also Cloaked
I loved Beastly and A Kiss in Time. Just haven't gotten to these ones yet.
4. Alchemy of Fire, by Gillian Bradshaw. And The Elixir of Youth, The Somers Treatment, The Sun's Bride, Bloodwood, Dark North, and The Land of Gold.
I bought these long before I made any rules about alternating with library books. And after there got to be a certain number, some kind of critical mass built up. I love Gillian Bradshaw! One of her books was in my very first issue of Sonderbooks! Must get these read!
5. Adventures of the Scarlet Pimpernel, by Baroness Orczy. Also League of the Scarlet Pimpernel, I Will Repay, Sir Percy Hits Back, Pimpernel and Rosemary, and The First Sir Percy.
I bought these with much delight when Amazon was relatively new. You could find books that had not been in print! Books in public domain now reprinted! I didn't have to find the Scarlet Pimpernel novels in used bookstores any more! I read some, I admit, and I still mean to read them all. But somewhere around the fifth or sixth book, I lost steam.
6. Stewards of the Flame and Promise of the Flame, by Sylvia Engdahl
Another author I adore. Bought them, but they didn't have a due date….
7. Seven Basic Plots, by Christopher Booker
This one's particularly annoying. Because I had this checked out from the library. It's a big fat book, and it was incredibly good, incredibly insightful. So I decided to buy my own copy, so I could read it at my leisure and really get a lot out of it. Well, then it didn't have a due date….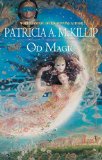 8. Od Magic, by Patricia A. McKillip. And The Bards of Bone Plain and Ombria in Shadow
Another good author.
9. 13 Ways of Looking at the Novel, by Jane Smiley
This looked so fascinating. Haven't cracked it open.
10. The Pinhoe Egg, by Diana Wynne Jones. Also House of Many Ways and The Game.
There you have it! The perpetual problem: So many books, so little time. Sigh.
Bummer! Making this list did not make me feel better about these neglected books! Because I still really really want to read them! Sigh.