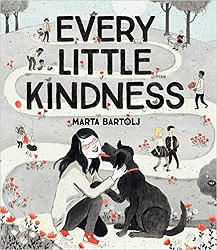 Every Little Kindness
by Marta Bartolj
Chronicle Books, 2021. First published in Slovenia in 2018. 68 pages.
Review written October 2, 2021, from a book sent to me by the publisher
Starred Review
Here's a lovely wordless picture book brought to us from Slovenia – and the pictures transcend culture.
As the book opens, a girl wakes up, but drooping. She puts on her red glasses and looks sadly at a pile of posters with a picture of a dog in a red collar.
She goes out to put up the posters, but on her way she sees a man playing a guitar with a cup out for donations, and she gives him her red apple.
A man carrying a red bag sees her kind act. On the next page, he does something kind for someone else. He is watched by someone else with something red, and then that person does something kind.
And so it goes. This book is full of a sequence of kind acts. People see a kindness, then do a kindness. And these are all highlighted with something red in an otherwise subdued-color scene.
The final act of kindness isn't a surprise when someone finds the girl's dog and gives her a call.
So we come full circle and end up with a scene including lots of happy people.
Because this is a wordless book, there are lots of things to notice, and I'm sure I didn't catch everything. "Reading" this book with a child will give them lots to talk about. And besides that, this lovely book will leave you smiling.
Find this review on Sonderbooks at: www.sonderbooks.com/Picture_Books/every_little_kindness.html
Disclosure: I am an Amazon Affiliate, and will earn a small percentage if you order a book on Amazon after clicking through from my site.
Disclaimer: I am a professional librarian, but the views expressed are solely my own, and in no way represent the official views of my employer or of any committee or group of which I am part.
What did you think of this book?