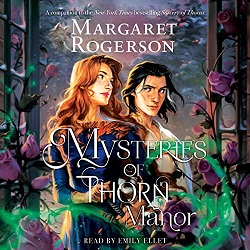 The Mysteries of Thorn Manor
by Margaret Rogerson
read by Emily Ellet
Simon & Schuster Audio, 2023. 3 hours, 52 minutes.
Review written June 15, 2023, from a library eaudiobook.
Starred Review
The Mysteries of Thorn Manor is a light-hearted novella sequel to Sorcery of Thorns. After Elisabeth and Nathaniel battled evil forces to save the world in the first book and discovered they had allies in each other, Elisabeth nursed Nathaniel back to health — and is still spending the nights in his room and now in his bed. (Though they've only been kissing so far.)
When the wards on the house set up by Nathaniel's ancestors set a storm all around the house so they can't even leave, they need to investigate what's going on. They discover that the house wants Nathaniel to court Elisabeth properly as a sorcerer should — including three impossible tasks.
This story is sweet romantic fun. You should read the first book before tackling this one so you can properly appreciate it.
Find this review on Sonderbooks at: www.sonderbooks.com/Teens/mysteries_of_thorn_manor.html
Disclosure: I am an Amazon Affiliate, and will earn a small percentage if you order a book on Amazon after clicking through from my site.
Disclaimer: I am a professional librarian, but the views expressed are solely my own, and in no way represent the official views of my employer or of any committee or group of which I am part.
What did you think of this book?