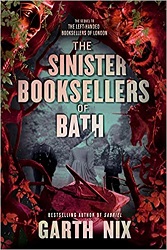 The Sinister Booksellers of Bath
by Garth Nix
read by Marisa Calin
Listening Library, 2023. 9 hours, 49 minutes.
Review written April 10, 2023, from a library eaudiobook.
Starred Review
The Sinister Booksellers of Bath is the sequel to The Left-Handed Booksellers of London (which is the best title ever). I didn't remember very well what happened in the first book, but was quickly brought up to speed and delighted with this new adventure. Both books feel complete in themselves, which I always appreciate in a series. I'm not sure if there will be more, but I enjoyed the adventures.
Both books are set in an alternate-reality Britain of 1983. In the first book, Susan Arkshaw discovered a force of left-handed and right-handed booksellers who deal with powerful magical entities from the Old World, trying to keep ordinary mortals safe. But Susan discovered she's not exactly an ordinary mortal.
This book begins as Susan's friend Merlin (a left-handed bookseller) gets pulled by a magical map into a place outside of our world and our time. Merlin's sister Vivian (a right-handed bookseller) tells Susan she needs her help, and Susan and Vivian go to get Merlin, using Susan's power to bring them back to our world.
But that exercise of power stirs up powers in Susan. She starts getting vivid dreams as her powers seem to be awaking. At the same time, the entity who made the original map is now aware of Susan and all signs point to Susan being the target of the next Wild Hunt to happen on the Winter Solstice. All Susan wants is to live an ordinary life as an art student.
It all makes for a fun adventure, complete with magic and danger and surprising characters. This world has shades of Arthurian myth, but has a unique take on magic that makes it not your typical fantasy novel. And the characters are folks I was delighted to spend time with.
Find this review on Sonderbooks at: www.sonderbooks.com/Teens/sinister_booksellers_of_bath.html
Disclosure: I am an Amazon Affiliate, and will earn a small percentage if you order a book on Amazon after clicking through from my site.
Disclaimer: I am a professional librarian, but the views expressed are solely my own, and in no way represent the official views of my employer or of any committee or group of which I am part.
What did you think of this book?