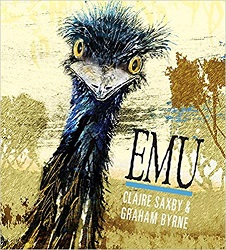 Emu
by Claire Saxby
illustrated by Graham Byrne
Candlewick Press, 2015. 30 pages.
Starred Review
Review written in 2016
Wow! This is a science picture book — telling about emus and how they raise their young — and the artwork is simply stunning.
There are two threads to the text. The story part begins like this:
In the open forest, where eucalyptus trees fringe tufty grasslands, honey-pale sunshine seeps to where Emu sits on a nest. Beneath him are eight granite-green eggs. Yes, him. For in Emu's world, it is the male's job to raise the fledgling.
On each spread, we get about that much more of the father emu's story, as well as a paragraph of straight facts about emus.
The emu we're following sits on his nest for eight weeks, without eating. He defends the eggs and then the fledglings from various predators. We watch the chicks grow until they are almost as tall and striking as their father.
The facts are good and the Australian setting makes them all the more interesting. Having the story of one family of emus alongside the facts is helpful. But what makes this book truly exceptional are the strikingly beautiful paintings. This book is a joy to leaf through.
This is another book I plan to booktalk in some elementary schools for this summer. It's always a treat to find nonfiction that will draw kids in. That emu staring out from the front cover beckons kids to find out more.
Find this review on Sonderbooks at: www.sonderbooks.com/Childrens_Nonfiction/emu.html
Disclosure: I am an Amazon Affiliate, and will earn a small percentage if you order a book on Amazon after clicking through from my site.
Source: This review is based on a library book from Fairfax County Public Library.
Disclaimer: I am a professional librarian, but I maintain my website and blogs on my own time. The views expressed are solely my own, and in no way represent the official views of my employer or of any committee or group of which I am part.
What did you think of this book?