At the start of 2010, I had 43 books I'd read in 2009 that I wanted to review. I've been madly writing reviews, without posting them to my main site, waiting until I've caught up. I have eight books left from 2009. They were all very good, and worth mentioning, but in the interests of time, I'm only going to mention them with a short blurb in this post, and not give them a full page on my main site.
Once I finish them, I have another stack of seven books that I finished reading already in 2010. After I have caught up on writing those reviews, I hope to post all of the new reviews to www.sonderbooks.com. So here goes!
Children's Fiction
These first three books I read as part of my class on the Newbery Medal. They are all historical novels, set in medieval times, and all well-written though just a tad old-fashioned. As Newbery Medal winners, you will be able to find more information about them than these reviews.
The Trumpeter of Krakow
by Eric P. Kelly
Scholastic, 1990. First published in 1928. 242 pages.
1929 Newbery Medal Winner.
Here's a tale of intrigue and danger set in old Krakow. There are some strange sections about alchemy, and you can tell if someone is bad or good based on how they look, but despite its old-fashioned feel, this book still is very interesting. It's almost more for teens, because the language is at a high reading level, and the main character is almost grown up, but he is still treated like a child, so the book has the feel of a children's book.
Fifteen-year-old Joseph Charnetski and his family are fleeing to Krakow. As they almost reach the city gates, someone shows interest in an especially large pumpkin, which his father is not willing to sell.
They use an assumed name and find a hiding place in the city, near an old scholar and his daughter. Joseph's father takes a job as the city trumpeter. The trumpeter is also the watchman, tasked to raise the alarm if there is a fire in the city. They never play the last three notes of the trumpet call in honor of an old trumpeter who gave his life keeping the call going during an invasion.
Joseph learns the call as well as his father, and as danger approaches, he finds a clever way to raise the alarm.
Adam of the Road
by Elizabeth Janet Gray
Scholastic. First published in 1942. 320 pages.
1943 Newbery Medal Winner.
Adam of the Road is the story of a minstrel's son in medieval England. The book starts out at school, with Adam waiting for his father to pick him up after some time apart, to go to London and back on the road. Adam has gained a beloved dog, Nick, who can do tricks and help with their act.
Along the way, a sinister rival minstrel steals Nick. As Adam's chasing after him, he loses track of his father. He ends up wandering across England on his own, trying to find his father and his dog, and having various adventures along the way.
This is a good story that has stood the test of time. Adam is awfully young to be on his own, but people are kind to him, and he cleverly makes his way, never in real danger. A light-hearted and enjoyable adventure tale for kids interested in medieval times.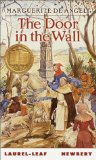 The Door in the Wall
by Marguerite de Angeli
Yearling Newbery (Bantam Doubleday Dell), 1990. First published in 1949. 121 pages.
1950 Newbery Medal Winner.
The Door in the Wall is another story of a boy on his own in medieval times. Robin's father went off to the wars, expecting his son to go train to be a knight. His mother went to be the Queen's lady-in-waiting, expecting John-the-Fletcher to come soon to take him to Sir Peter de Lindsay, to train as a knight.
But Robin gets sick, and when John-the-Fletcher comes, he is not able to go along. For a month he is bedridden, unable to move his legs. He is lame and will never be a knight now.
Some monks take Robin under their wing. They help him learn to swim, to strengthen his arms, and eventually to walk with a crutch. They take him on a journey to meet his father, and they have adventures along the way. By the end of the book, only Robin is able to get a message out and save an entire castle.
This book is shorter than the others. It's a fairly simple story, but interesting with the medieval setting and inspiring as Robin overcomes his handicap, and learns that his life still has significance.
Teens
Growing Wings
by Laurel Winter
Firebird (Penguin Putnam), 2000. 195 pages.
All her life, Linnet's mother has touched Linnet's shoulder blades before she tucks Linnet into bed. One day, when she's eleven, Linnet learns why. She's itching horribly, and she has strange bumps on her shoulders.
Linnet's mother assures her she doesn't have cancer. She is growing wings. Linnet's mother also grew wings when she was Linnet's age, but her mother cut them off. Linnet's mother is determined not to do that to Linnet, but she doesn't know what to do to hide them.
Linnet finds a community of others with wings, living in a house in the wilderness. Some adults who are "cutwings" are in charge. So far, none of the teens with wings have been able to fly. They are trying to learn, but also to stay hidden.
This is an intriguing story, with plenty of conflict in the community of winged children. Linnet explores her heritage and wonders what she can make of her life. Will she have to spend her whole life in hiding?
Fiction
Miss Zukas and the Island Murders
by Jo Dereske
Avon Books (HarperCollins), 1995. 258 pages.
This is the second mystery about Miss Zukas, librarian extraordinaire. In this book, Miss Zukas and her exotic friend Ruth arrange a twenty-year reunion on an island in Puget Sound for their high school class from Michigan.
While they're preparing, she gets threatening letters that refer to the long-ago death of one of their classmates. Once they're on the island, naturally a storm strikes, isolating them, and a murder occurs. Can they solve the murder and keep from getting killed themselves?
This is a fun mystery. Miss Zukas's librarian nature didn't come up as much in this book as in the first one, and I felt that she leapt to conclusions without a lot of reasons. But she's an entertaining character to read about. Gotta love a librarian detective!
Nonfiction
Gratitude
A Way of Life
by Louise L. Hay and Friends
compiled and edited by Jill Kramer
Hay House, 1996. 312 pages.
This book is full of essays about gratitude, written by many notable people. How can you possibly go wrong? I went for quite awhile, reading one essay per day. It's a nice way to put your day on track.
The Bait of Satan
Living Free from the Deadly Trap of Offense
by John Bevere
Charisma House, 2004. First published in 1994. 255 pages.
In this book, John Bevere teaches that Satan's biggest trap is taking offense. What's more, you feel justified and in the right!
"Pride causes you to view yourself as a victim. Your attitude becomes, 'I was mistreated and misjudged; therefore, I am justified in my behavior.' Because you believe you are innocent and falsely accused, you hold back forgiveness. Though your true heart condition is hidden from you, it is not hidden from God. Just because you were mistreated, you do not have permission to hold on to an offense. Two wrongs do not make a right!"
This book looks at many different ways the devil deceives us into taking offense, and encourages you in many different ways to overcome and find forgiveness. A valuable, helpful book.
Write Is a Verb
Sit Down. Start Writing. No Excuses.
by Bill O'Hanlon
Writer's Digest Books, 2007. 212 pages. DVD included.
This is a book about getting it together and actually writing. I read it after I had already made and was keeping a resolution to write at least fifteen minutes per day, every day, so this book only reinforced what I had already determined to do.
If you want to write, and are having trouble motivating yourself, this book has some great ways to think through your motivation and ideas for marketing yourself. Think of this as a great pep talk, complete with a DVD so you can see and hear an additional pep talk.
Disclosure: I am an Amazon Affiliate, and will earn a small percentage if you order a book on Amazon after clicking through from my site.