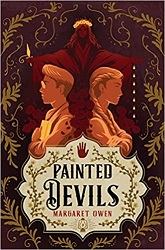 Painted Devils
by Margaret Owen
read by Saskia Maarleveld
Macmillan Young Listeners, 2023. 14 hours, 42 minutes.
Review written June 6, 2023, from a library eaudiobook.
Starred Review
Wow, these books by Margaret Owen are so incredibly good. And fair warning: There's going to be a third book. Though this trilogy is done the way I like a series to be, with each book telling a satisfying story.
As the book begins, Vanya has chickened out on her plans with Emeric, and she didn't go to meet him. She wants to make something of herself first. And she wants to find her family. But then, she accidentally starts a cult.
In this empire where low gods get power from the faith of people, Vanya borrows a character from a ballad to trick the townspeople into helping her pick the rubies she dropped out of the river. No one's more surprised than she is when that character manifests as a low god. But when the Scarlet Maiden claims Emeric as her servant, and they learn the servant is going to be a human sacrifice, that's a problem.
There seems to be a way around the problem – if Vanya can collect a drop of blood from seven brothers. But at the same time, Emeric is the Prefect Aspirant assigned to investigate the emergence of a new god. Was Vanya guilty of Profane Fraud? Emeric's proctor seems convinced that it's all Vanya's doing. Though first they need to figure out how to save Emeric's life. And go on that quest to find the seven brothers. And it just so happens that Vanya figures out how to right some wrongs and take down someone powerful along the way.
There are many plot threads in this book, expertly interwoven. (And I just have to say that because like Vanya I'm from a family of 13 children, I spotted something about her family before she did.) The relationship between Vanya and Emeric is beautifully drawn. She's someone with every reason to be distrustful and to think herself worthless. Watching Emeric begin to change that is beautiful.
Fair warning: She's also someone who never had someone to teach her about sex, so she gets some teaching along the way. And the two of them don't rush directly into intimacy. This seems far more realistic than many books, but my warning is that teens who read this book will probably learn a thing or two about sex in a respectful and loving relationship as well. And as Vanya and Emeric waited until they were ready, some teens may want to wait until they're ready.
But oh my goodness what a magnificent book this is! The romance is one part of that, but also finding her wonderful family, running a heist to help the powerless, even riding with the Wild Hunt – there's so much to delight in here. And Saskia Maarleveld again does a perfect job with Vanya's somewhat snarky voice and Emeric's patient steadiness. I plan to reread both books in print form after I finish with the Morris committee — wish I could do that right away, but it's something to look forward to for now. And to help tide me over before Book Three comes out!
Find this review on Sonderbooks at: www.sonderbooks.com/Teens/painted_devils.html
Disclosure: I am an Amazon Affiliate, and will earn a small percentage if you order a book on Amazon after clicking through from my site.
Disclaimer: I am a professional librarian, but the views expressed are solely my own, and in no way represent the official views of my employer or of any committee or group of which I am part.
What did you think of this book?