The final event of ALA Midwinter Meeting that I attended was the Morris Award and YALSA Nonfiction Award ceremony. I like the way those two awards announce a short list, so that the winners can be there for the ceremony. This year, it turned out that Morris Award Winner John Corey Whaley also won the Printz Award. He was a happy man. I spotted him in the exhibits after the award announcements.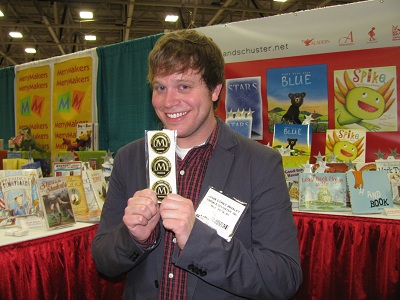 Those are the Morris Award stickers for his book.
Of course, I had to get a picture with him, as did many other youth services librarians. We wanted him to know that to us, he's a rock star.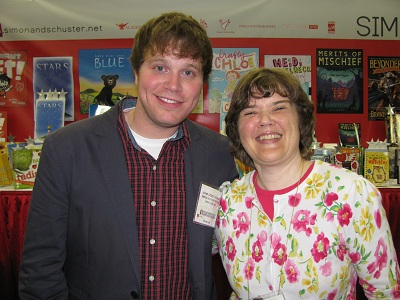 At the Award ceremony, some of the authors spoke by video, but I took notes for the ones who spoke in person.
First was Guadalupe Garcia McCall, Morris Honor winning author of Under the Mesquite:
She got the news of winning the Honor while teaching, which was so appropriate, because she wrote the book while teaching.
She remembered being hungry for understanding. Books showed the world to her, empowered her.
She wrote, not to be published, but to be read.
She wrote this story for young people who can't talk about this. They have great strength within them.
The most important destination of all: Young Readers' Minds
ala means "wings" in Spanish. So appropriate!
Ruta Sepetys, Honor winner for Between Shades of Gray:
History has secrets.
Through stories, these people become human.
John Corey Whaley, Morris Award Winner for Where Things Come Back (He also learned on the same day that he won the Printz Award.):
Thursday was his birthday. He feels sorry for all his other birthdays.
"I get to be a writer. It means so much to say that."
"My life is a constant state of shock."
"There's no other community I'd rather be part of than the People of YA."
"…the cool kids who run into things because they're walking while reading books."
"I had given up hope that I could be a happy adult."
Then were the YALSA Awards for Excellence in Nonfiction:
Karen Blumenthal, Honor Award for Bootleg:
One of the strengths of nonfiction: Real stories and real consequences.
"Nonfiction provides a context for a complicated world."
"In real life, the girl doesn't always end up with the sparkly vampire."
The world isn't black and white, but many shades of messy.
Those who passively observe get to live with the results.
Sue Macy, Honor Award for Wheels of Change
As a teen, her favorite books were This Fabulous Century. She imitated these books.
She takes a thematic approach to this era of history.
There was lots of serendipity in her search.
Steve Sheinkin, Award Winner for The Notorious Benedict Arnold
"Benedict Arnold made people nervous."
This is a straight-ahead action-adventure rise and fall story.
Afterward, we were given free copies of many of the books and got them signed. Here's Sue Macy signing Wheels of Change: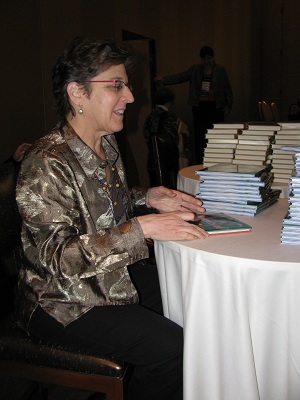 This award ceremony isn't nearly as fancy as the Newbery/Caldecott Banquet or as the Printz Reception, but I think with first-time authors winning the Morris Award, and nonfiction authors who don't always get as much recognition, it's guaranteed that the Morris and Nonfiction award ceremony will always be deeply heartfelt.