After attending Marilyn Johnson's speech for Citizens for Libraries, there was still time left in the 10:30 sessions. I thought I'd try to catch the Fantasy/SciFi Author Panel. Well, I got to hear them answer about two questions. But then they announced that the authors, Brandon Sanderson and Nnedi Okorafor, would be signing books given away by the publisher. Could I resist? I could not.
Also consider that I'd heard great things about Nnedi Okorafor's book Akata Witch and had a copy checked out from the library, and that my siblings had been urging me to read Brandon Sanderson's adult fantasy books for some time. So I thought at the very least, I could make my siblings jealous, and even better, I would own some books that sounded very good indeed.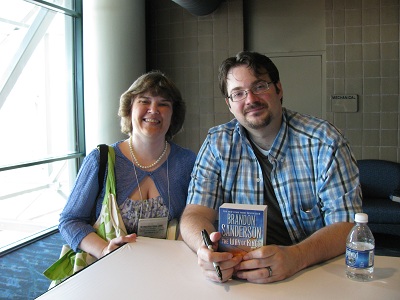 Here Brandon Sanderson signed my book.
Then Nnedi Okorafor signed two books.
All this is a little ironic, since with all my might I was trying to stay out of the Exhibits. On the last day of the Exhibits, publishers start giving away the sample copies and you can get as much loot in a few hours as in the whole time before — or at least I did last year. But I was determined NOT to do that this year, and hoped not to have to mail another package home. As it turned out, I was not able to withstand the signed copies from these authors and the authors speaking at the Author Gala Tea.
The Author Gala Tea was a ticketed event, and I had purchased tickets before I saw the schedule, thinking I'd attend something that featured authors who write for grown-ups for a change. So I ended up with seven more authors whose books I really want to read. NOT what I needed, but a whole lot of fun.
The whole thing was kicked off by Karen Slaughter, introducing Eleanor Brown and talking about Citizens for Libraries. She was delightful and funny, talking about sisters and writers. Be sure to read her oh-so-entertaining blog about this tour she went on that included ALA.
My favorite quotation from Karen Slaughter was when she explained why Southern Writers are so great. They get a lot of exposure to books, because the Library was the only air-conditioned place available when they were growing up.
Eleanor Brown is the author of The Weird Sisters, a book I've heard a lot of good things about and now want to read more than ever. She said her best advice from her parents was: "Always take a book with you wherever you go." The first library she went to as a child was Dolley Madison Library — which is part of Fairfax County Public Library, the system where I work! (I wonder if she knows Dolley Madison Library has just been beautifully renovated.) It would be very cool if we could get her to speak at Dolley Madison Library some day.
She wrote The Weird Sisters when she was thinking about sisterhood and adulthood and reading. It's a book for people who love books.
My favorite quotation from her was this one: "There's not a problem a library card can't solve."
Dorothea Benton Frank was up next. Like the rest, she was funny and charming and completely delightful. She told us some of the background of her new book, Folly Beach, which is based on the true story of Dorothy Hayward, who wrote Porgy and Bess. She told us fascinating things about Dorothy's life and definitely got me intrigued.
The next speaker, Amanda Kyle Williams, is the debut author of a book called The Stranger You Seek. Her story is incredibly inspiring. She learned to read at age 23, after being diagnosed with dyslexia at age 22. She said that libraries used to be scary places for her, but now they provide a calm, safe place.
The mother-daughter pair Susan Wiggs and Elizabeth Wiggs Maas were up next, having written a book together, How I Planned Your Wedding. It sounds like a whole lot of fun. Susan said that she always thought librarians were the richest people in town because they have so many books.
My favorite quotation from Susan is a modification of another well-known quote: "It takes a library to raise a child."
Elizabeth said that being the daughter of a romance writer means you grow up loving books and libraries.
Nevada Barr was the final author to speak, promoting her new book, Burn. I totally love her definition of optimism: "Walking into a bookstore and thinking, 'Ooo! Maybe there'll be a new Jane Austen!'"
She also made a wonderful point from her experience with helping libraries after Katrina: Libraries don't need your books. They need your money! (So true.)
Then, of course, they gave out copies of those authors' books and we got to stand in line to get them signed. Once again, I was completely unable to resist, since I had been thoroughly charmed by these delightful ladies.
So, my next stop, no surprise, was the UPS shipping office. My arms were sore (go figure!), so even though I probably could have fit that day's loot into my luggage, I decided not to.
Shipping the books made me a little bit late to the Odyssey Awards. Next year, I will make sure not to miss them, because that ended up being one of the most fun events of all. The Odyssey Awards are for audiobooks, and they mostly had the actors and actresses who read the books there to give speeches and to read excerpts of their award-winning performances. Why am I not surprised that every one of these people was an incredibly good reader? It was great fun to hear them.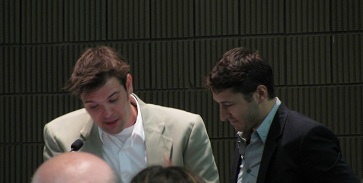 These are the two readers who read Will Grayson, will grayson. Watching them interact was entertaining as well. The shorter one actually sang part of Tiny's musical! That alone was enough to convince me I'm going to have to listen to the audiobook.
One of the speeches (I forgot to write down which one. Oops!) said that Audiobooks are all about storytelling, which hasn't changed. Storytelling is "the classic human art form." And the people who were there are definitely skilled artists of that form.
So, my time at ALA was almost finished. I have one more event to report on, the Printz Awards that happened Monday night.