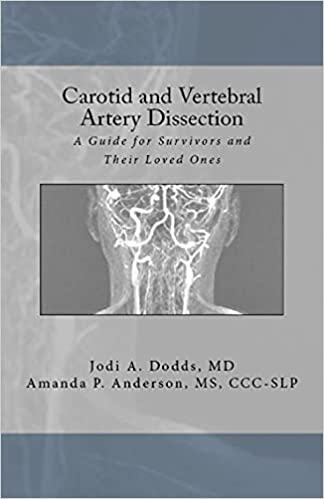 Carotid and Vertebral Artery Dissection
A Guide for Survivors and Their Loved Ones
by Jodi A. Dodds, MD
and Amanda P. Anderson, MS, CCC-SLP
Printed in Monee, IL, January 11, 2022. 261 pages.
Review written February 1, 2022, from my own copy, purchased via amazon.com
Starred Review
2022 Sonderbooks Stand-out: #9 General Nonfiction
I can't even tell you how happy I am that this book exists.
Ten years ago, at 47 years old, I had a cerebellar stroke caused by a vertebral artery dissection. I was in pain with a horrible headache centered in my neck from the vertebral artery dissection more than a month before I had the stroke, but no doctor even thought to check for a dissected artery. Then I had an initial stroke, with sudden room-spinning vertigo — and the Emergency Room did a CT scan, which didn't catch it, and sent me home, saying the dizziness meant my migraines had changed.
I had a second stroke three days later. That one they did catch, and I was in the hospital for ten days. It wasn't until two days after my stroke that they thought to check for vertebral artery dissection.
I was sent home from the hospital on coumadin for six months, but they told me I didn't need physical or occupational therapy and no major deficits. I didn't understand all the minor deficits that would follow. And when I tried to find out information about recovering from vertebral dissections or cerebellar strokes, I only found information about major disabilities.
What's more, when my neck pain continued, in the exact place where the vertebral artery dissection happened, my neurologist (ludicrously) started looking for arthritis in my neck! Later, after I'd aggravated the injury lifting too much weight, a neurology intern told me that arteries don't hurt!
So reading this book ten years after the fact, I feel validated. I had learned on the internet that CT scans only catch 20% of cerebellar strokes when they're happening. This book told me that CT scans only catch 35% of any kind of ischemic stroke while they are happening, and should never be used to rule out ischemic stroke. (They are good at catching hemorrhagic stroke, so still a good test to run.) I still can't believe the doctors sent me home when I had that first stroke.
Also, pain for months and years after a vertebral artery dissection is just plain common. I know what that pain feels like — it was intense for the month before the stroke. So when it shows up again, I'm sure I aggravated the old injury, and this book confirms that may well be what's happening. It also made me less afraid that pain there means a drastic reinjury — they emphasized that your scans can look normal, and yet you may still have pain long after the dissection happened.
I've also had dizziness since the stroke, and many vestibular migraines (similar to headache migraines, but with dizziness). This is common for vertebral artery dissection patients even if the injury was discovered before they had a stroke, though I'm sure the deficit in my cerebellum doesn't help.
In summary, this book didn't tell me anything I hadn't figured out from my own experience, but it was oh, so validating! And I very, very much hope some doctors will find it. I'm posting this review in hopes of one more way cervical artery dissection survivors might find this information. I recommend that anyone in that situation purchase this book. You'll find a wealth of information that will help you understand what you've experienced.
Find this review on Sonderbooks at: www.sonderbooks.com/Nonfiction/carotid_and_vertebral_artery_dissection.html
Disclosure: I am an Amazon Affiliate, and will earn a small percentage if you order a book on Amazon after clicking through from my site.
Disclaimer: I am a professional librarian, but the views expressed are solely my own, and in no way represent the official views of my employer or of any committee or group of which I am part.
What did you think of this book?