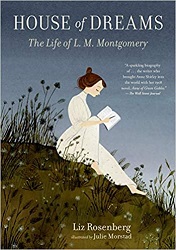 House of Dreams
The Life of L. M. Montgomery
by Liz Rosenberg
illustrated by Julie Morstad
Candlewick Press, 2018. 339 pages.
Starred Review
Reviewed July 7, 2018, from a copy sent from the publisher.
2018 Sonderbooks Stand-out:
#4 Longer Children's Nonfiction
I am an avid L. M. Montgomery fan. I have read all of her published journals. I've read all her novels. Usually when I read a biography, I think how much nicer it was to read about these things in L. M. Montgomery's own words. But I didn't feel that way about House of Dreams.
In the first place, Liz Rosenberg did a great job of giving us the high points of L. M. Montgomery's life. She speaks frankly of bipolar disorder and that there was no real treatment for it in her time. When Maud had a long low period, we don't have to wade through the despairing journal entries, but we get a summary.
I thought I knew the whole story. But this book was the first I heard a crucial fact about Maud's passionate love affair with Herman Leard – he was publicly courting another woman. It always made me crazy in her journals to read all the reasons why he wasn't actually suited to her for marriage. I had no idea that she was protecting herself from jealousy. (I did know that she herself was engaged at that time to Edwin Simpson.)
I also knew that her life ended very unhappily and that she was very disappointed in her oldest son Chester. This book puts perspective on that and gives more details than Maud did about what Chester had done. (It's this part that makes the book more for young adults than for children.) And I did not know that her death was probably a suicide, though I did know that she ended her days feeling despairing.
Her life ended unhappily, but there was so much inspiring about her life. Her persistent work at writing and her eventual success of climbing "the Alpine path" is always an uplifting story to hear. This quiet imaginative girl from Prince Edward Island achieved fame and wealth and a lasting legacy. The illustrations by Julie Morstad are perfect and make the book a treasure. (I'd love to see Julie Morstad illustrate all of L. M. Montgomery's novels!)
I'm not going to keep all of the books that publishers have sent me to consider for the Newbery – but this one is going right into my collection of books by and about L. M. Montgomery. It's a lovely book about a fascinating and inspiring life. I do recommend it to all my friends, teen and up, who love the Anne and Emily books.
Find this review on Sonderbooks at: www.sonderbooks.com/Childrens_Nonfiction/house_of_dreams.html
Disclosure: I am an Amazon Affiliate, and will earn a small percentage if you order a book on Amazon after clicking through from my site.
Source: This review is based on a library book from Fairfax County Public Library.
Disclaimer: I am a professional librarian, but the views expressed are solely my own, and in no way represent the official views of my employer or of any committee or group of which I am part.
What did you think of this book?