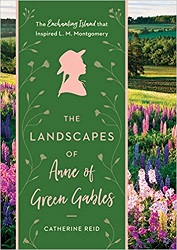 The Landscapes of Anne of Green Gables
by Catherine Reid
Timber Press, 2018. 280 pages.
Starred Review
Hooray! This was the perfect book to discover shortly before my own long-awaited trip to Prince Edward Island! I finished reading it a few days before I set out myself with two childhood friends.
The book is full of full-color photographs taken on Prince Edward Island. Most of the spreads that don't have one have a black-and-white photo that L. M. Montgomery took herself, or an illustration from the original edition of Anne of Green Gables.
The author does a nice job of getting across the basics of L. M. Montgomery's life and how important Prince Edward Island was to her. She peppers the book with many quotations about the island from the Anne books, from Maud Montgomery's journals, and from her book The Alpine Path about her career – and how important the beautiful landscapes of her home were to her.
At the back of the book there is a list of L. M. Montgomery sites to visit, and you can be sure I'm going to visit all of the ones on Prince Edward Island.
I wish these photographs could be printed on the pages of L. M. Montgomery's books! Seeing how beautiful Prince Edward Island truly is made me appreciate much more her many descriptions where she hopes to explain that to the reader. She does a good job – but pictures verify that instantly.
The section about Gardens on Prince Edward Island pulled together gardens in her books and gardens she talked about in her journals – with photographs of the flowers she mentions and gardens such as the kinds she described. That chapter especially gave me new appreciation of what L. M. Montgomery was saying – since I didn't even know what some of the flowers she names look like.
Browsing through this book is a delightful experience. There are enough well-chosen words to help you appreciate what you're seeing. And for building excitement for an upcoming trip – it is absolutely perfect!
Find this review on Sonderbooks at: www.sonderbooks.com/Nonfiction/landscapes_of_anne_of_green_gables.html
Disclosure: I am an Amazon Affiliate, and will earn a small percentage if you order a book on Amazon after clicking through from my site.
Source: This review is based on my own copy, purchased via Amazon.com.
Disclaimer: I am a professional librarian, but I maintain my website and blogs on my own time. The views expressed are solely my own, and in no way represent the official views of my employer or of any committee or group of which I am part.
What did you think of this book?