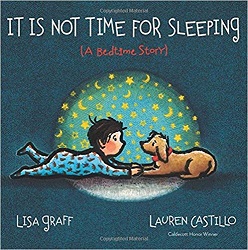 It Is Not Time for Sleeping
(A Bedtime Story)
by Lisa Graff
illustrated by Lauren Castillo
Clarion Books (Houghton Mifflin Harcourt), 2016. 32 pages.
Starred Review
Oh, such a sweet and cozy bedtime tale!
This is a cumulative tale of a boy going through his bedtime routine. The book begins as they finish dinner:
When I've munched and crunched my last three carrots
(except for one I fed to Jasper), Mom takes my plate.
"It's been a good day," she says.
"It is a good day," I tell her.
Because the day's not finished yet.

And it is not time for sleeping.
We get little scenes as the evening continues on, but after each scene, it is still not time for sleeping.
Telling what happens accumulates, and the words have a gentle rhythm. I like the way the boy yawns and stretches even as he affirms that it's not time for sleeping. Each scene is cozy with getting-ready-for-bed things.
Finally, the last scene begins the same way the others have, but going one step further:
When dinner is over and the dishes are scrubbed and
I'm squeaky-squeak clean and zipped up to my chin and
my teeth are shiny and I've said good night to Jasper and
I'm tucked tight in my bed and the story is done, Mom turns off the lights.
All I can see is the glow from the hall.
There is one more thing the boy needs, something Mom and Dad will never forget – a tight bedtime hug.
And you can't ask for a better way to end a bedtime book, over several dark pages:
"Good night, sweet darling," they whisper. "We love you."

I stretch out comfy in my bed. "I love you, too,"
I whisper back. "Good night." And I close my eyes.

Because now . . .

Now . . .

Now it is time . . .

for sleeping.
This book makes me sleepy just talking about it! The danger is that your child will realize it's sleepy-making and will not want to read it at bedtime. But I'm hoping that the title, which says it is NOT time for sleeping, will help.
The pictures are so gentle and warm, matching the text. I love the boy's footed pajamas, and the picture of the Dad holding him upside-down by his ankles while he brushes his teeth. (Be ready to decide if you're willing to act out that part or not!)
But this follows the rule of the best bedtime books: A child is sleeping at the end.
Find this review on Sonderbooks at: www.sonderbooks.com/Picture_Books/it_is_not_time_for_sleeping.html
Disclosure: I am an Amazon Affiliate, and will earn a small percentage if you order a book on Amazon after clicking through from my site.
Source: This review is based on a book from Fairfax County Public Library.
Disclaimer: I am a professional librarian, but I maintain my website and blogs on my own time. The views expressed are solely my own, and in no way represent the official views of my employer or of any committee or group of which I am part.
What did you think of this book?