I have a problem. It's a good problem. I am way behind on reviews I have written but haven't posted. Right now there are 97 of them.
Partly, this problem came from the solution to an earlier problem: I was way behind on books I'd read but hadn't reviewed. I decided to solve that problem by spending 30 minutes per day writing reviews. Some time ago, I'd tried and succeeded — for an entire year — to write 30 minutes a day on my book. For now, I'm putting my book-writing on hold. I went to the William Morris Seminar in January to learn about ALSC's Book Evaluation Committees. It's seen as conflict of interest to have a book being published when you are evaluating books for a committee (like the Newbery), so I decided I haven't gotten published in all this time, why not wait a little longer and see if I can get on a committee first? Surely I can write in the meantime — just not try to find a publisher. Well, I decided that, and then got more and more lazy about my 30 minutes per day goal. When I saw how behind I was on books to be reviewed, I decided to let myself spend that time on review writing. And I've caught up!
Or, I've sort of caught up. There's a problem. If I write one review per day but don't post one review per day, I will never catch up. The fact is, I need to be much, much more choosy about which books I review. Right now I've got four books sitting here that I liked very much and want to recommend, but I think I will discipline myself and not review them.
Or, how about this: I'll give a mini-review here and now, but won't make a full-on page with links on my main site.
Here are four excellent books. First two picture books.
Rabbit's Snow Dance, as told by James and Joseph Bruchac, illustrated by Jeff Newman, tells a folk tale about how rabbit got his short tail. The book would make a wonderful read-aloud, with chants like "I will make it snow, AZIKANAPO!" and a longer chant in a circle that begs for the listeners to act out. Rabbit has a nice comeuppance at the end, or, well, comedownance, and that's how he loses his long tail. Joseph and James Bruchac are storytellers, and this story definitely wants to be told.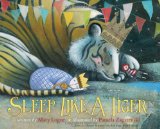 Sleep Like a Tiger, by Mary Logue, illustrated by Pamela Zagarenski, is one I got fresh appreciation for when I heard people talk about it at Capitol Choices. This is a deceptively simple bedtime story. A little girl is not sleepy at bedtime, and her parents tell her she doesn't have to go to sleep, but she does have to put on her pajamas… and so on. Along the way, they talk about how different animals sleep. The pictures show the animals, like a tiger, in their habitat, while in alternate spreads the little girl settles into her bed with her stuffed animals and toys. In the end, she settles down like the animals do. This is a cozy and lovely bedtime book.
Then, two books of children's nonfiction, both about birds: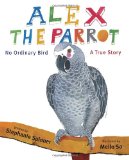 Alex the Parrot: No Ordinary Bird, by Stephanie Spinner, illustrated by Meilo So, is another picture book, but tells a true story. It includes short chapters, but there is no table of contents and this is definitely suitable for younger kids. The story is about an African Grey Parrot and his owner, Irene Pepperberg. She used Alex to show that parrots possess true intelligence. The book talks about Alex's progress and how he was tested and matched three-year-old children.
Moonbird: A Year on the Wind with the Great Survivor B95, by Phillip Hoose, is much longer. It covers science, nature, the environment and what you can do to help. Moonbird tells the story of a rufa red knot banded with the number B95 in the year 1995 who has been spotted since. These birds are some of the greatest distance travelers on earth, and B95 is the oldest known such bird. The book goes into detail about what physiological changes and athletic feats go into his journey. The author interviewed many scientists all interested in helping the red knots and other shorebirds continue to survive.
So there you have it — Four more excellent books. Some day, I will catch up…. Meanwhile, keep reading!