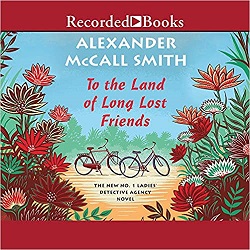 To the Land of Long Lost Friends
by Alexander McCall Smith
read by Lisette Lecat
Recorded Books, 2019. 9 hours on 8 compact discs.
Review written June 16, 2021, from a library audiobook
Okay, the No. 1 Ladies' Detective Agency series seems to me like it's getting more slow-moving than ever. But I have come to love the people who inhabit the pages, and I'm happy to spend time with them. My impatience with the pace is mitigated by listening to Lisette Lecat's lilting accent during my commute. And I have to say that I did enjoy my time spent listening to this book, visiting with old friends. This is the 20th installment.
The first book in the series had some very clever solutions to cases. This one did cover a few cases, but the solution ended up having some fairly large coincidences bring about a solution. It's fun, but doesn't necessarily highlight their detective work.
Mma does reconnect with some long lost friends in this book, which gives the title. As always, this book is loaded with charm and philosophical musings about things such as meeting up with long lost friends.
And Charlie! Charlie, who for a long time was just a "young apprentice" as a mechanic, is now jostling for respect as an "apprentice detective," and he wants to get married! He has to come to terms with what he's willing to do to make that happen.
Find this review on Sonderbooks at: www.sonderbooks.com/Fiction/to_the_land_of_long_lost_friends.html
Disclosure: I am an Amazon Affiliate, and will earn a small percentage if you order a book on Amazon after clicking through from my site.
Disclaimer: I am a professional librarian, but the views expressed are solely my own, and in no way represent the official views of my employer or of any committee or group of which I am part.
What did you think of this book?