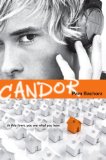 Candor
by Pam Bachorz
Egmont USA, New York, 2009. 249 pages.
Starred Review.
Candor is a town full of perfect teenagers. They do their homework. They study for their SATs. They respect their parents. They don't lie. They don't stay out late. They don't use drugs or alcohol.
Oscar Banks is the model teen for them all, the proof that his father's Messages work. Except his father doesn't know that Oscar has learned how to thwart the Messages.
Oscar's father founded Candor, and desperate parents pay top dollar to live there — where night and day, ever-present speakers play music full of subliminal messages. Telling them how to think and what to do.
The book opens when Oscar meets a new girl, a girl who can still think for herself.
"Not that she'll make it past two weeks. Nobody does.
"Not unless I get them out. That's my business. I get new kids out of Candor before they've changed. Back to the real world. It's not cheap, but it's the best deal of their lives."
The girl, Nia, is an artist. Oscar knows that will change if he doesn't save her from Candor. Somehow, he finds himself not wanting that to happen. But does he want her to leave Candor? And if not, couldn't he use some of his own messages to catch her interest? But then he can't really tell her about them, can he?
Candor is an excellent first novel, full of tension and thought-provoking ideas. I didn't quite believe that people would go crazy if suddenly deprived of the Messages, but the basic scenario is pretty easy to imagine happening, given the right technology. And if it did, there would be sure to be some teens who would find a way to rebel.
This is a fun and engaging story, though like most dystopian novels, a bit depressing in the end. It will get you thinking about Art and Individuality and what is important about you as a person.
This review is based on an Advance Readers' Copy I received at the Kidlitosphere conference.
Find this review on Sonderbooks at: www.sonderbooks.com/Teens/candor.html
Disclosure: I am an Amazon Affiliate, and will earn a small percentage if you order a book on Amazon after clicking through from my site.