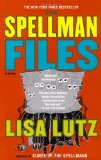 The Spellman Files
by Lisa Lutz
Performed by Christina Moore
Recorded Books, 2007. 8 CDs. Unabridged.
Starred Review.
Izzy Spellman has worked in the family business since she was 12 years old. The family business is private detection. But they don't really do glamorous murder cases. Their work tends more toward background checks and tailing people. Izzy is very good at those things.
Izzy was always something of a black sheep, even in their crazy family. But now that Izzy is 28 and her little sister is 14, she'd like to set a better example for Rae. Still, Izzy can't resist doing a background check on a potential boyfriend, nor can she bring herself to tell him the truth about herself and her family. Finally, she decides if she ever wants to have a normal life, she'll have to get out of the family business.
Surprisingly, her parents agree. But they give her one more case, a cold case about a boy who disappeared 15 years ago. However, when Rae disappears in the middle of the case, things get awfully serious.
I listened to this book on a car trip up to Philadelphia for PLA Biennial Conference, and when I got there, I got to meet the author and purchase the next book! On long trips, I love listening to books that make me laugh, and this book filled the bill beautifully. The mystery aspect was a tiny bit disappointing — this isn't a puzzle-type detective novel. But taken for what it is, the story of a young woman with a crazy family trying to have a normal life, and not really succeeding, this book is a smashing success. Because, after all, who of us is really normal? But listening to Izzy's story, you might start to think you are.
Big thanks to my co-worker Lynne for recommending this as a great book to listen to.
Find this review on Sonderbooks at: www.sonderbooks.com/Fiction/spellman_files.html
Disclosure: I am an Amazon Affiliate, and will earn a small percentage if you order a book on Amazon after clicking through from my site.
Source: This review is based on a library book from the Fairfax County Public Library.
Disclaimer: I am a professional librarian, but I write the posts for my website and blogs entirely on my own time. The views expressed are solely my own, and in no way represent the official views of my employer or of any committee or group of which I am part.
Please use the comments if you've read the book and want to discuss spoilers!