Balloons Over Broadway
The True Story of the Puppeteer of Macy's Parade
by Melissa Sweet
Houghton Mifflin Books for Children, 2011. 36 pages.
Starred Review
2012 Sibert Medal Winner
2012 Sonderbooks Stand-out #4 Children's Nonfiction
Balloons Over Broadway is the true story of an artist written by an artist, and it shows. To create the art for the book, Melissa Sweet began by making toys and puppets — just like Tony Sarg did.
The story tells about how Tony Sarg liked to figure out how things worked even as a child, and how he conceived of the Macy's Parade balloons as a kind of marionette with controls underneath instead of above.
Throughout the book, there is variety and fascinating detail in the illustrations. And she captures some of Tony Sarg's thought processes in making the parade balloons.
Ultimately, this is a true story of creativity and overcoming challenges. And like all great picture books, you really must see it yourself to appreciate it fully. This one's worth reading for adults, but is simple enough and interesting enough for young elementary age readers. I hope kids find it in the Biography section, because what we have is a great story.
Find this review on Sonderbooks at: www.sonderbooks.com/Childrens_Nonfiction/balloons_over_broadway.html
Disclosure: I am an Amazon Affiliate, and will earn a small percentage if you order a book on Amazon after clicking through from my site.
Source: This review is based on a library book from the Fairfax County Public Library.
Disclaimer: I am a professional librarian, but I write the posts for my website and blogs entirely on my own time. The views expressed are solely my own, and in no way represent the official views of my employer or of any committee or group of which I am part.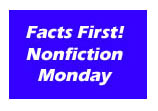 I'm posting this tonight in honor of Nonfiction Monday, hosted today at 100 Scope Notes.