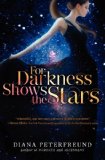 For Darkness Shows the Stars
by Diana Peterfreund
Balzer + Bray, 2012. 407 pages.
Starred Review
Wow. I've always loved Jane Austen's Persuasion. The poignancy runs extra deep since Anne Elliot allowed herself to be persuaded to reject Captain Wentworth's suit years ago. When he returns, successful and sought after, what can she do?
For Darkness Shows the Stars is a retelling of Persuasion in a science fiction setting. Diana Peterfreund keeps all the poignancy of the romantic situation, but adds layers of complexity involving technology and responsibility.
The story takes place on unknown islands of a post-apocalyptic Earth. Our descendants played with genetic engineering until they met with disaster. The survivors hid for years in caves. They proudly name themselves the Luddites. They did not use technology to play God, and so God allowed them to survive. Now their descendants are the rulers and estate owners. The descendants of the Lost were Reduced — mentally deficient, barely able to speak two words. The Reduced work the land, and the Luddite lords have a responsibility to care for them well.
Eighteen years ago, three babies were born on the same day on the North estate. Elliot North will grow to manage her father's estate. Ro is Reduced, and loves Elliot and loves color and beauty, but her mental powers are not strong. Then there's Kai. He's Post-Reduction. He has full mental powers. But because his grandparents were Reduced, he doesn't have the rights of the Luddite lords. He works on the estate and becomes friends with Elliot. But he can never be her equal.
Four years ago, Kai left the estate and asked Elliot to join him. But she can't leave her responsibilities. Her mother died, and her father and sister were only interested in horses and status, not in running the estate and doing what's best for all the people who live there.
Now Kai has returned. The North family has been forced to rent her grandfather's boatyard to a prosperous group of Posts who are making a fleet of ships to explore the seas around the islands. They have already met with much success. The group has rejected their background on estates and chosen multisyllabic names for themselves. Admiral Innovation and his wife bring along a promising young captain, Malakai Wentforth. Elliot's father and sister don't even recognize that he is Kai returned. But she is all too aware. Kai is back, and he's angry for being rejected.
Diana Peterfreund did a marvelous job paralleling the plot of Persuasion. And so doing, she keeps all the poignancy of the original, all of Elliot's pain that she was the one who did the rejecting. And now Captain Wentforth has succeeded beyond her wildest dreams, and she's the one in difficult straits. He is far more interested in the daughter of the neighboring estate. And why shouldn't he be?
She also adds complexity. The Luddites have strict protocols against overusing technology. But Elliot has been experimenting with better strains of wheat in order to feed the people on her estate. What is right? And then what about the Posts who come stretching the limits of what is acceptable? Are they inviting another apocalypse?
In this book, the somewhat silly accident in the middle of Persuasion takes on whole new significance when it leads to a revelation about the Posts.
Knowing the outline of what was going to happen made the story that much more compelling, and I was all the more surprised by some of the twists the author inserted. They didn't change the romance, but they did add to the story.
To some Luddites, the Reduced were children, fallen and helpless, but still human. To others, they were beasts of burden, mostly mute and incapable of rational thought. Elliot's mother had taught her that they were her duty, as they were the duty of all Luddites. Cut off as the population of these two islands had been since the Wars of the Lost, they might be the only people left on the planet. The Luddites, who had kept themselves pure of the taint of Reduction, therefore had the responsibility to be the caretakers not only of all of human history and culture but of humanity itself.

It had been generations since any Luddites had tried to rehabilitate the Reduced. Mere survival had taken precedence. But Ro was more than Elliot's duty. She'd become Elliot's friend, and sometimes Elliot even dared wonder what Ro could be — what any Reduced could be — if the Luddites had the resources to try.
The strength of Persuasion lies in the history between the two characters. In For Darkness Shows the Stars, the author plays on the history by inserting letters Elliot and Kai exchanged through the years as children growing up together. Their friendship was never sanctioned, so they placed letters in a knothole in the barn, a knothole Elliot can't stop checking, even now.
This is a magnificent retelling of a classic romance. A story of lost love and regret and redemption mixed with genetic engineering and tampering with technology and divine right and responsibility to rule. Not a book I could stop reading before I'd finished.
dianapeterfreund.com
epicreads.com
Find this review on Sonderbooks at: www.sonderbooks.com/Teens/for_darkness_shows_the_stars.html
Disclosure: I am an Amazon Affiliate, and will earn a small percentage if you order a book on Amazon after clicking through from my site.
Source: This review is based on a library book from the Fairfax County Public Library.
Disclaimer: I am a professional librarian, but I write the posts for my website and blogs entirely on my own time. The views expressed are solely my own, and in no way represent the official views of my employer or of any committee or group of which I am part.