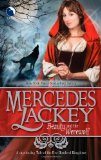 Beauty and the Werewolf
by Mercedes Lackey
Luna, 2011. 329 pages.
Starred Review
I've read all of Mercedes Lackey's Tales of the Five Hundred Kingdoms, and I've thoroughly enjoyed each one. They aren't fairy tale retellings. In some ways they're fairy tale improvements. They tell us stories of people in fairy tale situations and show us those people figuring out how to come up with a happy ending, despite what the Tradition might want to push them toward.
That's how magic works in the Five Hundred Kingdoms. The Tradition builds up around people in fairy tale situations and uses its power to point them into storybook lives. But that often doesn't turn out nicely for the people involved. The books about these people are clever and funny and anyone who's ever enjoyed fairy tales will find great satisfaction out of seeing how the characters foil tradition.
Beauty and the Werewolf starts out as a Red Riding Hood variant. Bella is taking some gifts to Granny, the local herb witch. In this story, the woodsman is the villain, not a man Bella likes at all. But when she's attacked in the night by a lone wolf, the next day she is taken to his manor. It turns out that he's a werewolf who was supposed to be secluded during the full moon. Now Bella must wait in his palace to see if she will transform into a wolf as well. And, of course, now she's playing out Beauty and the Beast.
One thing I like about these books is how she picks and chooses elements, and sometimes leaves out the unpleasant ones. Bella's stepsisters are sweet, if flighty. She gets to see her father through a magic mirror, and it does provide comfort. We even find out the story behind the invisible servants eventually. Bella's the one who immediately thinks to have them wear armbands so she can tell where they are. (Well, duh! Mercedes Lackey brings practical thinking to these fairy tales!)
Bella's smart, independent, and enterprising. We're not surprised when she doesn't wait quietly to find out if she's going to turn into a beast herself. She's not one to let the Tradition push her around. Once again, this is thoroughly enjoyable reading.
Find this review on Sonderbooks at: www.sonderbooks.com/Fiction/beauty_and_the_werewolf.html
Disclosure: I am an Amazon Affiliate, and will earn a small percentage if you order a book on Amazon after clicking through from my site.
Source: This review is based on a library book from the Fairfax County Public Library.
Disclaimer: I am a professional librarian, but I write the posts for my website and blogs entirely on my own time. The views expressed are solely my own, and in no way represent the official views of my employer or of any committee or group of which I am part.