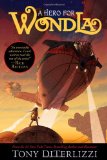 A Hero for WondLa
by Tony DiTerlizzi
Simon & Schuster Books for Young Readers, 2012. 445 pages.
I had the privilege of having dinner with Tony DiTerlizzi and a group from Simon & Schuster at 2012 ALA Midwinter Meeting. He talked about how, with the WondLa books, he wanted to write an imaginative adventure story like The Wizard of Oz, a story that would appeal to boys and girls alike. When he was a boy reading The Wizard of Oz, he never minded that Dorothy was a girl. The adventures in a fantastical world completely captured his imagination. He wanted to add illustrations, like those books had when he was young. For the second book, he reread Brave New World in preparation for writing it.
I think Tony DiTerlizzi achieved those goals. I've been a fan since childhood of The Wizard of Oz myself, and the WondLa books have the same feel. They've got adventure, a quest, and exuberantly imaginative details. They are on the long side, but I don't think a young audience will mind, and the wonderful illustrations help to move the story along and keep the reader entranced.
In the second book, A Hero for WondLa, Eva Nine has found a human city. She's excited to find a place where she belongs. Her alien friend warns her, though, "A village of your kind does not necessarily make a home." Knowing that the author had read Brave New World before writing it, I was not surprised when something seemed off. In fact, Eva felt a little slow to figure it out. What she finds there leads to further adventures.
I didn't quite track with the plot all along the way in this book. It felt simplistic, which perhaps is appropriate for the young audience it's meant for. But there were times when a simple explanation won people to Eva's side, and there were other times when people irrationally opposed her. I didn't really believe, for example, that she would have gone into the city without Rovender by her side, or then that she'd be able to find him as easily as she did. Yes, the author is wonderfully imaginative, but some of the events at the end seemed over-the-top. What do you think? I'd love to discuss details in the comments. (So please avoid the comments until you've read the book — then feel free to include spoilers.)
And despite those quibbles, like The Wizard of Oz, The Search for WondLa and A Hero for WondLa present an adventure saga that's firmly kid-based and kid-friendly. I am looking forward to the series continuing. May it find many readers.
Find this review on Sonderbooks at: www.sonderbooks.com/Childrens_Fiction/hero_for_wondla.html
Disclosure: I am an Amazon Affiliate, and will earn a small percentage if you order a book on Amazon after clicking through from my site.
Source: This review is based on a library book from Fairfax County Public Library.
Disclaimer: I am a professional librarian, but I maintain my website and blogs on my own time. The views expressed are solely my own, and in no way represent the official views of my employer or of any committee or group of which I am part.