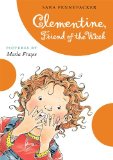 Clementine, Friend of the Week
by Sara Pennypacker
pictures by Marla Frazee
Disney Hyperion Books, New York, 2010. 161 pages.
Starred Review
I love Clementine! By reading Clementine, Friend of the Week, I've finally caught up to read the most recent brilliant addition to the books about Clementine. I enjoyed this one very much. The books, besides being clever and funny, are gaining in some depth. There were several plot threads, all related to friendship, that all twined together in this book, even though the storyline is quite simple.
These books are shortish chapter books with plenty of pictures, but there's so much there. Clementine reveals so much in her speeches, and the wonderful pictures give you a more realistic — and funny — perspective on what's going on. Taken together, this book is an absolute delight.
Right at the start of the book, Clementine announces that she's been chosen for Friend of the Week. Margaret, who's a whole year older, knows all about that, and has plenty of ideas for getting people to write nice things in Clementine's booklet. The trouble is, when Clementine goes to Margaret's apartment to see her booklet, something happens that makes Margaret mad, and all of sudden they aren't friends any more.
Clementine spends the whole week trying to think of ideas, but then her kitten, Moisturizer (Clementine names pets from words she finds in the bathroom.), gets lost and she can't think of anything else. The story threads get woven together and Clementine finds out what true friendship is all about.
Find this review on Sonderbooks at: www.sonderbooks.com/Childrens_Fiction/clementine_friend_of_the_week.html
Disclosure: I am an Amazon Affiliate, and will earn a small percentage if you order a book on Amazon after clicking through from my site.
Source: This review is based on a library book from the Fairfax County Public Library.