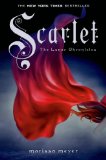 Scarlet
The Lunar Chronicles, Book Two
by Marissa Meyer
Feiwel and Friends, New York, 2013
I have already expressed how delighted I was with Marissa Meyer's book Cinder, a science fiction retelling of Cinderella, or perhaps I should say a science fiction story with themes taken from Cinderella. So I eagerly awaited the second book, Scarlet, which plays off themes from Red Riding Hood.
Yes, you definitely need to read these books in order. The author makes no effort to make Scarlet a stand-alone story. (So if you haven't read Cinder yet, stop reading this review. Yes, it's a good series and is worth starting at the beginning!) I was afraid she was going to zoom to another character and leave Cinder hanging, so I was very glad that didn't happen.
We last saw Cinder in prison and told she should escape and given something that might help her do so. This book continues a few hours later, as Cinder attempts to make her escape. I was glad that wasn't left to happen offstage.
Though the main story in this book is Scarlet's. It's a Red Riding Hood theme, but follows the fairy tale even more loosely than Cinder followed Cinderella. Scarlet is a redhead who wears a red hoodie. Her grandma has been missing for weeks, and the police have stopped looking. She wants nothing more than to find her grandma.
In Cinder, we heard about an old lady who long ago helped the missing Lunar princess, so we rather expect that has something to do with Scarlet's grandma. We also saw in Cinder the Lunar queen's army of mutant wolf-like creatures. This is playing off Red Riding Hood, after all, so there's no surprise when wolf-like creatures have a lot to do with the story.
That was actually the part I didn't really like. I can accept that Lunars have mind-control powers. I can accept that humans have the ability to create cyborgs but that they're second-class citizens. I can accept that Lunars don't allow cyborgs because they are more difficult to control. But the ability to create wolf-like mutants for an army? That just seemed a little out there.
This book, in keeping with the Red Riding Hood theme had a lot about the wolf-like mutants, which strained believability a bit for me. (Why would they behave so much like wolves, if they're human?) And there was plenty of distasteful violence. There was a bit of romance, but, honestly, it leaned toward the creepy side.
So, what did I like? Why will I avidly look forward to the next book?
I liked the character of Scarlet. She's resourceful. She'll do anything for her grandmother. She cares about fairness, and she grows good food on their farm.
I liked all the parts about Cinder. I was glad she wasn't left hanging, and I enjoyed the banter with the other convict she picked up in her escape attempt. Her struggle to get free and decide what to do next was compelling and felt believable.
I loved what happened with Iko! And I'm glad she's back.
Most of all, this book is a great set-up. Mind you, I thought The Lunar Chronicles were destined to be a trilogy, but now see that there are two more books to come, and I'm bummed it won't all resolve in the next book. But it looks like Cinder is going to be forced into a showdown with the Lunar queen, and that's something I want to read about very much.
marissameyer.com
thelunarchronicles.com
macteenbooks.com
Find this review on Sonderbooks at: www.sonderbooks.com/Teens/scarlet.html
Disclosure: I am an Amazon Affiliate, and will earn a small percentage if you order a book on Amazon after clicking through from my site.
Source: This review is based on my own personal copy, purchased from Amazon.com.
Disclaimer: I am a professional librarian, but I maintain my website and blogs on my own time. The views expressed are solely my own, and in no way represent the official views of my employer or of any committee or group of which I am part.
Please use the comments if you've read the book and want to discuss spoilers!