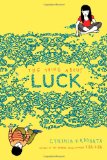 The Thing About Luck
by Cynthia Kadohata
Atheneum Books for Young Readers, June 2013. 271 pages.
Here's how The Thing About Luck starts:
Kouun is "good luck" in Japanese, and one year my family had none of it. We were cursed with bad luck. Bad luck chased us around, pointing her bony finger. We got seven flat tires in six weeks. I got malaria, one of fifteen hundred cases in the United States that year. And my grandmother's spine started causing her excruciating pain.
This book opens after that string of bad luck, or does it? Summer's parents got a call from Japan, and three elderly relatives expect them to come take care of them in their last weeks and months. Summer and her brother Jaz are staying with their grandparents, Obaachan and Jiichan. They are going to be the ones working the harvest this year, so it will be up to them to get the money for the year to pay the mortgage. Summer and Jaz have to go along, so they'll be hanging around the harvesters all summer, and it will be up to Summer to step in and help with the cooking when Obaachan's back puts her in too much pain.
The family works for a custom harvesting company. Mr. Parker owns the $350,000 combines that the workers must use for long hours to get the farmers' crops in before rain comes. The information about harvesting the wheat crop and how the whole procedure works is fascinating. The portrayal of Obaachan and Jiichan, with their constant crazy bickering, but underlying love for their grandchildren, made them come to life. We fully understand Summer's frustration but love for them.
This is a quiet book. It feels a little bit unfinished, just stopping a little way into the harvest, though a book about the whole summer would have gone on too long. Summer has lots of reasons to worry about her grandparents and whether they can keep the job, and has to step up to help in much bigger ways than anticipated. There's a cute boy on the harvest team, too, and then there are worries about her brother, who is not much like most other boys, and is having trouble making friends after his best friend moved away.
This book isn't for people who want an action-packed plot. But it is for readers who are interested in rich, quirky characters, a kid caught up in big events, and a detailed setting based on what happens every year in America.
Find this review on Sonderbooks at: www.sonderbooks.com/Childrens_Fiction/thing_about_luck.html
Disclosure: I am an Amazon Affiliate, and will earn a small percentage if you order a book on Amazon after clicking through from my site.
Source: This review is based on an Advance Reader's Copy I got at KidLitCon 2012.
Disclaimer: I am a professional librarian, but I maintain my website and blogs on my own time. The views expressed are solely my own, and in no way represent the official views of my employer or of any committee or group of which I am part.
Please use the comments if you've read the book and want to discuss spoilers!