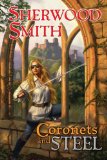 Coronets and Steel
by Sherwood Smith
DAW Books, 2010. 420 pages.
Starred Review
2010 Sonderbooks Stand-out: #1 Fiction
I love Sherwood Smith's books, and this was my favorite novel for adults I read in 2010. It's got a touch of fantasy, with grad student Aurelia seeing ghosts during her European adventure, but mostly it's swashbuckling action, intrigue, and romance in modern-day Europe, in the style of Anthony Hope's Prisoner of Zenda.
Aurelia is in Vienna trying to track down her grandparents' families. Her mother was only two when she and Aurelia's grandmother left Paris during the war, and her grandmother never talks about her life before Paris. Then she starts meeting people who act like they know her. A handsome young man, who looks like Mr. Darcy, sits next to her at the opera, and the next day runs into her again.
She thinks he's quite charming, until he drugs her drink, abducts her, and sticks her on a train.
This book has mistaken identity, family secrets, hidden treasure, and royal plots to take over a small country. It's tremendous fun, and I was delighted to read that Sherwood Smith has planned more books in this series.
Find this review on Sonderbooks at: www.sonderbooks.com/Fiction/coronets_and_steel.html
Disclosure: I am an Amazon Affiliate, and will earn a small percentage if you order a book on Amazon after clicking through from my site.
Source: This review is based on a book I ordered from Amazon.com