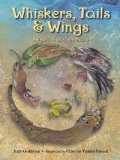 Whiskers, Tails & Wings
Animal Folktales from Mexico
by Judy Goldman
illustrated by Fabricio VandenBroeck
Charlesbridge, 2013. 58 pages.
This is a nice collection of folktales most children won't have heard before. Each one comes from a specific region and a specific indigenous people group of Mexico.
After each tale, the people group who tells that tale is described, along with some facts about the region and the featured animals. Spanish and native words are woven seamlessly into the tales, but in case you didn't catch every detail, there's a glossary after each story.
As most animal folktales, the ones chosen have an element of playfulness and delight. As the author asks in the Conclusion:
Where else in the world will you find a clever cricket who defeats a puma, a patient turtle who helps create the world, a brave opossum who gives mankind a wonderful gift, a flea who saves humanity, and a frog who, just in time, keeps his heart in his chest?

Only in Mexico!

Yet every culture in the world has tales that are important to its people. Like the stories in this book, all fairy tales and folktales allow people to pass along traditions and knowledge not only among their own community, but also to the world. Through stories we come to understand ourselves as well as the world around us. Perhaps the tales in Whiskers, Tails & Wings will encourage you to share your own stories, discover new tales, and maybe even create your own!
judygoldman.blogspot.com
charlesbridge.com
Find this review on Sonderbooks at: www.sonderbooks.com/Childrens_Nonfiction/whiskers_tails_wings.html
Disclosure: I am an Amazon Affiliate, and will earn a small percentage if you order a book on Amazon after clicking through from my site.
Source: This review is based on a library book from Fairfax County Public Library.
Disclaimer: I am a professional librarian, but I maintain my website and blogs on my own time. The views expressed are solely my own, and in no way represent the official views of my employer or of any committee or group of which I am part.