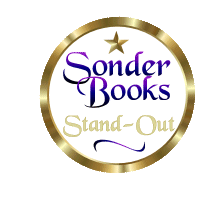 I'm featuring Stand-out Authors: Authors who appeared previously on my Sonderbooks Stand-outs and are back for 2013.
Two authors appeared for the fifth time this year. But one of those makes me sad, because this will presumably
be her last appearance. Maeve Binchy died in 2012, so her 2013 Sonderbooks Stand-out, A Week in Winter, which was #5 in Fiction, is her last book. (Though there are a few I missed, so maybe she can still be on the list posthumously.)
A lot more of Maeve Binchy's books are my favorites than just five, but I began reading her work before I ever started writing Sonderbooks. In fact, she first showed up on the list in my second year of doing them, 2002, with the book Quentins, which was #2 in Fiction for Grown-ups. Quentins tells about the proprietors of a restaurant in Dublin, and I love that it's mentioned in almost all her later books.
She consistently continues to appear every few years. In 2004, it was Nights of Rain and Stars, which was #1 in Literary Fiction. In this book, a group of tourists witness a tragedy in Greece, and they form a bond. We learn what's going on with each person. I also love that some of these characters are referred to in later books. Maeve Binchy's books are like big family gatherings. You don't have to know the earlier references, but there's extra richness if you do.
I think I skipped a couple books there, because the next Maeve Binchy Stand-out is #4 in Fiction in 2009, Heart and Soul. This book features people who work in a heart clinic in Dublin. Again, she gets us inside the heads and hearts of a wide variety of people.
Finally (before this year), we have #2 in Other Fiction in 2011, Minding Frankie. Minding Frankie is about a little girl whose mother dies, and the community of people who come together to care for her.
Community. Getting inside people's heads and hearts. Maeve Binchy's books get under my skin every time. She is sadly missed already.