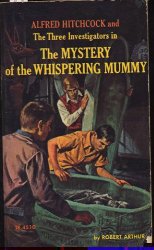 Alfred Hitchcock and The Three Investigators in
The Mystery of the Whispering Mummy
by Robert Arthur
illustrated by Harry Kane
Random House, New York, 1965. 185 pages.
In my rereading of childhood favorites, The Three Investigators series, I'm now on Book 3. The Whispering Mummy isn't the greatest of the series. The plot seems quite far-fetched, going well into Scooby-Doo territory, with lots of seemingly supernatural occurrences that the reader is pretty sure are going to end up being someone's evil plot.
Once again, there's another ethnic group that's treated essentially as a stereotype, this time a Libyan boy and his uncle. Once again, rival Skinny Norris has a small part to play, but actually I like his part in this book.
Jupiter uses the Ghost-to-Ghost Hookup, asking five friends to ask five friends about something, and thus blanketing the city. Even as a kid, I never believed in the Ghost-to-Ghost Hookup, because it doesn't take into account that after awhile kids would run out of friends who hadn't already been called. Kids don't actually have a large number of social groups, and once most of the kids in their grade at their school are contacted, it doesn't matter what you ask them to do, they wouldn't be able to deliver.
But in this case, Skinny finds out about the question being asked and foils their plans. I didn't mind that, since even though it's maybe unrealistic the question would have actually gotten to Skinny, at least it shows that Jupiter's "brilliant" plan doesn't always work smoothly.
And overall? The book is still lots of fun. Three boys solving a mystery that baffles adults, including dangerous situations and mysterious phenomena and cool equipment (walkie-talkies!). Gleeps! If the plot wasn't terribly believable, at least it was lots of fun.
Find this review on Sonderbooks at: www.sonderbooks.com/Childrens_Fiction/whispering_mummy.html
Disclosure: I am an Amazon Affiliate, and will earn a small percentage if you order a book on Amazon after clicking through from my site.
Source: This review is based on a library book gotten by interlibrary loan via Fairfax County Public Library.
Disclaimer: I am a professional librarian, but I maintain my website and blogs on my own time. The views expressed are solely my own, and in no way represent the official views of my employer or of any committee or group of which I am part.
Please use the comments if you've read the book and want to discuss spoilers!