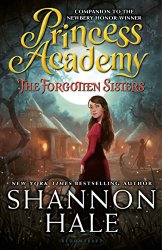 Princess Academy
The Forgotten Sisters
by Shannon Hale
Bloomsbury, February 24, 2015. 324 pages.
Starred Review
Look at that! The Forgotten Sisters has been released earlier than the date printed on the Advance Reader Copy. So I need to post my review!
This book is the Advance Reader Copy I was most excited about getting at ALA Midwinter Meeting – and the first one I read, immediately after the conference. This is the third book after Princess Academy and Palace of Stone. I believe readers will enjoy it more who have read the earlier books – and reading those books will be a treat, if you haven't yet.
Princess Academy is a simple story about Miri and the other girls from her mountain village learning to negotiate and make their way in the world, while one of them will be chosen to be the princess. In Palace of Stone Miri and the other academy graduates go to the capital city in the lowlands – and learn about politics and rumblings of revolution.
In The Forgotten Sisters, the outlook gets yet broader as war comes to Danland.
But the beginning of the book simply has Miri excited about going home, back to Mount Eskel. Then she is summoned by the king moments before the traders who were going to take her home must leave. In the royal breakfast chamber, the king and queen, all thirty-two delegates and three priests of the creator god are assembled.
"Early this morning, traders sailed from the commonwealth of Eris with news," said the chief delegate. "The kingdom of Stora has invaded Eris. The battle lasted only three days. Eris surrendered."

Steffan leaned forward to grip a chair back. Britta reached out for Miri's hand. Stora was the largest kingdom on the continent. Miri imagined its vast army pouring into tiny Eris like all the sands of a beach trying to fill a single jar. And Eris bordered Danland.

"Danland can no longer take for granted our longstanding peace with Stora," the chief delegate continued. "We must secure an unbreakable alliance. Stora's King Fader is a widower. The delegation has decided to offer King Fader a royal daughter of Danland as a bride.". . .

"The highest ranking royal girls are His Majesty's cousins," said the chief delegate. "They live in a territory known as Lesser Alva. Three girls. King Fader of Stora will have his pick of them for a bride, if he agrees to our offer." . . .

"Living in Lesser Alva, I suspect the girls are not very, shall we say, refined," said the chief delegate. "The priests of the creator god have called for a princess academy to prepare them, and the delegation approved it. We require this girl to go be their tutor." He gestured toward Miri without looking at her.
Miri doesn't want to go; she wants to go home to Mount Eskel. But she works out a deal that if she does go, and if she is successful and King Fader marries one of the girls, then the people of Mount Eskel will be given the land where they live (which the king was thinking of selling) and the quarry where they make their livelihood.
However, when Miri arrives in the swamp that is Lesser Alva, she finds things not at all as she expected. The three girls do live in a white house made of linder. But the house is empty, the girls' mother is dead, and they are destitute. They haven't seen anything of the allowance supposedly sent to them every month by the king. They don't have time to learn about being princesses, because they need to go out in the swamp and hunt for food.
We do come to enjoy the three sisters, Astrid, Felissa, and Sus. Here is a scene shortly after Miri has met them.
"Just so you know," said Felissa, her smile a little timid now, "in Lesser Alva one never, ever enters someone else's house without being invited."

"Never," Sus said, unblinking.

"Never ever," said Felissa, nodding.

"In fact, we could have killed you on the spot and cut you up for meat," Astrid said, casually cleaning out her fingernails.

"No one's ever really done that," said Sus.

"As far as we know," said Astrid. "But we could be the first and no one would stop us."
So first, Miri must win the girls' trust. But she also needs to learn the ways of the swamp and help in the hunt for food. But it's also urgent to find out where the girls' allowance is disappearing – because the same corrupt people are not letting Miri's letters get out of Lesser Alva.
However, that's only the beginning. War from Stora does come to the swamp. Miri needs to get the girls to the capital city and King Fader in hopes of sealing that alliance. But none of that is simple, and many things turn out to be different than they seem at first.
I like all the complexities and diplomacy and cleverness that Shannon Hale builds into these books. In each of the books, somebody gets outsmarted. Miri again shows her worth – and this time the Forgotten Sisters get to contribute as well.
And I won't give anything away, but the Epilogue puts a nice cap on the entire trilogy.
Shannon Hale has done it again! She's written an absorbing further tale of a simple girl from Mount Eskel who makes things right, and changes the world while doing so.
Find this review on Sonderbooks at: www.sonderbooks.com/Teens/forgotten_sisters.html
Disclosure: I am an Amazon Affiliate, and will earn a small percentage if you order a book on Amazon after clicking through from my site.
Source: This review is based on an Advance Reader Copy I got at ALA Midwinter Meeting.
Disclaimer: I am a professional librarian, but I maintain my website and blogs on my own time. The views expressed are solely my own, and in no way represent the official views of my employer or of any committee or group of which I am part.
What did you think of this book?