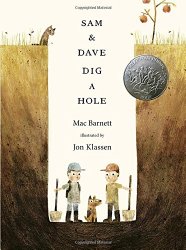 Sam and Dave Dig a Hole
by Mac Barnett
illustrated by Jon Klassen
Candlewick Press, 2014. 40 pages.
Starred Review
2015 Caledecott Honor
This book is simply genius. So simple. And so much to notice.
The plot is that Sam and Dave dig a hole.
"When should we stop digging?" asked Sam.
"We are on a mission," said Dave.
"We won't stop digging until we find something spectacular."
Their dog goes along with them on their adventure. In each spread, we see the cross-section of the hole — and that they keep just missing a spectacular treasure, in fact, they keep missing treasures that get more and more spectacular.
The dog, however, knows what they're missing. In every picture, he's got his nose pointed toward the treasure that the boys are missing. They decide to stop digging downward, to split up, to turn corners — all just before they would have found treasure.
Finally, the boys stop and take a nap. This time, the treasure they have just missed is a bone. That one, the dog is not going to leave be.
But when the dog digs for the bone, the floor of their tunnel collapses and they all fall down. . .
until they landed in the soft dirt.

"Well," said Sam.
"Well, said Dave.
"That was pretty spectacular."

And they went inside
for chocolate milk and animal cookies.
At first glance, it looks like they have landed in their own yard, which was pictured at the beginning.
At second glance? Well, something has happened here.
In fact, before our library got this book and I even read it, I read theories about it, thanks to the brilliant Travis Jonker, writer of 100 Scope Notes
Here are his theories about what happened in the book.
And later, he revisits and gives us a link to what Aaron Zenz and his 9-year-old son think happened.
So you see, this is truly a book for all ages. The words and pictures are simple, even iconic. But the details! And the philosophical questions! This is a book that, besides being a joy and delight, will spark conversations.
Absolutely brilliant.
macbarnett.com
burstofbeaden.com
scholastic.com
Find this review on Sonderbooks at: www.sonderbooks.com/Picture_Books/sam_and_dave_dig_a_hole.html
Disclosure: I am an Amazon Affiliate, and will earn a small percentage if you order a book on Amazon after clicking through from my site.
Source: This review is based on a library book from Fairfax County Public Library.
Disclaimer: I am a professional librarian, but I maintain my website and blogs on my own time. The views expressed are solely my own, and in no way represent the official views of my employer or of any committee or group of which I am part.
What did you think of this book?