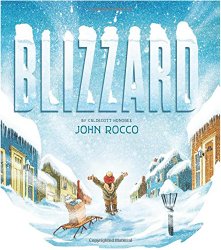 Blizzard
by John Rocco
Disney Hyperion, Los Angeles, 2014. 40 pages.
I'm reading this book just a few days too late for our snow season, but I do think that kids will enjoy this book at any time.
The best part about the story in Blizzard, by a Caldecott Honoree, is that the story it tells is true.
When John Rocco was ten years old, his town in Rhode Island had a record-breaking blizzard, where it snowed for two days and forty inches of snow fell. The snow plows didn't make it to their street until the end of the week – so the family was running out of food and milk for hot cocoa.
On day five, I realized it was up to me to take action. I was the only one who had memorized the survival guide. [He's reading a book called Arctic Survival.]

I was the only one who knew what equipment was required. [He's tying tennis rackets to the bottoms of his boots.]

I was the only one light enough to walk on top of the snow.
After he sets out, a fold-out map shows his route. I love the natural 10-year-old detours: to help build a snowman, to climb a lookout tree, to make a snow angel, to explore an igloo, and to join a snowball fight.
He successfully gets groceries for his own family and for the neighbors – and has quite a tale to tell.
Now in the first place, this book makes our recent snowfall seem not so bad at all. In the second place, it can't help but communicate the playful side of a big snow. And a kid gets to be the hero, and it ends with the snow plows making it through.
A cozy story for a winter day or a nice cooling story for a hot summer day, but especially a playful adventure story with a kid in the starring role.
Find this review on Sonderbooks at: www.sonderbooks.com/Picture_Books/blizzard.html
Disclosure: I am an Amazon Affiliate, and will earn a small percentage if you order a book on Amazon after clicking through from my site.
Source: This review is based on a library book from Fairfax County Public Library.
Disclaimer: I am a professional librarian, but I maintain my website and blogs on my own time. The views expressed are solely my own, and in no way represent the official views of my employer or of any committee or group of which I am part.
What did you think of this book?