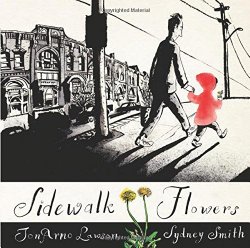 Sidewalk Flowers
by Jon Arno Lawson and Sydney Smith
Groundwood Books, House of Anansi Press, Toronto, 2015. 28 pages.
I can't resist the charm of this wordless picture book.
We've got a little girl with a red hood, walking with her father, holding his hand. Her father's talking on his phone almost the whole way. He's not noticing at all what's going on down at his daughter's level.
She sees flowers — growing in the cracks of the sidewalk, growing in the grass in a vacant lot by a bus stop. She gathers them.
And then she leaves flowers behind with those she meets, on her level — a dead bird in the park, a man sleeping on a park bench, a dog's collar, and, when she gets home, her mother's hair.
The two planes of action — father on phone, girl gathering and distributing flowers — are simply captivating. This book keeps pulling me back to look at it again. I'd love to share it with a child and hear about what they see.
Find this review on Sonderbooks at: www.sonderbooks.com/Picture_Books/sidewalk_flowers.html
Disclosure: I am an Amazon Affiliate, and will earn a small percentage if you order a book on Amazon after clicking through from my site.
Source: This review is based on a library book from Fairfax County Public Library.
Disclaimer: I am a professional librarian, but I maintain my website and blogs on my own time. The views expressed are solely my own, and in no way represent the official views of my employer or of any committee or group of which I am part.
What did you think of this book?