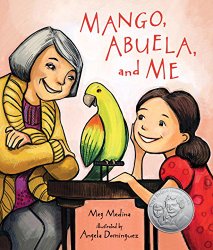 Mango, Abuela, and Me
by Meg Medina
illustrated by Angela Dominguez
Candlewick Press, 2015. 32 pages.
Starred Review
2015 Cybils Fiction Picture Books Finalist
2016 Pura Belpré Author Honor Book
2016 Pura Belpre Illustrator Honor Book
Mia's grandmother, her Abuela, has come to live with her family. But Abuela doesn't speak English and Mia doesn't speak Spanish. But little by little, they learn to communicate, and some of the help comes from a parrot named Mango, who learns both languages as well.
This is simply a lovely cross-cultural story. It does address that it's difficult to learn a new language, and takes lots of practice, but all the motivation in this story is love.
The first night, before Abuela goes to sleep, she shows Mia a red feather from a parrot that nested in her mango trees back in her old home. This is the episode that gives Mia the idea to purchase the parrot in the pet store for Abuela and name him Mango.
Spanish words are peppered throughout the story. It's just a nice twist on the stranger-in-a-new-country story. This time it's not the girl herself, but her Abuela who clearly loves her and learns to tell her stories about her Abuelo, and also learns to hear all the stories Mia has to tell.
megmedina.com
angeladominguezstudio.com
candlewick.com
Find this review on Sonderbooks at: www.sonderbooks.com/Picture_Books/mango_abuela_and_me.html
Disclosure: I am an Amazon Affiliate, and will earn a small percentage if you order a book on Amazon after clicking through from my site.
Source: This review is based on a library book from Fairfax County Public Library.
Disclaimer: I am a professional librarian, but I maintain my website and blogs on my own time. The views expressed are solely my own, and in no way represent the official views of my employer or of any committee or group of which I am part.
What did you think of this book?