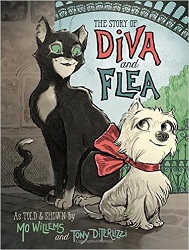 The Story of Diva and Flea
As Told & Shown by Mo Willems & Tony DiTerlizzi
Hyperion Books for Children, 2015. 70 pages.
Starred Review
I like beginning chapter books that actually have an interesting story, which anyone will like. There's a place for stories that appeal to young children, and this is written in a simple style. But it's an interesting story, whatever your age.
This book is set in Paris, where Mo Willems lived for awhile. It tells about Diva, a little dog who lives with the gardienne of a grand old apartment building.
Diva took her job seriously. Every day, she would exit the grand front door, trot across the small courtyard, and stand at the building's front gate. From there she watched and guarded, and guarded and watched.

And if anything ever happened, no matter how big or small, Diva would yelp and run away.

Diva was very good at her job.
It also tells about Flea, a large cat who lives on the streets of Paris.
Flea did have a fixed occupation, however. He was a flâneur. A flâneur is someone (or somecat) who wanders the streets and bridges and alleys of the city just to see what there is to see. A great flâneur has seen everything, but still looks for more, because there is always more to discover.

Flea was a really great flâneur.
When Diva meets Flea? Diva (with much hesitation at first) learns about a big world of things to discover, and Flea (with much hesitation at first) learns about the comforts of Friends and Home.
Tony DiTerlizzi's art (gently colored) adds just the right touch to this story and gives it the flavor of Paris. There's a nice double-page spread when Diva sees the Eiffel Tower for the first time.
Find this review on Sonderbooks at: www.sonderbooks.com/Childrens_Fiction/story_of_diva_and_flea.html
Disclosure: I am an Amazon Affiliate, and will earn a small percentage if you order a book on Amazon after clicking through from my site.
Source: This review is based on a library book from Fairfax County Public Library.
Disclaimer: I am a professional librarian, but I maintain my website and blogs on my own time. The views expressed are solely my own, and in no way represent the official views of my employer or of any committee or group of which I am part.
What did you think of this book?