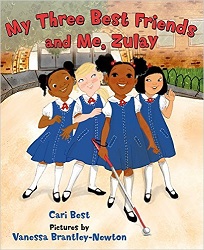 My Three Best Friends and Me, Zulay
by Cari Best
pictures by Vanessa Brantley-Newton
Margaret Ferguson Books (Farrar Straus Giroux), New York, 2015. 40 pages.
I'm reviewing this book in the interest of promoting diversity. It's a message book, yes – about a day in the life of a blind girl – but the message is done well, and done through story.
Zulay narrates the story, telling about her classroom and her three best friends. It takes the reader awhile to realize Zulay is blind, because that's not the most important thing about her.
In fact, Zulay goes through a large part of her day before anything really stands out. She gets to school, links arms with her friends and skips down the hall. She greets the hall lady and notices her new perfume. She hugs her teacher, comes into her classroom, hangs up her bag, takes down her chair, and sits at her desk. She talks about her new pink running shoes and has to be reminded to raise her hand.
Zulay needs help drawing shapes, but then she is able to help her friend Maya with addition and tens and ones.
There have been hints, but we understand how things are different for Zulay when it's time for writing and she takes out her Brailler. Later we learn about Zulay's frustration as she works with Ms. Turner to learn how to use a cane.
But Zulay conquers her frustration and gets to run in her pink running shoes on Field Day.
This is a nice way to get kids thinking and talking about the lives of others. As well as telling the story of a blind girl whose hopes and joys are similar to those of her friends.
oohlaladesignstudio.blogspot.com
mackids.com
Find this review on Sonderbooks at: www.sonderbooks.com/Picture_Books/zulay.html
Disclosure: I am an Amazon Affiliate, and will earn a small percentage if you order a book on Amazon after clicking through from my site.
Source: This review is based on a library book from Fairfax County Public Library.
Disclaimer: I am a professional librarian, but I maintain my website and blogs on my own time. The views expressed are solely my own, and in no way represent the official views of my employer or of any committee or group of which I am part.
What did you think of this book?