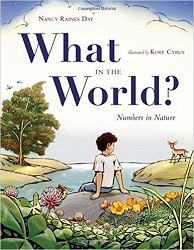 What in the World?
Numbers in Nature
by Nancy Raines Day
illustrated by Kurt Cyrus
Beach Lane Books, New York, 2015. 32 pages.
This is a simple picture book introducing a little bit of counting and a little bit of science to young readers.
Each number is introduced by a question, "What in the world comes . . ." and gentle pictures by the seaside illustrate each set.
Here's an example from the middle:
What in the world comes four by four?

Petals of poppies, hooves – and more.

What in the world comes five by five?

The arms of sea stars, all alive.
There are only two lines per double-page spread, and plenty of open space in each painting, so this is for young readers who can handle the gentle pace. It would make a nice bedtime book, since the book finishes up with "sets too big to count." The final two spreads show us a darkening sky with the words
Stars in the sky –

a vast amount!
You can hear from these examples that the rhyming isn't stellar, but it's doesn't quite cross the line into bad. One other quibble I have is that on the sets of ten page with "Fingers and toes that wiggle and bend," the picture of the boy does show his fingers and toes (in the water), but his arms are crossed with one thumb hidden – so you can't use the picture to count ten fingers and ten toes.
However the simple idea – a counting book based on nature – is a lovely one. This is a gentle book that naturally leads into counting with children things in the world around them. A great way to practice counting and a great way to open their eyes to nature.
NancyRainesDay.com
KurtCyrus.com
KIDS.SimonandSchuster.com
Find this review on Sonderbooks at: www.sonderbooks.com/Childrens_Nonfiction/what_in_the_world.html
Disclosure: I am an Amazon Affiliate, and will earn a small percentage if you order a book on Amazon after clicking through from my site.
Source: This review is based on a library book from Fairfax County Public Library.
Disclaimer: I am a professional librarian, but I maintain my website and blogs on my own time. The views expressed are solely my own, and in no way represent the official views of my employer or of any committee or group of which I am part.
What did you think of this book?