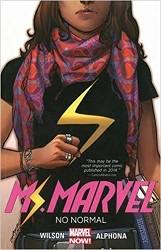 Ms. Marvel, Volume 1
No Normal
by G. Willow Wilson
art by Adrian Alphona
Marvel Worldwide, 2015.
I normally don't read graphic novels, let alone superhero graphic novels. I picked up this one because it was a Cybils Finalist.
And then, looking inside, I got hooked – this is the origin story of a superhero whose secret identity is a Muslim teenage girl! Her family's from Pakistan and she lives in Jersey City and just wants a normal life. Her parents are on the protective side. They don't want her to go to parties, let alone fight crime.
This first volume covers how she attains and tries to deal with polymorph powers. While trying to keep her parents happy and keep up with her schoolwork. But it's her parents' teachings that motivate her to do good when the opportunity presents itself. Little did they know it would mean she'd be fighting crime and rescuing people in danger!
There are more volumes in this series, and I probably won't review them all. (But, yes, I want to read on.) But superhero comics have come a long way since I was a kid! Now even a brown-skinned Muslim girl can become a superhero! Wow!
Find this review on Sonderbooks at: www.sonderbooks.com/Teens/ms_marvel.html
Disclosure: I am an Amazon Affiliate, and will earn a small percentage if you order a book on Amazon after clicking through from my site.
Source: This review is based on a library book from Fairfax County Public Library.
Disclaimer: I am a professional librarian, but I maintain my website and blogs on my own time. The views expressed are solely my own, and in no way represent the official views of my employer or of any committee or group of which I am part.
What did you think of this book?