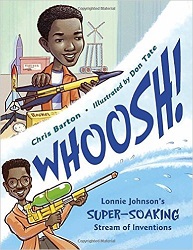 Whoosh!
Lonnie Johnson's Super-Soaking Stream of Inventions
by Chris Barton
illustrated by Don Tate
Charlesbridge, 2016. 32 pages.
Starred Review
It's hard to imagine a more kid-friendly picture book biography. The subject is Lonnie Johnson, the African-American inventor who created the Super Soaker water gun. Need I say more?
Lonnie Johnson's story is as inspiring as you might imagine. He played with rockets as a kid and won first place in a science fair at the University of Alabama with a homemade robot in 1968, the first year that African-Americans were even allowed to participate. He worked for NASA on the Galileo probe.
The idea for the Super Soaker water gun came by accident when Lonnie was working on a cooling system using water and air pressure. That particular accident makes an amusing illustration. But even when he'd thought how to apply the ideas to a water gun and created a prototype, he met with obstacles in trying to get a company to produce his invention.
When he finally did get a meeting, there's another fun illustration, with a special fold-out page, demonstrating the Super Soaker.
Best of all, Lonnie Johnson isn't finished yet. Yes, he made profits at last from his invention. Here's how the book ends:
So what did Lonnie do?

He got a bigger workshop, which is where you'll find him today. Because facing challenges, solving problems, and building things are what Lonnie Johnson loves to do. And his ideas just keep on flowing.
May this book inspire more kids to be inventors!
chrisbarton.info
dontate.com
charlesbridge.com
Find this review on Sonderbooks at: www.sonderbooks.com/Childrens_Nonfiction/whoosh.html
Disclosure: I am an Amazon Affiliate, and will earn a small percentage if you order a book on Amazon after clicking through from my site.
Source: This review is based on a library book from Fairfax County Public Library.
Disclaimer: I am a professional librarian, but I maintain my website and blogs on my own time. The views expressed are solely my own, and in no way represent the official views of my employer or of any committee or group of which I am part.
What did you think of this book?