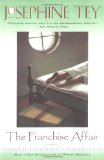 The Franchise Affair
by Josephine Tey
Scribner Paperback Fiction (Simon & Schuster), 1998. First published in 1949. 300 pages.
Starred Review
After discovering Josephine Tey's mysteries with her classic The Daughter of Time, I've been reading all the other Josephine Tey books I can find. If you like cozy mysteries, these remind me of Agatha Christie's, but seem more unpredictable, much less uniform.
The Franchise Affair is a mystery completely different from any other I've ever read. The crime is not a perplexing murder this time. No, a woman and her elderly mother have been accused of a crime. Marion, the woman, asks country lawyer Robert Blair for help when Scotland Yard shows up at her house. They have a sixteen-year-old girl with them who claims that Marion and her mother abducted the girl and kept her locked up in their house for two weeks, treating her like a slave and abusing her. Marion has never seen the girl before in her life, but the girl has descriptions she couldn't have come up with if she hadn't been in the house — could she?
The case is unusual and definitely intriguing. If Robert believes Marion, how can he find out what really happened? How did the girl come up with such plausible testimony? And where was she really for those two weeks?
Josephine Tey presents the case beautifully and even throws in a bit of romance. An ingenious and delightful mystery. If you're in the mood for a good old-fashioned cozy that yet isn't quite like any other, I highly recommend The Franchise Affair.
Find this review on Sonderbooks at: www.sonderbooks.com/Fiction/franchise_affair.html
Disclosure: I am an Amazon Affiliate, and will earn a small percentage if you order a book on Amazon after clicking through from my site.
Source: This review is based on a library book from the Fairfax County Public Library.