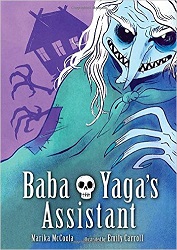 Baba Yaga's Assistant
by Marika McCoola
illustrated by Emily Carroll
Candlewick Press, 2015. 132 pages.
Starred Review
2015 Cybils Elementary/Middle Grade Graphic Novels Finalist
This graphic novel is lots of fun. Masha is a modern teenage girl who has heard stories of Baba Yaga from her grandmother. Both Masha's mother and grandmother cleverly escaped from her.
So when Masha's father marries again and the new stepmother has a particularly bratty stepsister for Masha to babysit, Masha decides instead to answer an ad to be Baba Yaga's assistant.
Masha has stories of Baba Yaga to guide her. She must enter Baba Yaga's chicken-legged house, then pass three tests. But when the third test involves cooking three children for dinner, and one of those children is the naughty new stepsister – things take a turn.
I loved the way this book gives the fairy tale themes a modern twist. Such as when the stepsister throws down a washcloth in Baba Yaga's bathroom and it begins to become a lake – so they almost drown.
Baba Yaga has a gory reputation, and despite her scary exterior, this book puts a light-hearted spin on things. Ultimately, this is the story of a clever girl finding her own way, while getting some healing for her heart.
Find this review on Sonderbooks at: www.sonderbooks.com/Childrens_Fiction/baba_yagas_assistant.html
Disclosure: I am an Amazon Affiliate, and will earn a small percentage if you order a book on Amazon after clicking through from my site.
Source: This review is based on a library book from Fairfax County Public Library.
Disclaimer: I am a professional librarian, but I maintain my website and blogs on my own time. The views expressed are solely my own, and in no way represent the official views of my employer or of any committee or group of which I am part.
What did you think of this book?