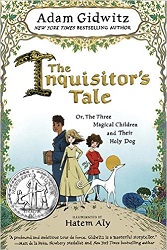 The Inquisitor's Tale
Or, The Three Magical Children and Their Holy Dog
by Adam Gidwitz
illuminated by Hatem Aly
Dutton Children's Books, 2016. 363 pages.
Starred Review
2017 Newbery Honor Book
2017 Sydney Taylor Book Award Gold Medalist
2016 Capitol Choices selection
2016 Sonderbooks Stand-out: #4 Children's Fiction
This book is marvelous! Set in France in the year 1242, it tells the story of three children with miraculous powers. Jeanne, a peasant girl, has fits during which she can see the future. William, an oblate at a monastery whose mother was a Saracen from Africa, has strength like Samson. And Jacob, a Jewish boy, has miraculous healing powers. Their other companion is a holy dog. This dog saved Jeanne's life when she was a baby, but died. Now the dog, Gwenforte, has come back to life.
The dog started the trouble, really. People of the village had been venerating her grave. Jeanne finds Gwenforte alive in the Holy Grove where she'd been buried just before a group of knights arrives to destroy the grove, because obviously venerating a dog is false worship. When Jeanne saves the dog and the knights learn that she has visions, she becomes a target, too.
We know at the start of the book that in the last week, the three children have become famous through all of France and that now King Louis himself is after them. Their story is told at an inn outside Paris. Our unnamed narrator wants to find out about the children. He finds people at the inn who can tell their stories. So the chapters of the book have titles that remind one of The Canterbury Tales, "The Brewster's Tale," "The Nun's Tale," "The Librarian's Tale," and the like.
We hear the stories of all three of the children and how their paths intersected. They end up on a mission together to save books from burning.
Each of the children is a victim of prejudice. Jeanne because she's a peasant, William because of his dark skin, and Jacob because he's a Jew. Jacob's is by far the most serious, as his whole village was burned. They find a kinship together, and maybe their tolerance for each other is slightly anachronistic — but it's beautiful enough, this can be forgiven. William has done much reading in the monastery, so he knows about the wisdom found in Jewish books.
The story is told with plenty of humor. And it's a wonderful story, with miracles and twists and turns and people chasing the children and plots and quests. All throughout the book, we have illuminations. Here's what it says about that at the beginning:
This book has been illuminated — as a medieval text might have been — by the artist Hatem Aly. Some of his illustrations will reflect the action, or the ideas, in the story. Some will be unrelated doodles, just as medieval illuminators often doodled in the margins of their books. There may even be drawings that contradict, or question, the text. That, too, was commonplace in medieval manuscripts. The author and the illuminator are unique individuals, with unique interpretations of the story, and of the meaning behind it.
There are almost thirty pages of notes and bibliography at the back — Adam Gidwitz did plenty of studying about medieval times. I love the way he based the children's miracles on actual medieval sources. He also wove in actual historical characters and places. I love the way Mont St. Michel is featured. (I really want to go there some day.)
The story's engaging, exciting, and funny, but it also has a lovely message about tolerance which feels very timely. This is from the Author's Note at the back:
It was a time when people were redefining how they lived with the "other," with people who were different from them. The parallels between our time and theirs are rich, poignant, and, too often, tragic. As I put the finishing touches on this novel, more than a hundred and forty people were killed in Paris by terrorists. It turns out they planned the attack from apartments in the town of Saint-Denis. The tragic irony of this haunts me. Zealots kill, and the victims retaliate with killing, and the cycle continues, extending forward and backward in history, apparently without end. I can think of nothing sane to say about this except this book.
This book is marvelous — both filled with marvels and magnificently carried out.
adamgidwitz.com
metahatem.com
penguin.com/youngReaders
Find this review on Sonderbooks at: www.sonderbooks.com/Childrens_Fiction/inquisitors_tale.html
Disclosure: I am an Amazon Affiliate, and will earn a small percentage if you order a book on Amazon after clicking through from my site.
Source: This review is based on a library book from Fairfax County Public Library.
Disclaimer: I am a professional librarian, but I maintain my website and blogs on my own time. The views expressed are solely my own, and in no way represent the official views of my employer or of any committee or group of which I am part.
What did you think of this book?